The Spanish are famous for their colourful, fun fiestas. If you decide to move to Spain you're in for a treat as there are fiestas across the country throughout the year. It's a great way to join in with your local community and learn more about Spanish traditions and history.
We've put together some information on more about the different Spanish fiestas and traditions celebrated across Spain, along with some photos, so you know what to expect!
Contents (jump to section)
What is a 'fiesta'?
A fiesta is a party or celebration, and usually refers to a religious festival.
Fiestas are celebrated in different ways throughout Spain but usually involve music, dancing, costumes, fireworks, local cuisine, and lots of noise!
The origins of most Spanish fiestas lie in religious feasts, often honouring a patron saint. Each town has it's own patron saint and so there will be different fiestas and celebrations in each area.
When are fiestas held in Spain?
There is always something being celebrates in Spain and where ever you are you can usually find a fiesta nearby. The dates and reasons for fiestas will differ on a local, regional and national level. However, all the main religious festivals such as Christmas, Easter and All Saints are celebrated across the country.
January
The first celebrations of a new year begin with the Dia de Los Reyes (Three Kings Day) held on January 5th. In Spain this is a bigger event than Christmas Day itself. These parades and processions represent the journey to Bethlehem to visit the baby Jesus made by the three kings. In the parades the Three Kings, ride on floats, horses or even camels, throwing sweets to children as they pass through the streets. Before bed on 5th January, children leave their shoes by the front door for the 'kings' to leave presents inside.
February/March
February or March (40 days before Easter and always on a Sunday) is Carnival in Spain! Carnival marks the beginning of Lent and is a really fun time of year in Spain. There are lots of street parties, colourful processions, extravagant costumes, and of course fireworks. The most famous Spanish carnivals can be found in Cadiz and Santa Cruz de Tenerife, but most towns hold their own events.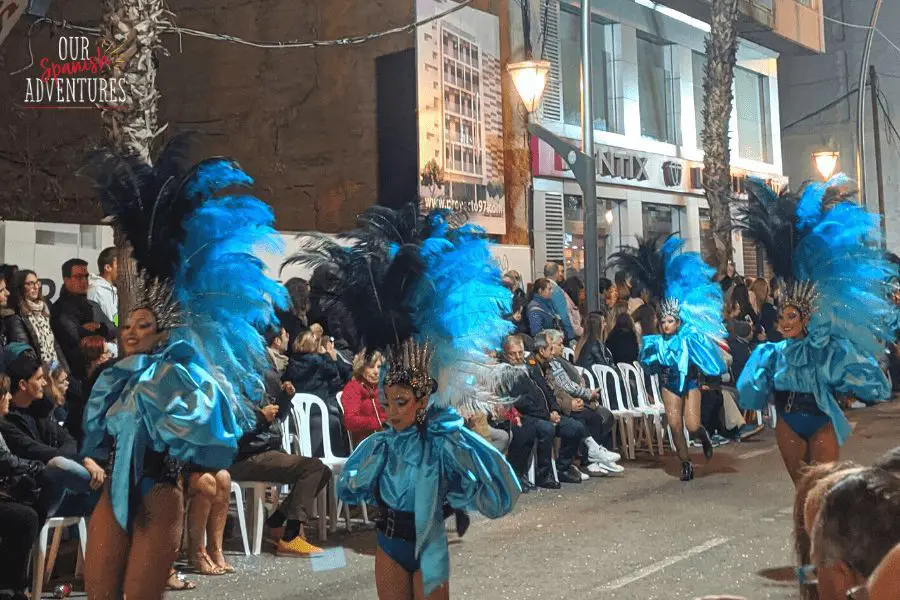 March/April
Easter week in Spain is known as Semana Santa (Holy Week) and is one of the biggest and most popular religious festivals across the country. During the last week of Lent you'll find crowds carrying the statue of their church's patron saint through the town. There are floats with sculptures depicting different biblical scenes, people holding candles, and usually marching bands.
June – August
Summer is the best time in Spain, not just for the great weather but also because it's fiesta season! It all starts with the San Juan bonfires at sunset on 23rd June – here on the Costa Blanca these are held on the beach. This night of celebrations is held before the Feast Day of Saint John the Baptist which is a national holiday.
After this, towns and villages hold their own fiestas honoring their patron saint and to celebrate the start of summer. Celebrations run throughout the summer months and include all sorts of fun. You might find street parties, pool parties, parades, music and dancing, foam parties, free food and drink, and fireworks.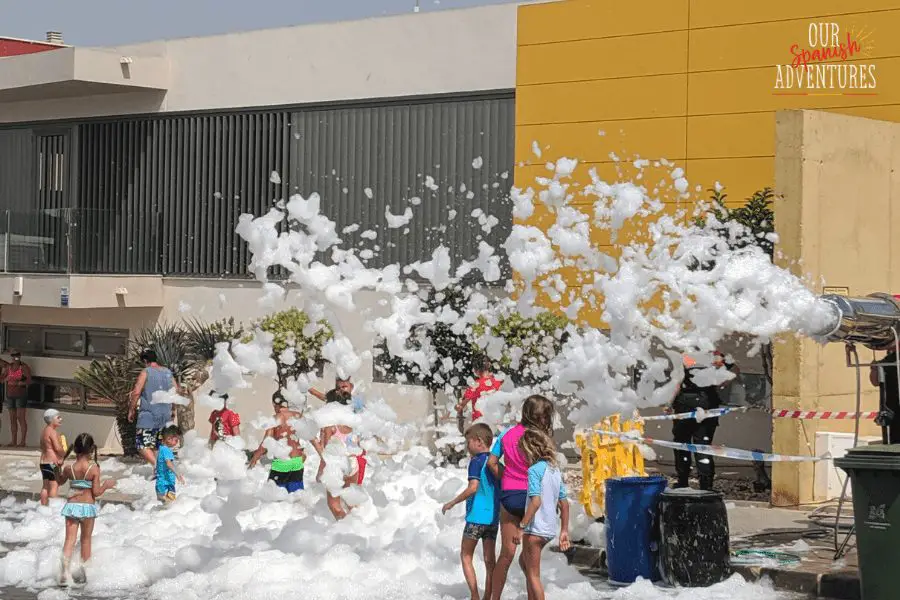 The Valencian community celebrates the Moros y Cristianos (Moors and Christians) during the summer months. The Moors and Christians festival is an old tradition dating back to the 16th century. It's held to commemorate the 13th century battles between the Moorish and Christian soldiers, and eventually won by the Christians. These events are held in honour of the town's patron saint who would have played an important role in helping the Christians defeat the Moors.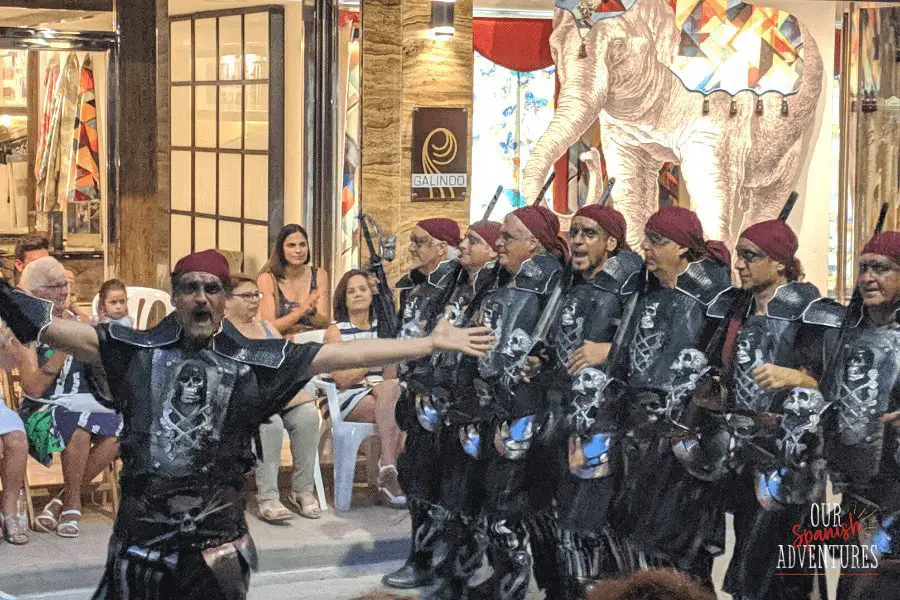 This is a really interesting festival and an important one to learn about if you live in the Valencian Community. The Moors and Christians fiestas start with both 'armies' arriving in the town. Local groups dress up in amazing costumes and make up to represent the Moorish and Christian armies. A mock battle is held (expect loud explosions!) before a march through the streets with music, dancing, and special effects.
November
In November the Spanish celebrate the very important tradition of Todos Los Santos (All Saints Day). This is a national holiday where the Spanish will return to their hometown or village to visit the graves of their deceased relatives. There they will lay flowers and pay their respects. Families will often spend hours at the cemetery and the roads will often be busy with traffic and flower sellers.
December
Christmas in Spain can sometimes be quite a quiet affair compared to the commercialism you get used to in the UK. As mentioned above the Spanish celebrate the Three Kings instead. However, you are almost certain to find a Christmas parade in larger towns and most village squares will have a tree and 'Belen' (large nativity scene).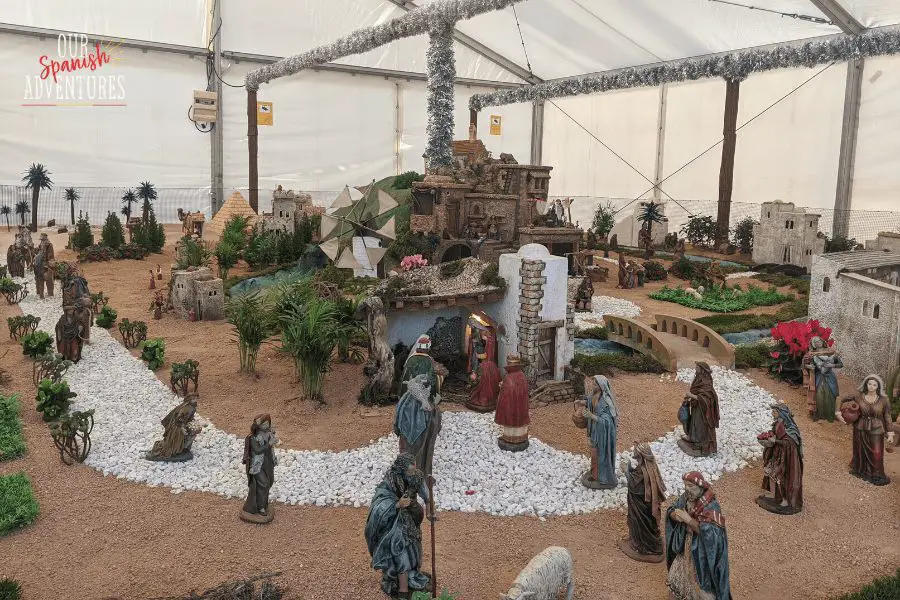 On New Year's Eve in the centre of most towns and villages people will gather to celebrate. A Spanish New Year's Eve tradition involves eating 12 grapes at midnight. If you don't to eat them all before the 12th chime you'll have bad luck the following year!
Famous Spanish fiestas
There are lots of world famous Spanish fiestas held across the country including the slightly dangerous San Fermín bull runs in Pamplona in July, the well known La Tomatina tomato festival in Bunol in August, the Feria Del Caballo (Horse Fair) celebrated across Andalucia in May, and the Feria De Málaga (Malaga Fair) in August.
An amazing fiesta local to us on the Costa Blanca is Las Fallas festival (Festival of Fires) in Valencia in March. The whole city takes to the streets to watch colourful and fun giant papier-mâché statues go up in flames, followed by lots of fireworks.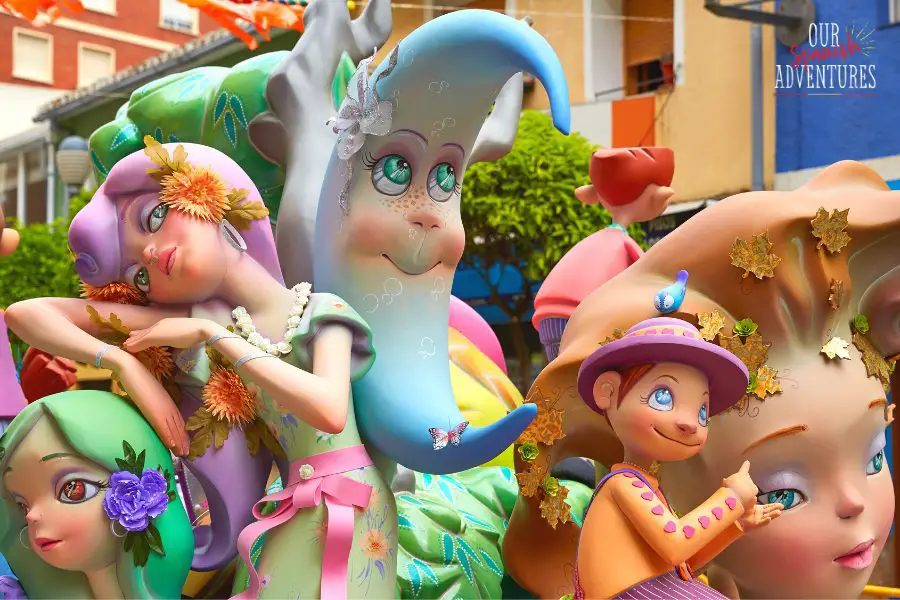 Other local fiestas
The list of fiestas you may come across varies in each region. Often you will stumble across some strange celebrations with no idea what it's all about!
To give you some examples, we have attended Dia del cerdo (day of the pig) where everyone is given a couple of slabs of raw pork and slices of bread (all free) which you then cook on BBQs next to the beach.
We went to a 'Children's bull run' with no idea what to expect, only to be chase through the streets by people in inflatable bull costumes!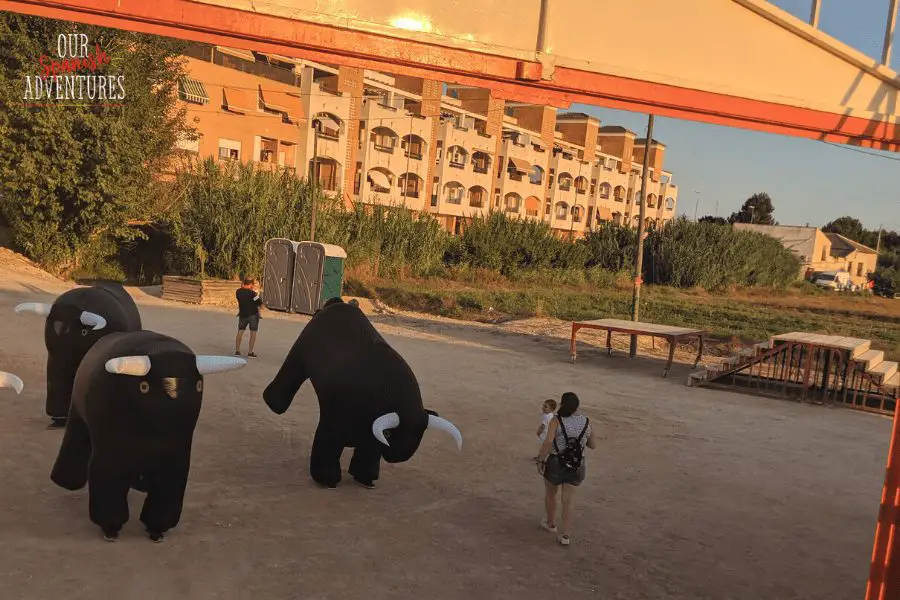 We've also stumbled across several town squares with music, free drinks, and free paella, as well as women dressed in tradtional Spanish flamenco dresses riding horses!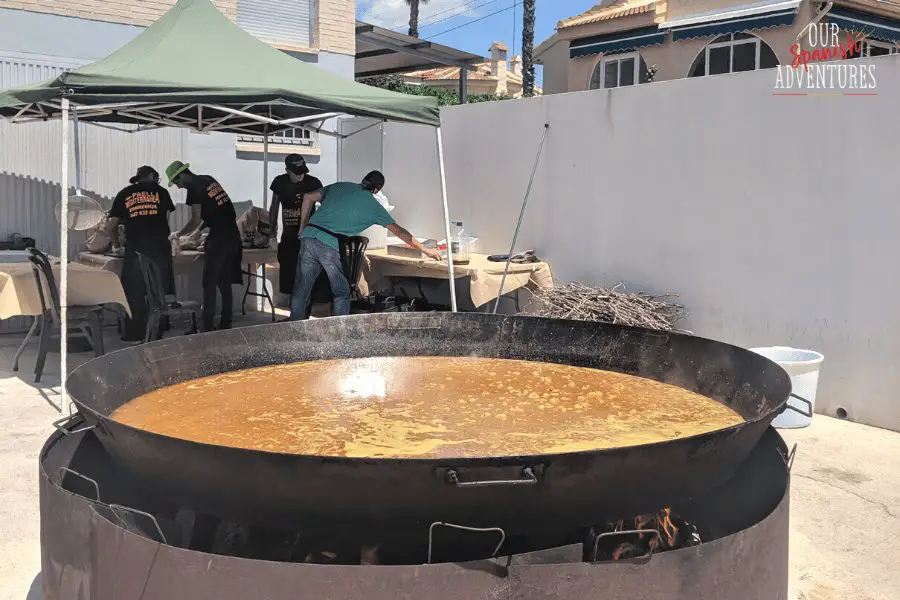 Where ever you go in Spain you can be guaranteed a lot of fiesta fun! Have you experienced fiestas in Spain yet?