As I was writing my last post on the best things to do in Granada, I started thinking about some of the things we found when visiting that might be of use to other travellers and thought they warranted their own post.
Visiting a new city can be daunting, especially if you don't speak the language, know the customs, understand the public travel system, and so on. It's annoying wasting time because you weren't aware of some important information in advance. Especially when you only have a set amount of time for your visit.
So, if you have plans to visit this amazing city in the near future, here are some things to know before visiting Granada that we think will help all travellers…
Contents (jump to section)
Know the bus routes and how to get tickets
The most important thing to know before visiting Granada is how to get around. Unless you're staying in the very centre of Granada, you'll either need to understand where, when and how to catch the bus, or face a bit of a trek to get to some of the best attractions.
First of all, the public buses in Granada are great. They're regular, on time, and pretty cheap. We stayed in a hotel in the Zaidín district and buses to the city centre went past every 15 minutes. You can find a list of the different routes here.
A journey on one of the urban routes costs €1.40, no matter how many stops you go. If you want to go into the city centre and aren't sure which stop to get off, look out or ask for the Cathedral.
It's very important to know that you can't buy a ticket on the bus from the driver – this stumped us at first! At each bus stop is a ticket machine and you have to buy your tickets here before boarding the bus. A bit annoying if you don't get there in enough time as the bus will just leave without you, but the next one will be along shortly. You can get a €10 ticket valid for 11 trips so if you're going to be getting the bus a lot during your stay this might be a cheaper option.
To get the bus up to the Alhambra you need to go catch the C30 or C32 from from Isabel Católica Square, and for buses to the Albaicin district (C31) or to the Sacromonte caves (C34) you need to head to the Plaza Nueva.
Buy tickets for Alhambra in advance
Not surprisingly, the Alhambra can get extremely busy, especially in peak season, so buy tickets as far in advance as possible. We tried to buy tickets a week before our trip in October and there were none left for full access. The Alhambra is made up of different palaces, gardens, and grounds and you can buy tickets for each area individually or for the whole lot in one ticket.
It's advisable to only buy tickets from the official Alhambra website as these are by far the cheapest option. The ticket to buy for full access to all areas is the Alhambra General ticket. You can also book a guided tour where you'll get a headset so you can listen in your own language.
The times on the tickets are strict and you must attend at your given time. If you arrive late you won't be allowed into the Nasrid Palace, though you can visit the gardens and fortress at any time.
We would recommend booking the earliest time slot possible as by the afternoon the grounds are extremely busy.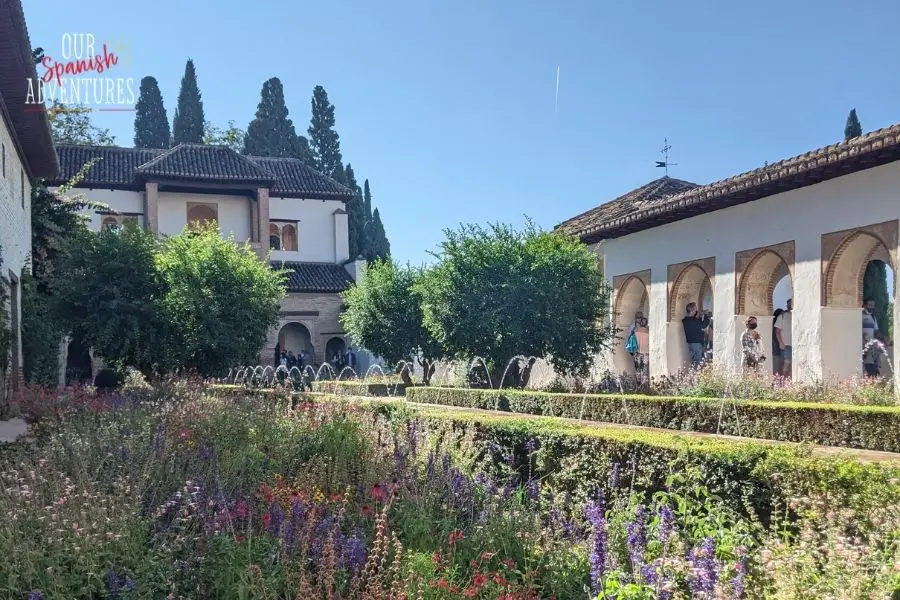 You will not be allowed in without ID and this will be asked for at various points. For children under 12, you need to fill out a form online with your own details, download a QR code, and show it at the same time as showing your own ID. This may only be during the Covid pandemic but please check as we saw people being refused entry because they'd left their passports at the hotel.
Head to the Albaicín neighbourhood for dinner with a view
We found this out purely by accident, but it was so amazing I think everyone going to Granada should know about it!
You can see the magnificent Alhambra from most points in the city, especially when walking along the banks of the River Darro where there are lots of bars and restaurants. However, for the most amazing view of the Alhambra while you eat dinner, head up to the Albaicín neighbourhood.
In this neighbourhood is a great view point, Mirador San Nicolas, where you have a spectacular view of the Alhmabra. Around the viewpoint are several restaurants with terraces to sit and eat dinner, or just have a drink, with the palace right in front of you.
We ate in the El Huerto de Juan Ranas restaurant where the food was as amazing as the view! The prices were more than your average Spanish restaurant but still very reasonable considering the location. You cannot book in advance (the queue gets so long they don't need bookings!) so it's a good idea to get there early. Depending on the time of year, you might want to time your visit for sunset, though the view is just as amazing whether in the daylight or in the dark.
Plan enough time
There are lots of great things to do in Granada, so make sure you plan enough time on your trip to fit in as much as possible. A visit to the Alhambra will take at least half a day, so we would recommend a visit of at least 2 full days.
There's also a lot of walking involved if you want to see everything (or a lot of time waiting for buses) so factor that into your schedule as well. When visiting with children, you will probably need longer as it's a very tiring break with so much walking!
If you're booking a visit to Granada, we hope these tips will help. If you've visited Granada before, do you have any other good tips?
Pin for later: