Before moving to Spain we had never visited Valencia. You don't seem to hear as much about this city as you do Barcelona or Madrid, but it's such an amazing place to visit and has become one of our favourites.
A perfect mix of old and new, there is so much to see in Valencia for both adults and children. We have also found that it's much more relaxed and quieter than some of the more well known Spanish cities.
Whether you're visiting in the heat of the summer or on a colder winter's day, you will be able to find plenty of things to do both indoors and outside.
If you are living or visiting the Costa Blanca, here are some suggestions of things to do in Valencia with kids…
Contents (jump to section)
Hemisfèric
First on our list of things to do in Valencia with kids is a trip to El Ciudad de las Artes y las Ciencias, or the City of Arts and Sciences. You will find so much to do that you could spend a whole day here without even venturing into the city itself. One of our favourites is Hemisfèric, a 3D cinema showing various documentaries on a 180° screen. The building itself is amazing, designed to look like a human eye.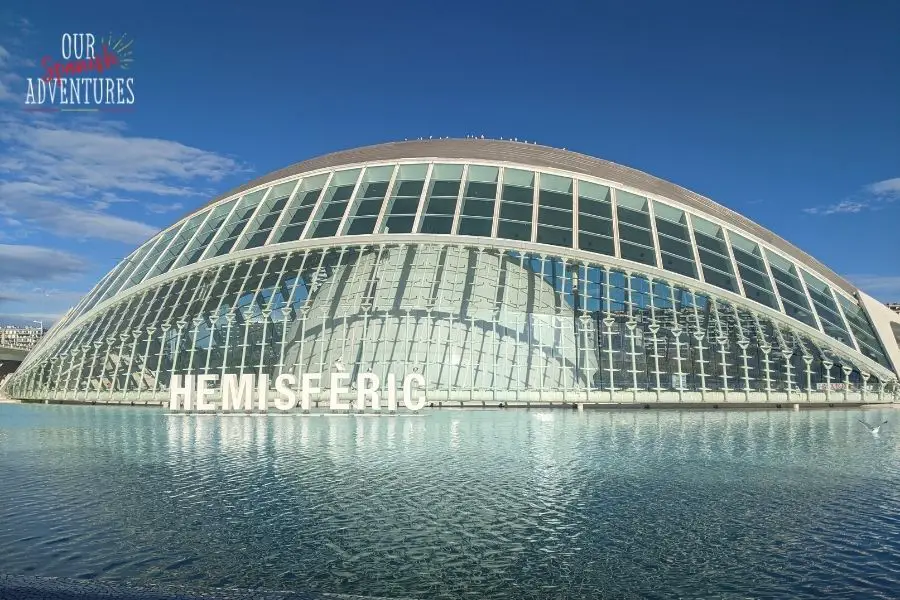 Here you can watch films about space, the ocean, dinosaurs, the Amazon, and more – there are lots of seasonal events so keep an eye on the timetable. We watched a fantastic film about what lurks deep down in the ocean and want to go back again to watch the Secrets of the Universe.
You don't need to worry about the language barrier as on entry you are given a pair of headphones so you can set the audio to your chosen language.
The films last around an hour and cost €8 per person, though you can also buy cheaper tickets along with the Science Museum or Oceanarium.
Oceanogràfic
As well as being the biggest aquarium in Europe, Oceanogràfic is also home to the longest underwater tunnel in Europe, and the only family of beluga whales in Europe.
Here children can learn about various conservation projects and explore many habitats and eco-systems including the Arctic and Antarctic, Mediterranean, the crocodile preserve, Dolphinarium, and Tropics. You'll see different types of fish and birds, penguins, sharks, seals, whales, jellyfish, and many more.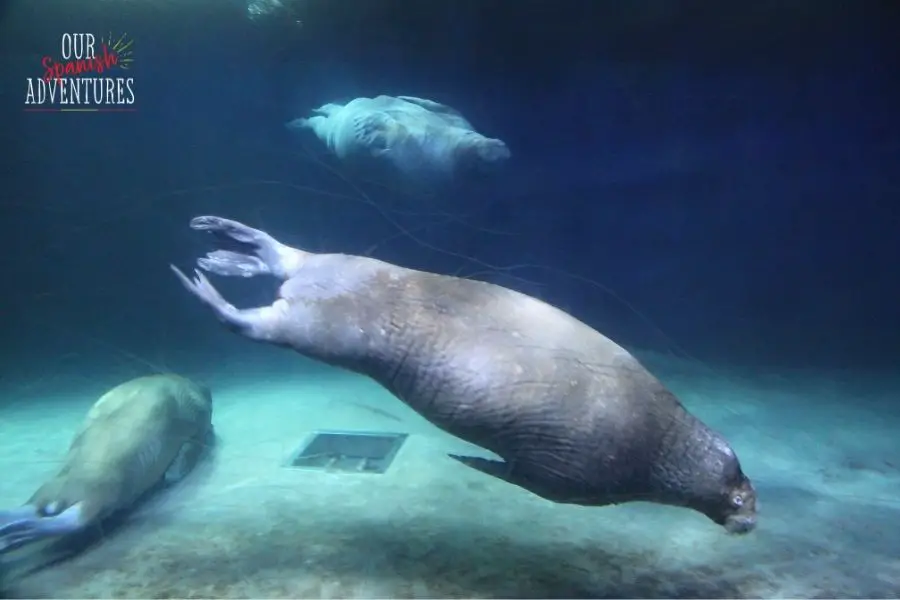 Tickets are €31.90 for adults and €23.80 for under 12's. If you're going to be visiting some of the other attractions in the City of Arts and Sciences it's worth buying your tickets together to get a discount.
Science Museum
The Museu in the City of Arts and Sciences is housed in a huge building with three floors of amazing exhibitions on science and technology.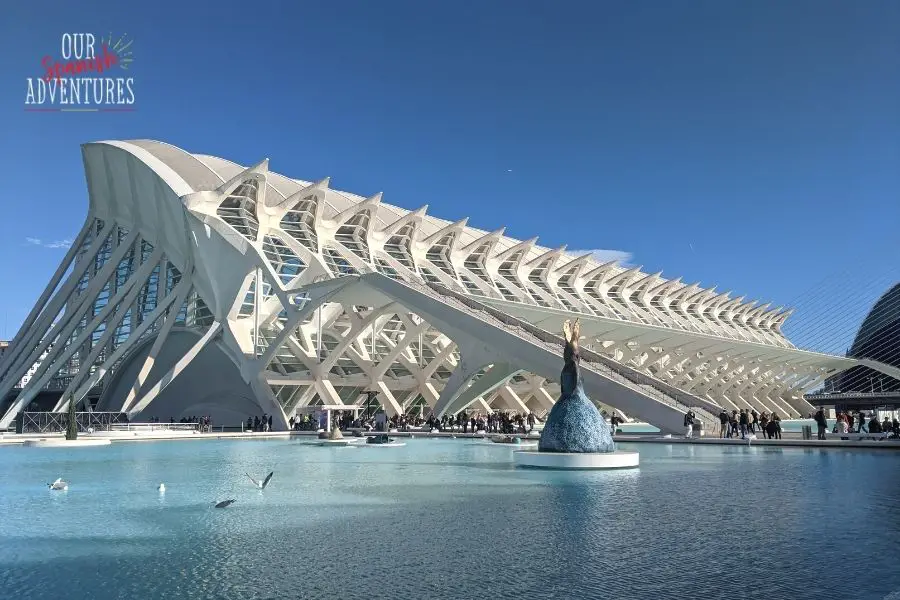 There is a whole area dedicated children, 'Kiddies Corner', with lots of hands on and interactive displays. In fact the motto of the whole museum is 'Prohibido No Tocar' which means it's forbidden NOT to touch!
Many of the exhibitions change regularly but feature things like space, animals, sound, the body, and so much more. There are also workshops, classrooms, and shows on lots of different subjects.
Tickets are €8 per person but again it works out cheaper to buy with one of the other attractions. We allowed ourselves half a day to explore the museum and still didn't have enough time!
Turia Gardens
Running from one end of Valencia to the other is a fantastic park called Jardines del Turia or Turia Gardens. It's one of the largest urban parks in Spain and covers 9km of green space.
Here you will find play parks, skateboard parks, basketball courts, fountains, cafes, and many paths for both walking and cycling.
One of our favourite parts of the park is the play area designed to look like Gulliver from the story "Gullivers Travels", with the giant tied down and featuring slides, tunnels, climbing, and more.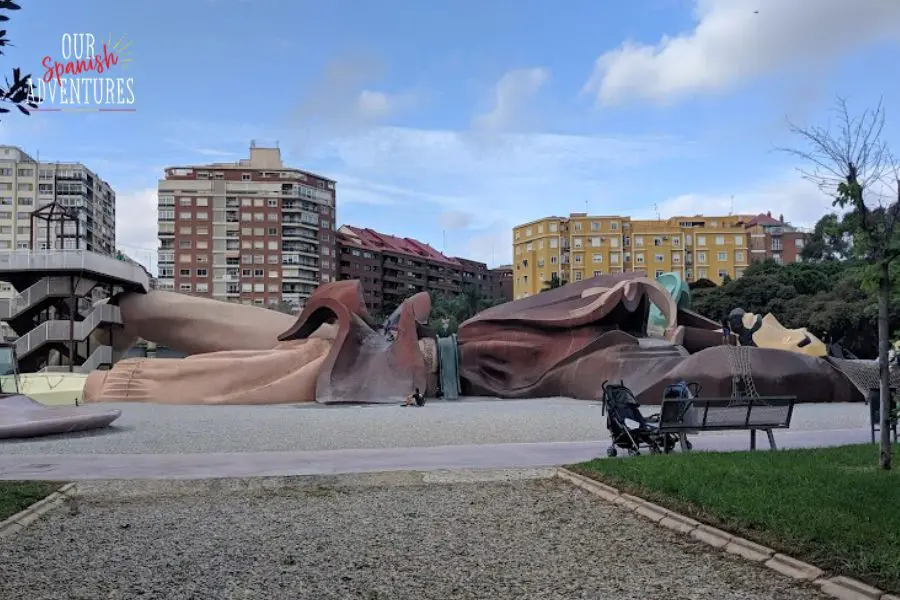 The park is very flat so is a popular place to cycle through on rented bikes or segways which you can hire from many places around the city.
And the best part is it's completely free!
BioParc Valencia
For a great family day out in Valencia, you can visit the animal park BioParc – a unique African themed zoo designed around the the "zooimmersion" concept, where animals live in open spaces similar to their natural habitat rather than in enclosures.
Animals that usually live together in the wild are displayed in the same enclosures, as well as groups of different species that coexist in the same habitats. There are no visible barriers, making it feel as though you are in the wild along with the animals.
In the park you can see gorillas, elephants, rhinos, giraffes, lions, hippos, crocodiles, and more. There are also regular childrens' activities and events.
Tickets cost €18.00 for children and €23.80 for adults, with parking costing €6 for the day.
Torres de Serranos
If your children love castles and anything Medieval then the Torres de Serranos or Serrano Towers are worth a visit. These 14th century towers were originally part of the fortified gates in the ancient city wall of Valencia.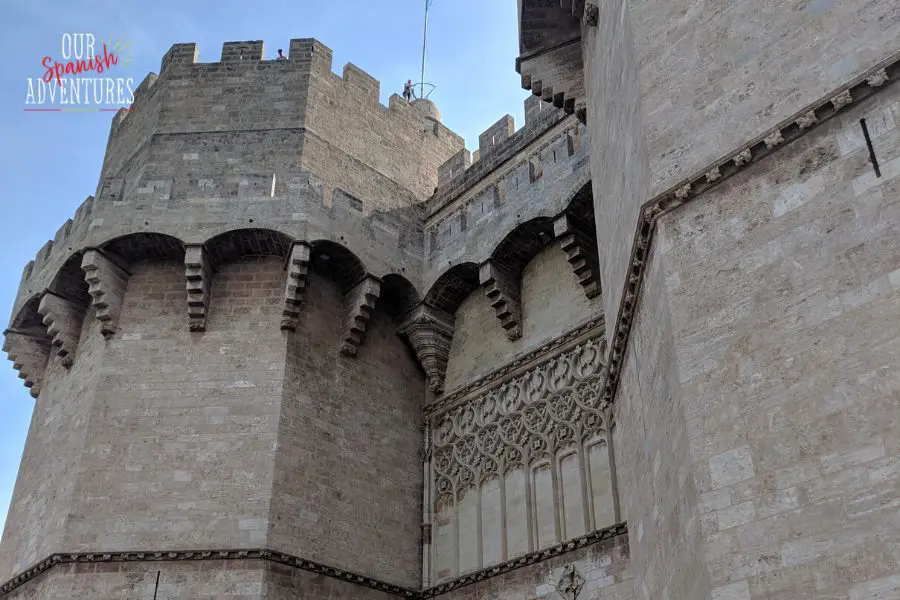 You can climb the stairs to the top of the towers where you'll have an amazing view across the city and river.
You'll probably only spend an hour here at the most but with tickets costing just €2 to enter it's worth a visit.
LEGO® Fun Factory
Last but by no means least on our list of things to do in Valencia with kids, is a favourite with children both young and old! If you have Lego fans in the family then why not head to the LEGO® Fun Factory in the Aqua Shopping Centre.
A a 250 square meter exhibition of LEGO®, including Duplo for younger children, you can build until your hearts' content.
Every three months part of the theme changes, so there is always something new to see. You can find an official LEGO® video game area, giant pools full of LEGO® Bricks, a LEGO® Friends karaoke area, a LEGO® City construction area, and more.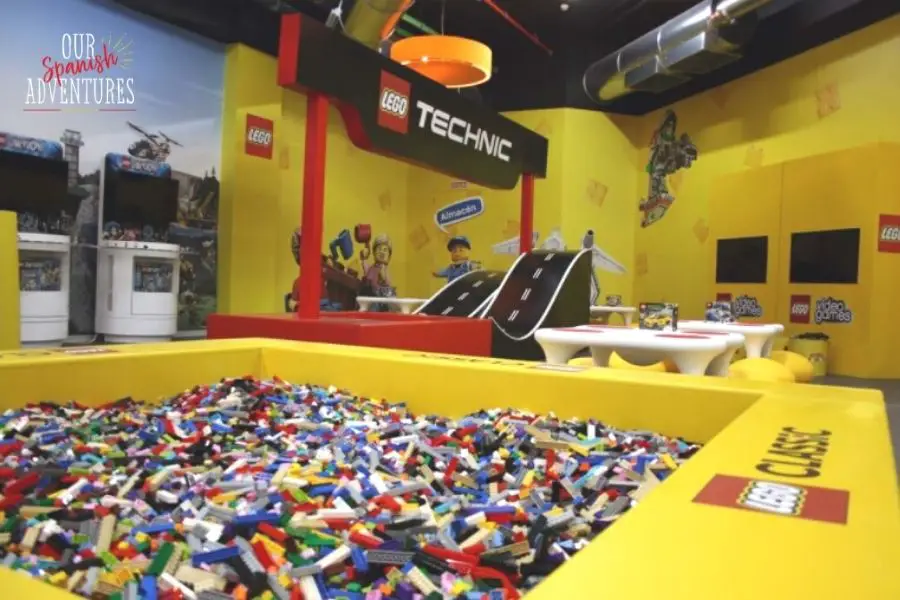 Perfect for a rainy day in Valencia an completely free of charge!
We hope this list has given you some inspiration of things to do in Valencia with kids!
For more ideas, and to book tickets, tours and experiences in Valencia, visit Get Your Guide.
Do you have any other favourites?