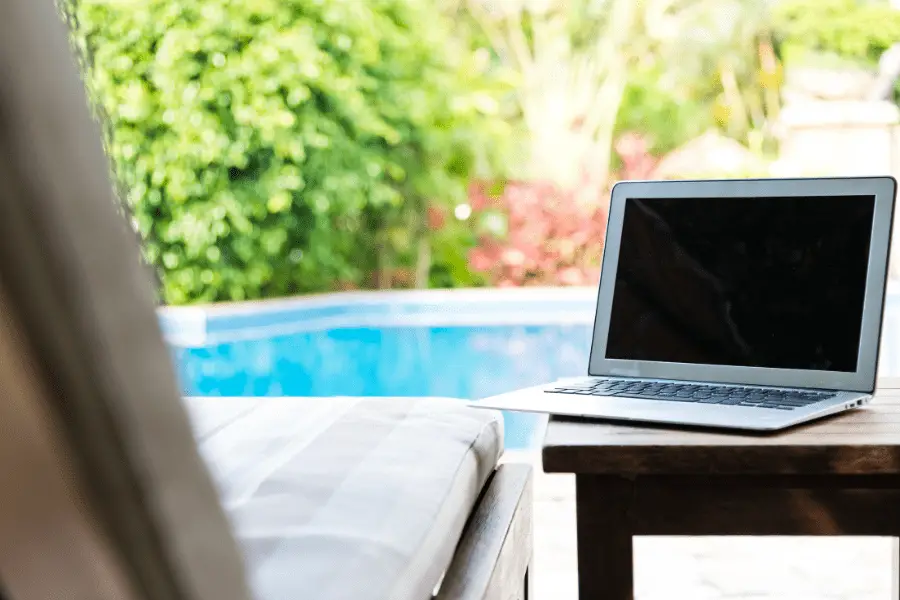 Earlier this year Spain introduced the Digital Nomad Visa, aimed at non-EU citizens wanting to move to Spain and work remotely.
This was very welcome news for those under retirement age and/or without a large amount of savings as the other option of a Non-Lucrative Visa just isn't a viable solution for many people.
We get a lot of messages on social media from families wanting to move to Spain and understandably most are worried about how to find a job in Spain – unemployment is high, you have a language barrier, and other visa options don't allow you to work.
The Digital Nomad Visa could solve that problem, as you can work remotely for a UK company or as freelancer – no stresses of finding a job in Spain or learning Spanish quickly.
So if working in the sun is your dream lifestyle, we've put together below some information on what we know 10 months on from the introduction of the DNV. Here's what you need to know if you want to work remotely in Spain…
What is the Digital Nomad Visa for Spain?
Spain's Digital Nomad visa is for non-EU citizens who want to live in Spain while working remotely for a company or companies outside of Spain. The work must be conducted completely remotely through computer-based systems and/or phones, i.e. not through site visits to customers or face to face meetings.
The Digital Nomad Visa is valid for up to one year, allowing applicants to live and work remotely in Spain during that time. The visa can then be renewed for a maximum of five years, subject to the applicant meeting the requirements.
You will need an N.I.E
Before applying for the Digital Nomad Visa for Spain you must already have an N.I.E – Número de Identificación de Extranjero or Foreign Identity Number. An NIE is a unique identification number given to foreigners when conducting official transactions or legal matters within the country, this could be given when buying a house or car.
If you are planning on applying for the Digital Nomad Visa soon, we'd recommend sorting your NIE as soon as possible as there is usually quite a long wait. For more information on NIEs and how to get one read this blog post.
You will need to meet certain criteria
For a successful application for a Digital Nomad Visa for Spain you must meet certain criteria:
Be a non-EU national.
Already have a remote job or be self-employed with clients outside of Spain – income received by Spanish companies can't make up more than 20% of the total.
Demonstrate that you've been working for a company or have had a freelance relationship with your clients for at least 3 months prior to your application.
If working remotely for a company, you must have a contract for at least 1 year.
Have enough money to support yourself financially during your stay. You must earn 200% of the monthly Spanish national minimum wage (currently approximately £2,140 per month or £25,700 per year).
Have no criminal charges on record during the past 5 years.
Either have at least 3 years of work experience in your current field of work or have an undergraduate or postgraduate degree from a 'reputable institution of higher learning with recognised prestige'.
Have private health insurance.
Your family can join you on the visa
Only one family member needs to prove that they can work remotely. Once approved for the Digital Nomad Via for Spain, your immediate family can then 'piggy back' onto your visa. Immediate family includes spouses, domestic partners, dependent children, and dependent relatives.
All family members will need their own NIE, fulfill certain criteria, and provide supporting documents such as marriage certificated, birth certificates etc.
You must be able to prove that you have the additional financial means to support your family members.
For the first family member you must prove additional financial means of at least 75% of the Spanish minimum wage (approximately £800 per month or £9,600 per year) 
For each additional applicant, 25% of the Spanish national minimum wage is required (approximately £270 per month or £3,200 per year).
You will need to provide a lot of documentation
It's no secret that the Spanish love their paperwork when it comes to anything official, and the Digital Nomad Visa is no different!
The main applicant as well as any additional family members will need to provide an extensive list of documentation, including:
Completed national visa application form.
Recent passport-sized color photograph.
Valid passport with at least two blank pages. Passports must be valid for at least one year, and they cannot be more than 10 years old.
Proof of residency.
Original and a copy of the criminal record certificate for the past 2 years, as well as a responsible declaration confirming the absence of criminal records for the last 5 years.
Work contracts.
Certificate issued by Companies House declaring the date of creation of the company and its nature of business (if applicable).
Proof of income (work contract, bank statements, payslips etc.)
Proof of health insurance.
Copies of a university degree or equivalent professional certification.
Proof of visa application payment.
For family members: birth certificates, marriage certificate, documents proving financial dependence and civil status.
Foreign documents must be legalised or apostilled and, when necessary, must be submitted together with an official translation into Spanish.
You will need adequate Health Insurance before applying
When living in Spain on a visa you will not be entitled to free state healthcare so will need to purchase private healthcare for the whole family. This requirement ensures that visa holders have access to medical care while living in Spain to reduce the burden on Spain's healthcare system.
Your health insurance policy must cover the whole family for the duration of your stay, and should include hospitalisation, emergency care, medical treatments, and repatriation in case of medical necessity.
The policy must explicitly state coverage for Spain and all certificates or policy documentation must be submitted with your visa application.
You could wait months for an answer
Officially the turnaround is 15 – 45 days for an answer on your Digital Nomad Visa application. However, this seems to vary so much – we have spoken to people on social media who got theirs within a week and others who were waiting for 3 months.
The key is to make sure you have submitted everything needed as requests for additional or missing paperwork can put your application back to the bottom of the queue.
You will have to pay tax in Spain
If you live in Spain for more than 183 days in a calendar year then you have to pay your taxes in Spain rather than in your home country. The good news for those working remotely on a Digital Nomad Visa in Spain is that you can claim a lower tax rate of 15% (down from the usual 24%_ on the first €600,000 of income.
You'll be required to report your income accurately to the Spanish tax authorities, including income earned from remote work, self-employment, or any other sources, both within Spain and internationally.
We'd recommend hiring a Spanish accountant to look after this for you as the tax authorities in Spain are very strict and can impose large fines for missed deadlines or mistakes – remember that all tax paperwork will need to be filled out in Spanish.
You will need to renew your Digital Nomad Visa before it expires
Your initial DNV will be for the period of 1 year, and can be renewed for a maximum of 5 years. You cannot live in Spain without a valid visa, so you need to make sure that you apply for the renewal in plenty of time before your each year expires.
To renew your visa you'll need to prove that you and your family still meet the initial criteria such as work contracts and financial status.
So there you have it….everything we now know about applying for a Digital Nomad Visa for Spain.
If you are applying for a DNV to work remotely in Spain, good luck!