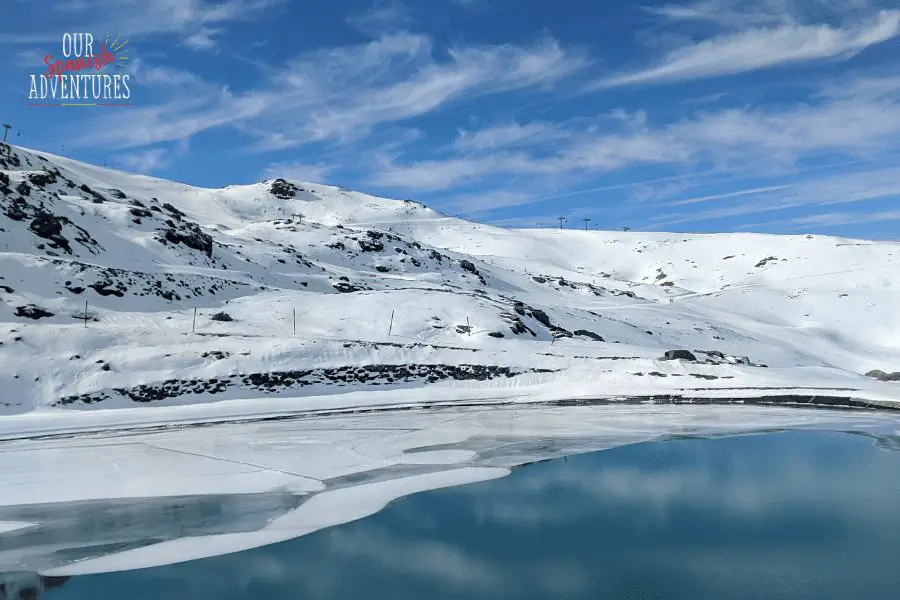 Spain and snow probably aren't two words that you would normally put together, but there are actually quite a few places where you can see snow in Spain, of course, where you can ski in case you're passionate about snow sports.​
When visiting Spain on holiday we all tend to think of sun and sandy beaches, and let's face it these are the best bits, but when you live here it can be a nice change to go somewhere cold for a day or two!
So, whether you're longing for somewhere for a Spanish White Christmas, fancy a change of scenery, or are planning a winter holiday in the future, take a look at this list of 6 places to see snow in Spain.
Contents (jump to section)
Sierra Nevada, Granada
The first snowy location in Spain on our list is somewhere that we visited last December. The Sierra Nevada mountain range is in Andalucia, in the province of Granada. It's around 4 hours drive from Alicante and approximately 2 hours from Malaga.
The drive up to the mountains has some of the most amazing views and you'll see the temperature gauge in the car drop with every mile as you get higher and higher.
From the centre of Granada up to the ski village of Monachil is around a 45 minute drive, but the narrow mountain roads can be a little scary so it's a good idea to take a bus from Granada bus station, costing €10 return per person via BusBud. There are plenty of hotels and apartments in Monachil so you can either stay over night, or just take the first and last buses for a day trip.
Although the Sierra Nevada is primarily a ski resort, you can still take the cable car quite far up the mountain as a foot passenger. There you'll find a restaurant, bar, and also some activities for the kids such as inflatable rings and sledges. You can also go for a walk and play in the snow away from the skiiers. The cable car is quite pricey and cost us €55 for 2 adults and 1 child, but you can stay up in the snow for as long as you like.
The ski village has lots of restaurants, cafes, bars and shops, and is a great place to sit and take in the views. If there's been a recent snow fall you can also play in the snow here, but keep an eye out as often the only snow is higher up the mountain via the cable car.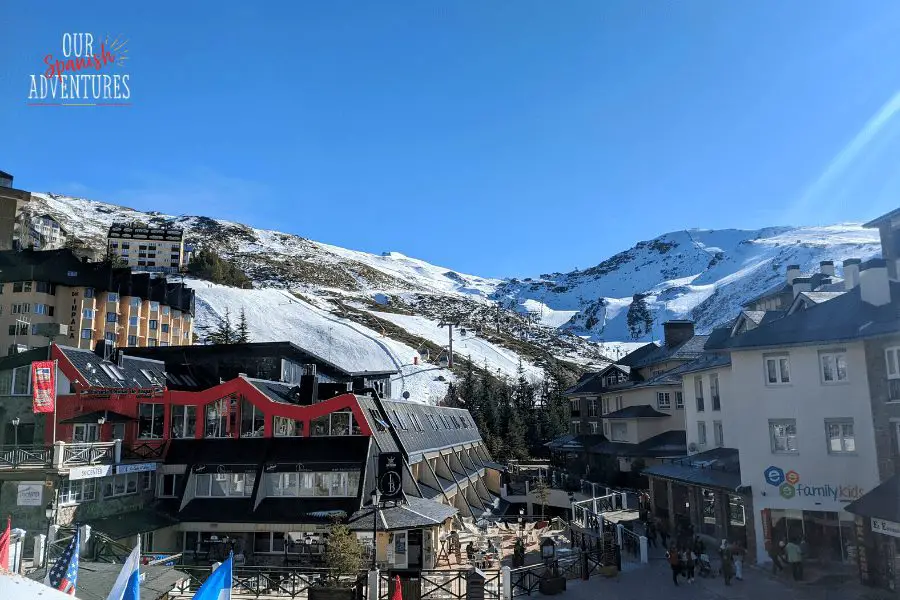 You can check on the snow forecast for Sierra Nevada here, so if you're fairly nearby you can head up there when the snow starts to fall.
Sierra de Gredos, Ávila
The Sierra de Gredos mountain range is located in central Spain and spans the provinces of Ávila, Salamanca, Cáceres, Madrid, and Toledo.
There are lots of hotels, hostels, and restaurants so it's a great location for a couple of snowy days away.
In the winter months you can head to Navarredonda de Gredos and Hoyos del Espino to go hiking, which are definitely the best locations for beginners. If you're an experienced hiker, you might want to check out the Laguna Grande de Gredos. A 2 hour walk from the carpark, the lagoon is totally frozen in the winter, and a beautiful sight.
Probably not for everyone, and certainly not those with kids, but if you're a very experienced hiker you should be able to reach Almanzor in the Sierra de Gredos which is 8,500 feet above sea level.
As well as hiking, you can also view the clean and pollution-free skies through telescopes, as this reserve is recognised as a stargazing destination.
Comarca del Sobrarbe, Huesca
Another of the best places to see snow in Spain is the Comarca del Sobrarbe. Sobrarbe is located in the region of Aragón in the heart of the Aragonese Pyrenees in northeastern Spain. Sobrarbe is made up of 19 municipalities with old towns and villages, medieval churches, and cobbled streets. Many people describe Sobrarbe as having a "tropical-winter" as almost 80% of the days are sunny.
In this region you can find Ordesa National Park, which is the second oldest national park in Spain and a World Heritage Site. The highest point here is Monte Perdido, with impressive mountain ridges and glacial valleys.
As well as skiing, you can go climbing, hiking, rafting, or just sit and take in the spectacular views. When there is a lot of snow, some local companies hire out snowshoes so that visitors can walk in the snow through the forests and trails.
From this area you can also visit the beautiful medieval village of Aínsa, which is even more amazing covered in snow!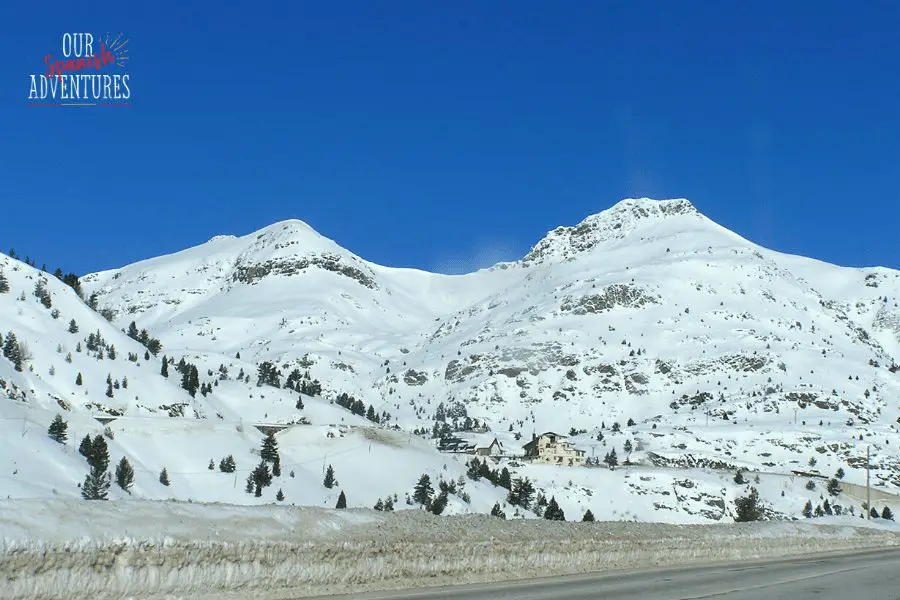 Sierra de las Nieves, Malaga
"Sierra de las Nieves" literally translates as "Snowy Mountain Range" and is found in the province of Malaga in the region of Andalusia in southern Spain. It's not somewhere you'd normally associate with snow but during the winter months the park is covered in snow and a great place for a family day trip.
This mountain range is a National Park that been designated a Biosphere Reserve by UNESCO and a European Destination of Excellence .
Although in general this region is quite mild all year round, from December to March there can be a lot of rain which when cold enough can mean snow at the highest points.
There are lots of hiking routes here for all levels. A medium level route is l Cortijo Huarte, found just above the recreational area of Los Sauces, near Yunquera. If you leave your car in Los Sauces you can take the 17km trek through the Spanish fir grove at Cubero. Further along you'll find the ascent to the Puerto del Hornillo where you'll see caves full of floating ice where the water has frozen.
Rascafría, Madrid
If you're near Madrid, you can take a trip to the mountains to see snow in the beautiful town of Rascafría, 1,200 meters up into the mountains. If you want to stay the night, you can stop in Rascafría itself, or for a day trip you can travel from Madrid by bus.
There's plenty to do here, whether you just want to play in the snow or go skiiing, sledding, snowboarding or snow-shoeing.
If you want to go for a snowy trek, when you arrive in Rascafría head for the trail which is well signposted and by Las Presillas car park.
Rascafría has been described as looking like a Swiss village with it's pretty village, bridges, sawmills, and of course snow! The most outstanding feature is said to be the Monastery of El Paular, which was founded in the 14th century and is situated two kilometres from the town.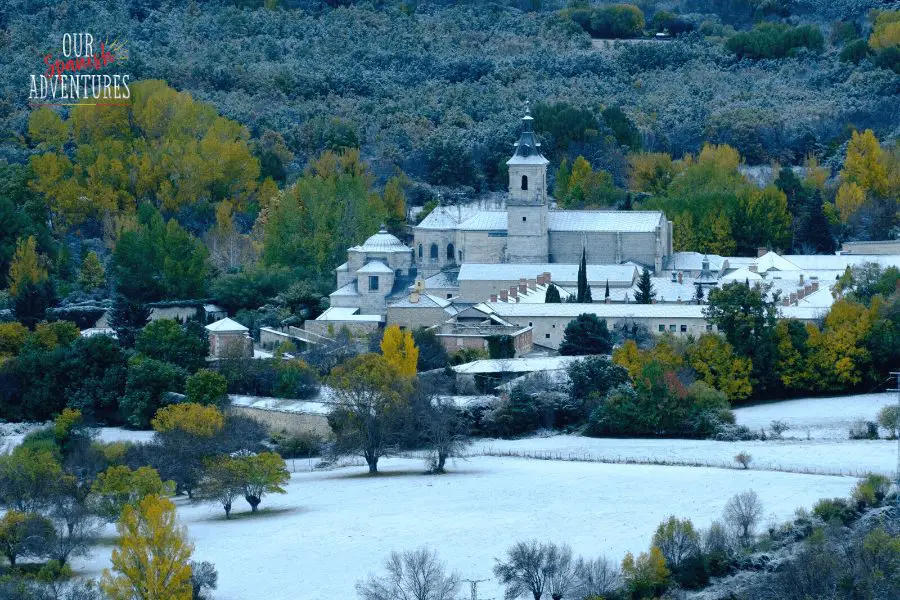 Valle de Arán, Lleida
The Valle de Arán, or Aran Valley, offers lots of snowy activities in the winter including skiing, snowboarding, climbing, and hiking.
There's even a Children's Snow Camp where they can have lots of fun if you want to go off skiiing for a bit.
The valley consists of 33 picturesque villages so there are plenty of places to explore. The wooden houses mixed with the mountainous and alpine landscapes will make you feel as though you've left Spain completely.
There are 25 restaurants and cafés on the slopes plus thermal spas to warm up after a day in the snow!
If you want to check out the area before you leave, there are some good webcams here.
Did you know that there were so many places to see snow in Spain? Which one will you add to your list?
Pin for later: