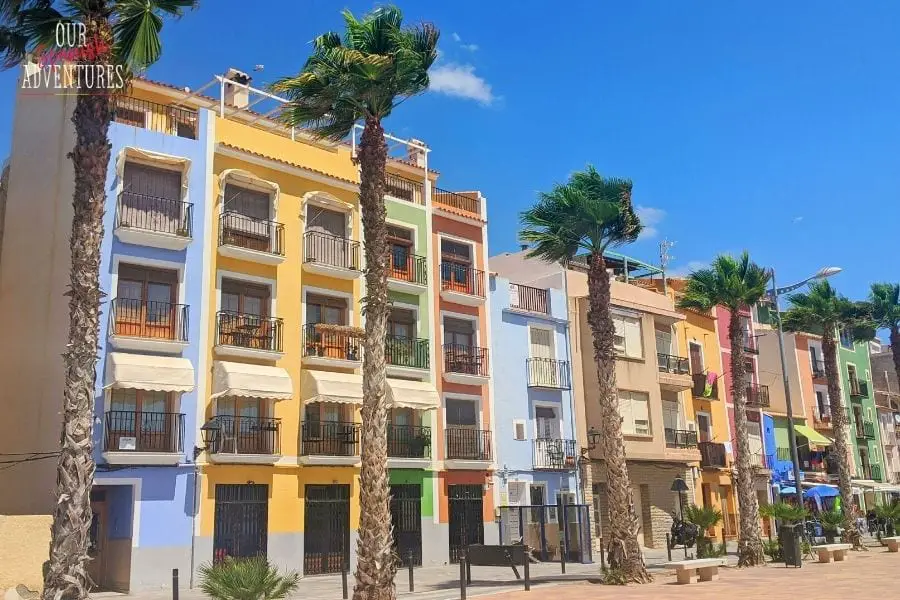 If you're new to the Costa Blanca, or are looking for an area with lots to do, the areas surrounding Alicante are definitely places to add to your list of Spanish destinations. All the major airlines fly into Alicante-Elche airport so it's easily accessible, and only a 2.5 hour flight from the UK.
There are so many things to do in Alicante itself, both with kids and without, but if you're looking to explore some places outside of the city then you have plenty to choose from as there are a lot of interesting places to visit within an hour of Alicante. We live approx 40 minutes from Alicante and have spent the last 18 months (and many before that on holidays) exploring some great destinations and attractions. It really is a beautiful part of Spain.
Here's a list of 10 places to visit within an hour of Alicante city center…
Contents (jump to section)
Some of the links below are affiliate links, meaning we may earn a small commission at no additional cost to you if you make a purchase via one of these links.
Guadalest
One of the best places to visit within an hour of Alicante and the one place that everyone will recommend you check out is Guadalest Valley. Guadalest is a traditional Spanish village in the mountains about an hour away from Alicante. There are always plenty of bus trips to Guadalest, which is a good idea if you're not too confident driving in Spain as the journey does involve driving up some very windy mountain roads!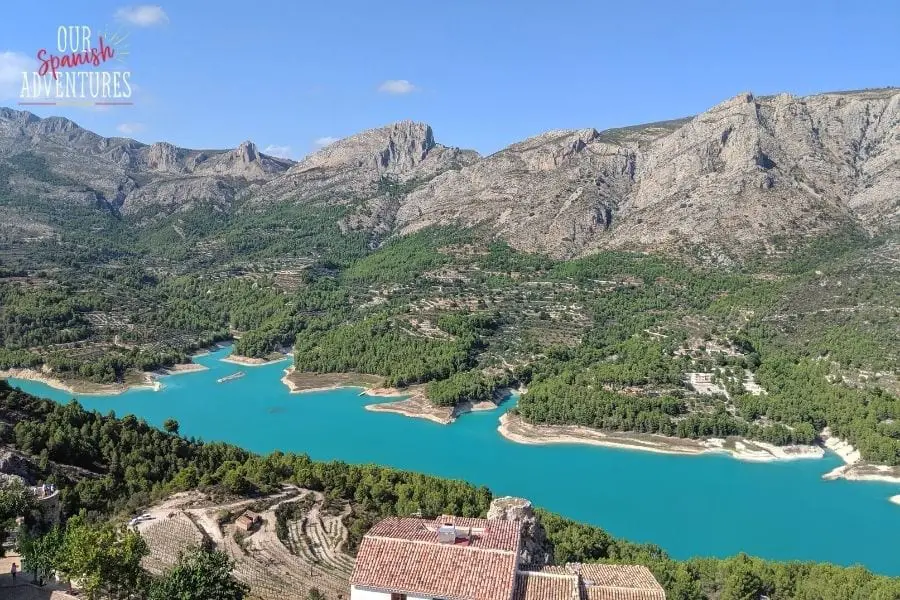 There's enough things to do in Guadalest to spend the whole day there. The main attractions in Guadalest is the reservoir, which is an absolutely amazing colour! From the town you have a fantastic view over the lake, and can even sit in a restaurant and take in the view.
A must visit is El Castell de Guadalest, the castle which is accessed via the museum Casa Orduna, an old Spanish house complete with original furniture, paintings etc. From the top of the castle you have amazing views over Guadalest and the surrounding mountains.
The narrow streets are full of gift shops, as well as plenty of bars and restaurants to find something to eat and rest your legs.
Fonts d'Algar
Les Fonts d'Algar, or Algar Waterfalls, are often done in the same organised trips as Guadalest as they are close to each other. You can join a trip from Alicante which includes transport and entry to both the waterfalls and the museum at Guadalest.
The Algar Waterfalls is a nature reserve found in the Callosa d'en Sarria mountain range and is home to roaring waterfalls and natural pools. This is where the famous Timotei advert was filmed!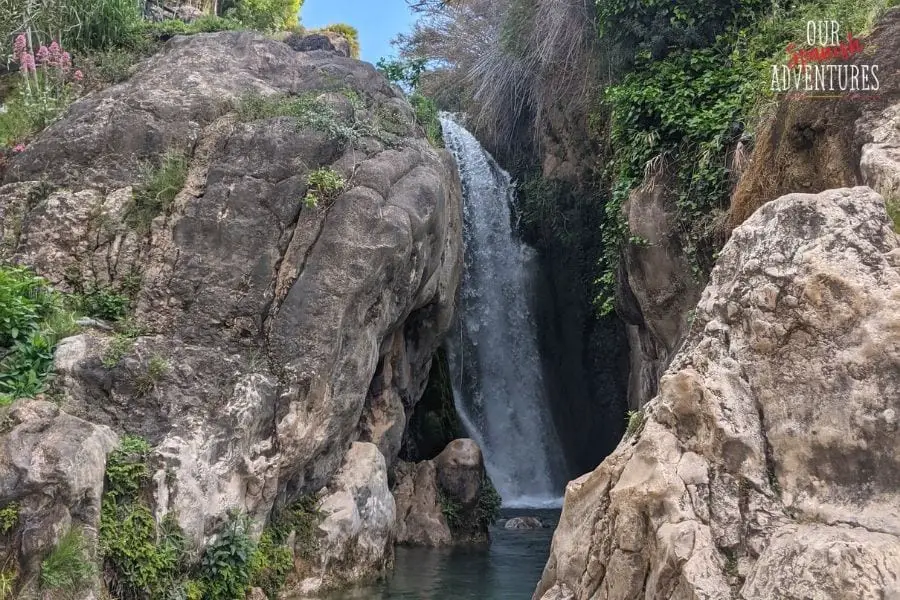 The Algar Waterfalls are open all year round, though of course it's only warm enough to go in the water in the summer months. For just €4 for adults and €2 for children you can spend the day swimming in the waterfalls and taking in the views. The water is freezing, even in the very hottest months of the year, but it is a great place to cool down and a lot of fun. You can follow the walk ways to the very top where you can swim, sit, and admire the view. There are platforms to safely jump into the natural pools, as well as shallow pools perfect for kids to paddle. Make sure you take some water shoes as it is very rocky in places.
You can't take picnics in but there is a restaurant, though it is quite pricey. Outside the gates there are lots of great restaurants, some even have their own swimming pools.
Elche
Elche is around 25 minutes from Alicante City and is one of our favourite places to visit. Elche is home to more than 200,000 palm trees and many of them are found in Palmeral de Elche, the biggest palm grove in Europe which you can visit for a small fee.
One of the best free things to do in Elche with kids is to visit the municipal park. Also home to lots of palm trees, there's also children's play parks, fountains, and picnic areas.
If you'd like more information from a local expert you can also join this Free Tour of Elche where you will get to explore the most important parts of the city.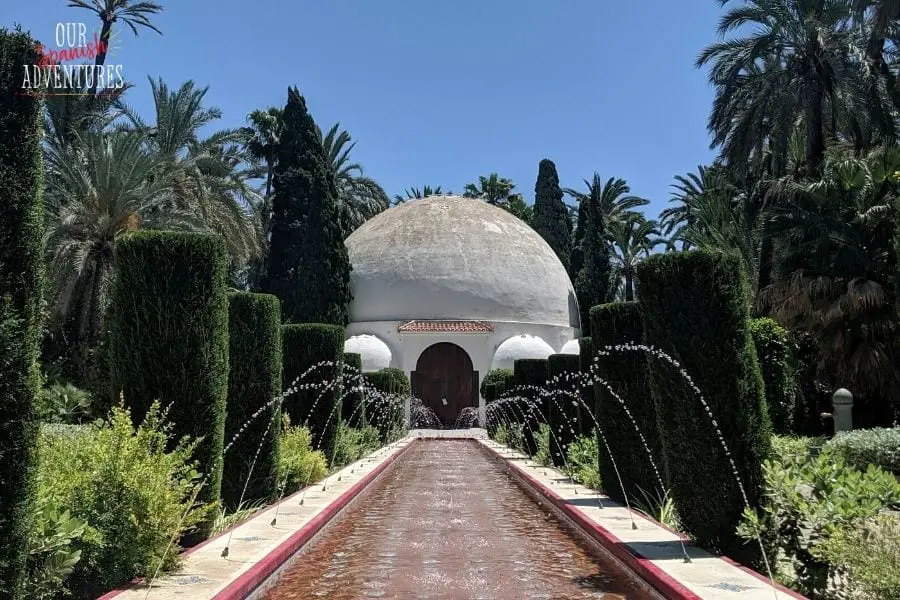 The town itself has lots of shops, cafes, and restaurants, you can spend a whole day just wandering around (though not on Sundays as all shops are closed!) If you're after some culture, the Museo Arqueológico y de Historia in the center is a great place to visit, and is free on Sundays. You can also walk up to the bell tower of the Santa María Basilica, which has great views across the park. There are plenty of other museums dotted around including Roman Baths, the fiesta museum, and paleontology museum.
Santa Pola
Santa Pola is a coastal town with lovely beaches and a large port with lots of restaurants and bars. The port is a lovely place to visit of an evening if you want a nice seafood restaurant with a view.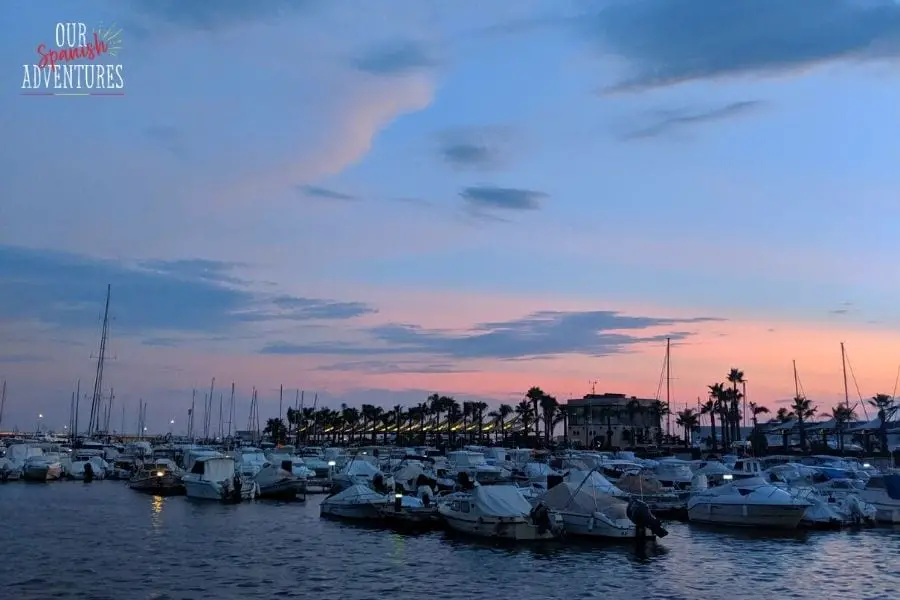 Things to do in Santa Pola include going on a boat trip over to Tabarca Island, visiting the Pola Park amusement park, or the aquarium. There is also a castle in the center of town, plus plenty of streets to wander through. In the summer the castle often holds a great medieval market with stalls full of spices, food, sweets, gifts, and lots more.
You can also visit the Faro de Santa Pola lighthouse just outside of the town, with a skywalk that will give you incredible views out to sea and along the coast.
Torrevieja
Torrevieja is a typical Spanish tourist coastal resort with nice sandy beaches alongside a busy promenade full of restaurants and bars. However, if you walk a few minutes from the center you will find some much quieter beaches perfect for sunbathing and for the kids to play.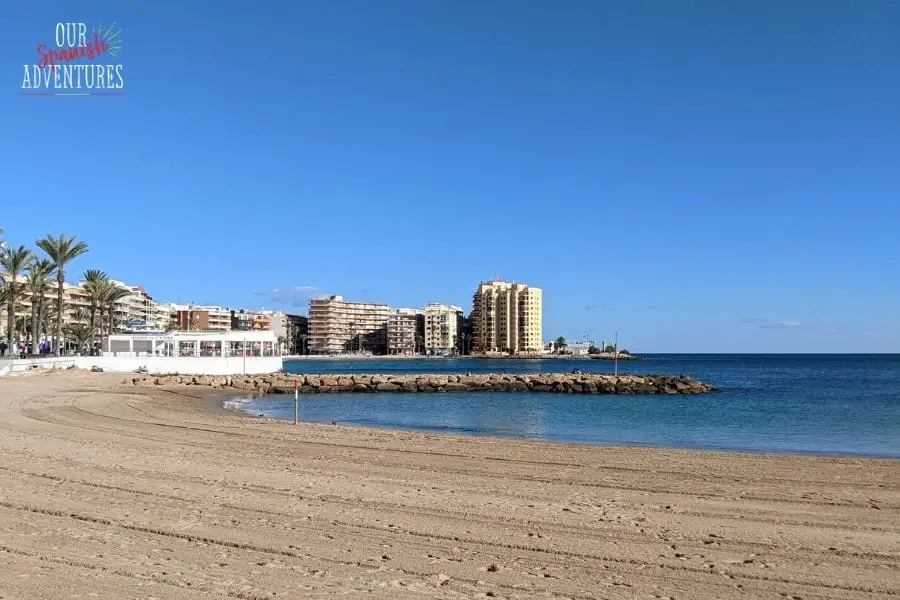 If you want to see the coastline you can take a lovely boat tour around the bay or maybe treat yourself to a sunset boat cruise.
Torrevieja is also home to the famous pink salt lake. You can take a trip around the lakes on the land train and learn more about why the lakes are pink, and what they do with the salt. You might even spot some flamingos.
Things to do in Torrevieja with kids include visiting the many parks and gardens, going to the Habaneras shopping mall which also has a kids area on the top level, and visiting the leisure complex next door with cinema, bowling alley, and restaurants.
Guardamar del Segura
If you're looking for a beach day away from the busy beaches of the center of Alicante then you should definitely head to Guardamar. 11km of golden sandy beaches, sand dunes, and pine forests, Guardamar is our go-to beach.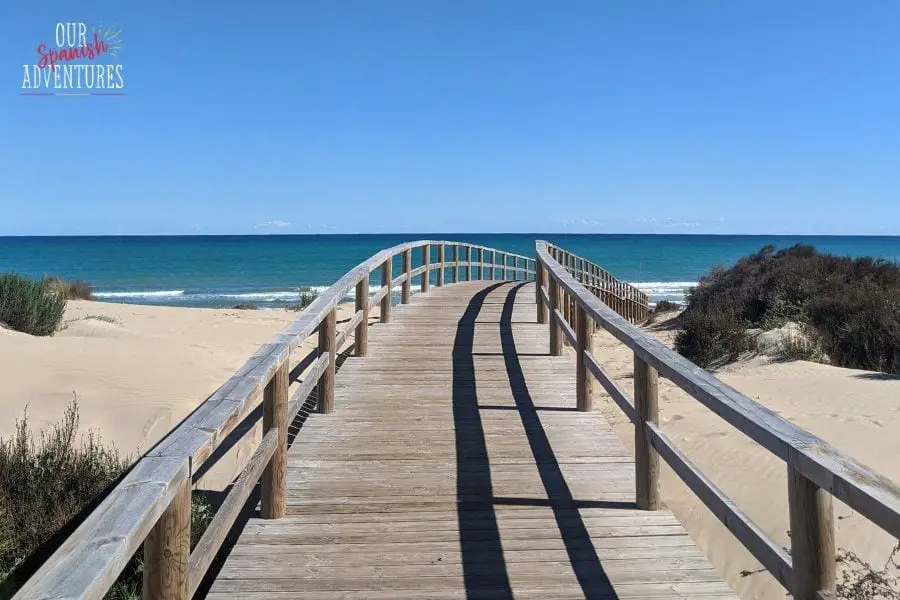 The main beach has a short promenade with bars and restaurants, and the beach stretches for miles in both directions. Even in the middle of summer you can find plenty of space on the beach if you walk away from the main promenade.
There's a large weekly market on a Wednesday as well as a night market during the summer. If you're visiting Guardamar with kids there is a great play park with ducks, turtles, peacocks and red squirrels, as well as a peaceful walk through the pine forest. There is also a new pedestrianised area with bars, restaurants, and play parks.
Benidorm
If you want somewhere a bit more lively, Benidorm is only a 30 minute drive from Alicante. You can also get the tram from the city centre.
We have only been to Benidorm twice, and stayed away from the main touristy part as we're not keen on crowded places. The old town is really nice with some great bars and restaurants. There are also some lovely and quieter beaches away from the city centre.
For families, there are various attractions for days out in Benidorm with kids such as the waterpark Aqualandia, the zoological park MundoMar, and the theme park Terra Mitica.
If you're looking for some entertainment, the Benidorm Palace is a popular venue with tourists, putting on a wide range of shows and concerts.
Villajoyosa
One of our favourite places to visit within an hour of Alicante is the colourful town of Villajoyosa (or La Vila Joiosa in Valenciano). A coastal town approximately 30 mins from Alicante, the main attractions here are the brightly coloured houses throughout the town. When it's not too hot you can walk from the top of the town, through the colourful streets, and down to the beach front. If it's too hot, there are carparks along the seafront.
A great way to see the sights of this amazing town is by joining a Free Walking Tour of Villajoyosa.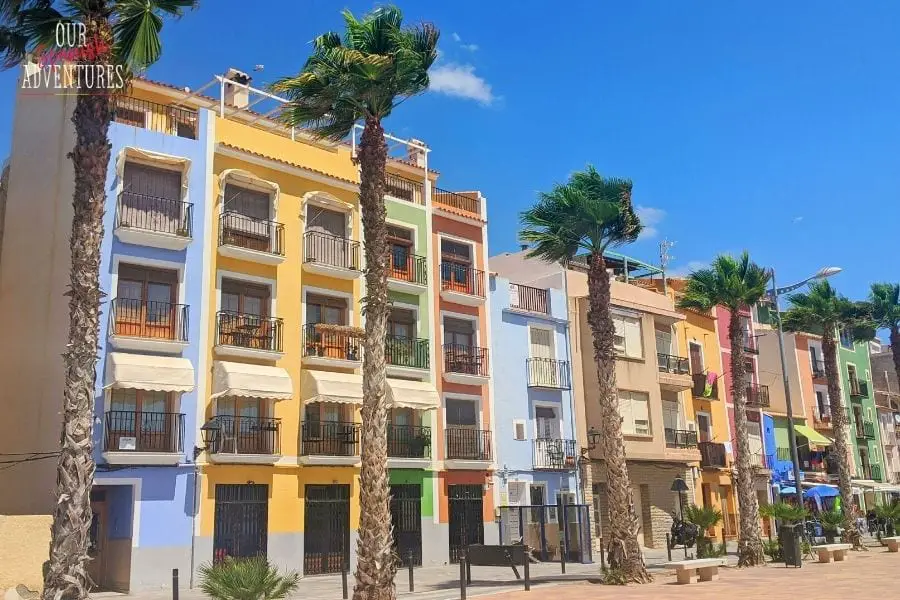 The seafront has a lovely promenade lined with some great bars and restaurants looking over the beautiful sandy beaches. You can walk in both directions to find some quieter areas as well as some great viewpoints.
The town is full of history and you can visit the well preserved ancient spa and the Iglesia-fortaleza de la Asunción church. There is even a chocolate factory in the town – we're saving this for a visit in the colder months!
Altea
If you're looking for a traditional white-washed Spanish village then head to the town of Altea which is around 40 minutes north of Alicante. It is definitely one of the prettiest towns on the Costa Blanca.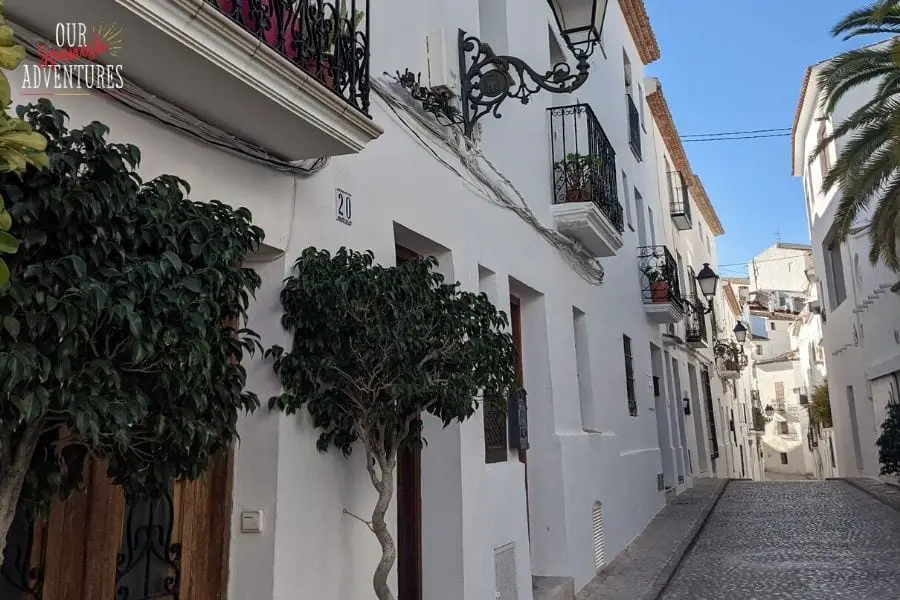 The main attraction in Altea is the old town which is set on the hillside over looking the sea. The old town is made up of windy cobbled streets with white buldings, and the blue domed church Parròquia de Nostra Senyora del Consol.
The narrow streets are full of unique gift and clothes shops as well as plenty of fantastic seafood restaurants and tapas bars. You also have some amazing views from Altea's old town.
Down in the newer part of town you have a pebbled beach with a long promenade and lots of restaurants and bars, as well as shops in the streets behind.
If you want a different view of Altea you can book onto a catamaran cruise to sail along the coast and see this beautiful town from out in the bay.
For Instagram lovers, you can book onto this great Altea Instagram Tour where you'll be shown the most picturesque and 'Instaworthy' locations.
Calpe
Calpe is a traditional Spanish fishing village turned tourist town just a 45 minute drive to the north of Alicante and is known for its sandy beaches.
From the beach, and any high viewpoints in the town, you can see the Rock of Ifach rising from the sea. You can climb to the summit of the rock but it is supposed to be a very tough and dangerous climb! If you don't fancy the climb, there's a lovely marina next to an old fishing port where you can go on a boat ride around the rock instead.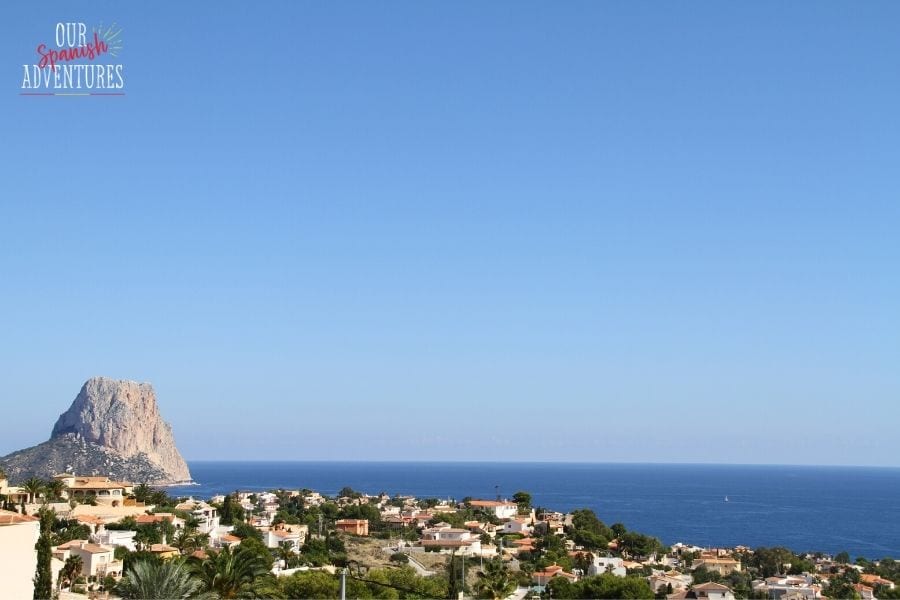 There are also plenty of bars, restaurants, gift shops, and museums to spend your day out in Calpe.
As you can see, if you decide to visit the Costa Blanca there are lots of great places to visit within an hour of Alicante! If you fancy a bit of a longer drive, we also have a blog post with places to visit within 3 hours of Alicante.
Don't forget to follow us on Instagram if you want to see more of the Costa Blanca.
For more ideas of activities to book and places to visit on the Costa Blanca, check our Get Your Guide:
Pin for later: