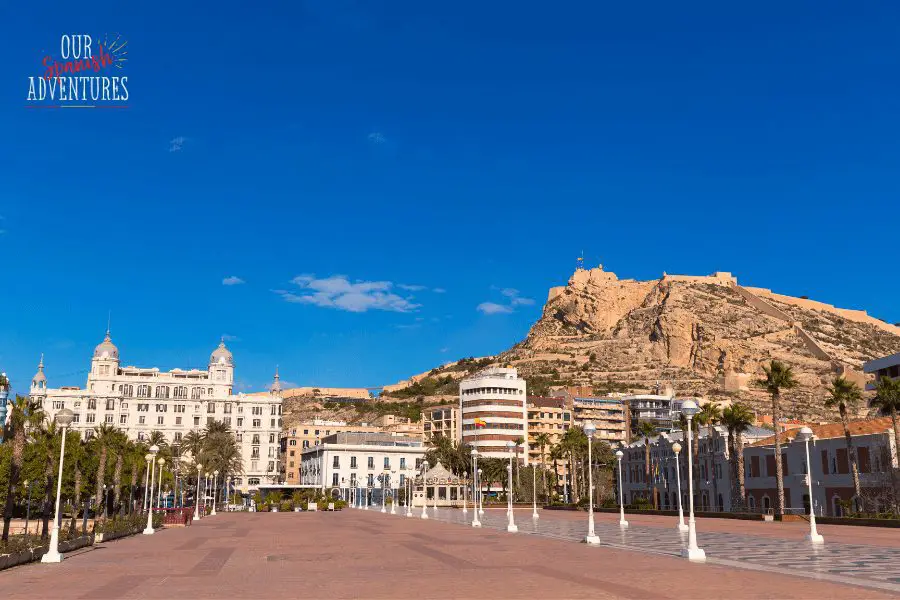 Alicante is a port city on the Costa Blanca, and the capital of the Alicante province within the Valencian Community. It´s a vibrant city with narrow streets, old buildings, and lots of great things to do, from beaches to museums, shopping to sightseeing.
We live around 40 minutes from Alicante and have visited many times over the last 10 years. If you´re planning a visit, or have recently moved to the area, here´s a list of some fun things to do in Alicante…
Contents (jump to section)
Some of the links below are affiliate links, meaning we may earn a small commission at no additional cost to you if you make a purchase via one of these links.
Visit Santa Bárbara Castillo
Number one on your list has to be a visit to the castle, one of Alicante's top attractions. From Alicante´s old town, Barrio de la Santa Cruz, you can see the medieval Castillo de Santa Bárbara, set up on the on the top of Benacantil Mountain, 166 metres above sea level.
It´s a fantastic place to learn about the history of both Alicante and the surrounding areas, as well to see some amazing views of the Mediterranean coast. Santa Bárbara Castle is the city´s main tourist attraction and dates back to the 9th century when the city was under Muslim control.
You can get to the castle via some very steep steps at the back of the old town, or you can take the much easier option of the lift which will take you to the top of the castle. The lift can be hard to find the first time but you just need to look for the entrance to a tunnel directly opposite the beach. It's around €2 per person to take the lift and entry to the castle is free.
Once at the top, you´ll find the best views in the whole of Alicante!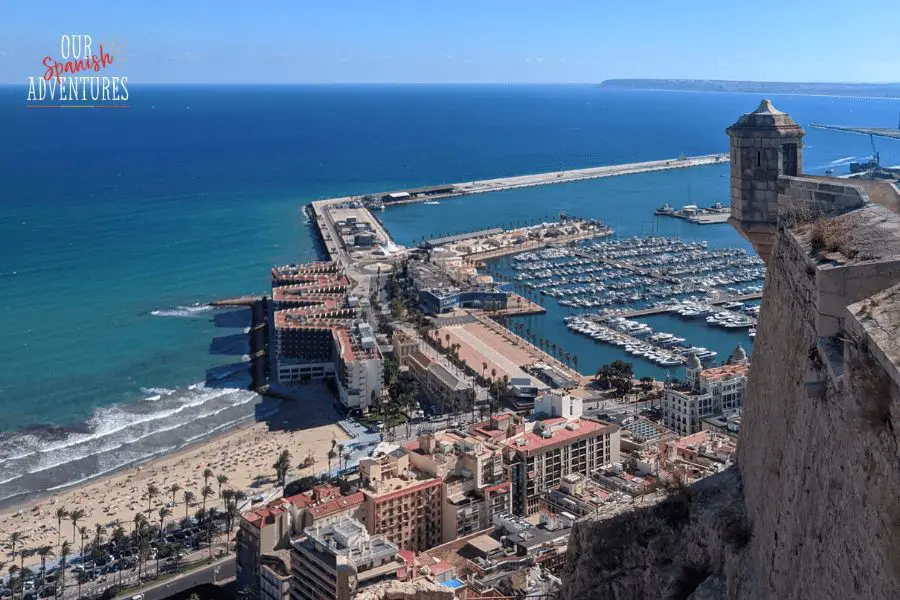 You can walk around various rooms in the castle with archaeological remains of the Bronze Age, Iberian and Roman on display. There's also a restaurant and a couple of kiosks where you can get some refreshments.
Go to the beach
Alicante has some amazing golden, sandy beaches, which are perfect for a day out with the family, and of course one of the best free things to do!
The city´s main beach, Playa del Postiguet, is just a few minutes walk from the city centre. From here you can walk for miles along the shore towards Playa de San Juan. Playa del Postiguet has a playpark on the beach and in the summer months there are inflatables in the sea, as well as pedaloes.
Alongside the beach is long palm tree lined promenade with some great beach bars, cafes and restaurants.
Walk down Calle de las Setas
If you're looking for something unusual to do in Alicante, somewhere really fun to go with children is Calle de las Setas, or 'Mushroom Street'. The yellow street is home to giant toadstools, some with slides and others designed as playhouses, plus hopscotch painted on the floor. There are a couple of bars in the middle, and if you go right to the end you´ll also find an amazing sweet shop!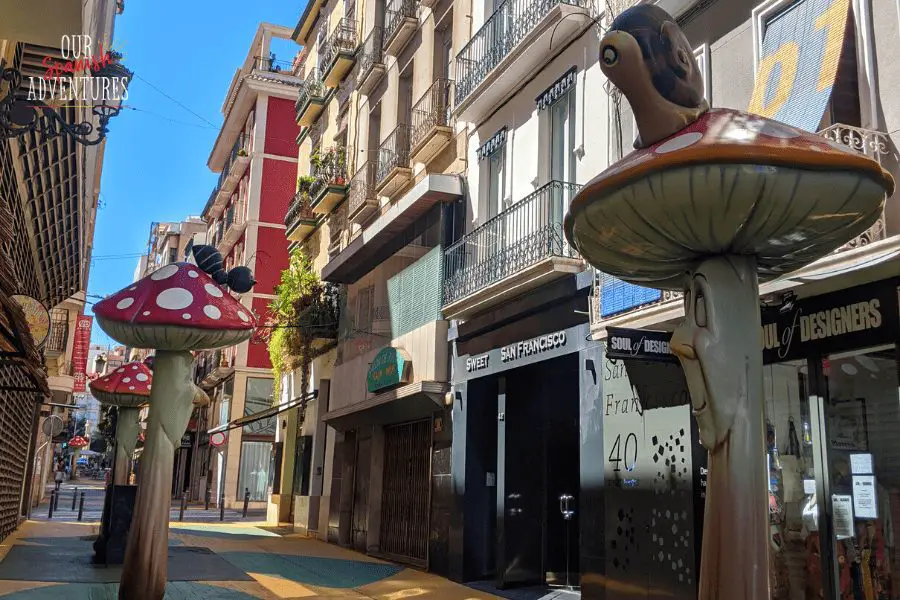 Take a tram ride
If you want to see more of the coast, the Alicante Tram runs from the center of city all the way up to Benidorm, and then from Benidorm it goes all the way to Denia. You can get on the tram in the city centre and it´s €6.40 for a return ticket to Benidorm, but you can get on and off wherever you wish. We´d definitely recommend stopping at Villajoyosa and Altea.
Shop!
Like most cities, Alicante has a lot of great shops, from well-known brands to unique gift shops. There are also two big shopping malls in Alicante, Plaza Mar 2 which includes Mango, Zara, H&M, a cinema and restaurants, and Gran Via commercial centre which is home to Ikea, Primark, Pull & Bear, H&M and lots of great Spanish brands.
If you´re looking for gifts, head to the old town which is full of one off shops and also the grand central market with fruit, vegetables, meats and fish. The walk from the port has plenty of stalls selling souvenirs and crafts.
Visit a museum
Alicante has lots of great museums where you can learn more about the history of the city.
Museo Arqueologico de Alicante, known as MARQ, is home to some great archaeological displays, plus themed areas and interactive displays for kids.
Museo de Hogueras is where the amazing floats and papier mache figures from the famous San Juan festivals are displayed. If you don´t manage to make it to the fiestas, this is a great place to see more of what is on offer.
Plaza de Toros (the bullring) and Museo Taurino de Alicante (the adjoining museum) is a fascinating place to learn about the Spanish tradition of bullfighting. Even if you don´t agree with bullfighting it´s really interesting to learn more about something that is such a big part of Spanish history and culture. The bullring is also very interesting from an architectural point of view.
Vist Parque el Palmeral
Somewhere we only discovered recently is the palm tree park just outside the city centre. It´s a peaceful place, with man made lakes and waterfalls, as well as play parks, picnic areas, and of course a lot of palm trees.
The paths lead you on nice walk around the park, over bridges, and even behind the waterfall. There´s a small bar in the centre serving snack, drinks, and ice creams, with a picnic area next to it. The park has free entry, plus free parking on the road outside.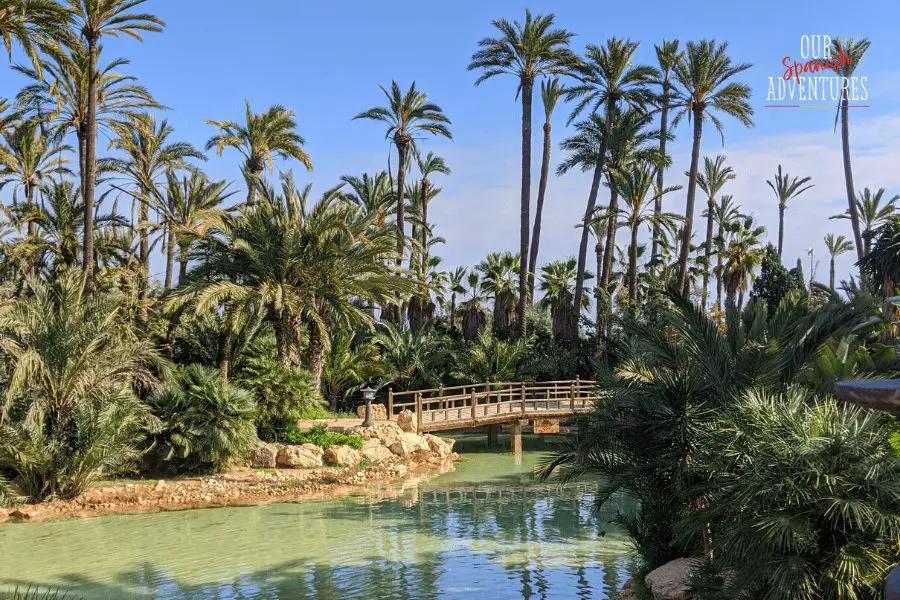 Eat & drink
Before you leave Alicante, make sure you get some tapas or paella! The old town is home to some great bars and restaurants, tucked away in the back streets. There are also some lovely seafood restaurants along the beach front.
To experience traditional Spanish tapas like a local you can join an Alicante Tapas Tour where you'll have chance to sample different tapas and drinks.
If you´re not a fan of seafood or paella, there are lots of Italian restaurants, burger restaurants, and lots more all around the city.
Join a Free Walking Tour
One of the best ways to explore Alicante is on foot, and what better way to see the best sights than being shown around by a local on a Free Walking Tour of Alicante.
You meet up with an English speaking guide at the Town Hall Square, and spend 2 and a half hours exploring the city.
Oh, and as we mentioned already, it's free – you just pay the amount you think is appropriate at the end of the tour.
We hope this list has given you some ideas of things to do in Alicante.
Visit Get Your Guide to book tickets, tours, and experiences in Alicante.
If you've visited Alicante before, what are your favourite things to do?
Pin for later: