When you move to Spain you need to get used to Spanish food, which is something we've found very easy! Paella has always been one of my all-time favourite dishes, even more so now we're living in Spain. However, knowing how to cook a great Spanish Paella is a different matter and can be tricky at first.
In Spain, paella is a dish that literally brings whole towns together (you can often stumble across a giant paella dish cooking away in a village square!) so it's the perfect dish to share with family, friends, and even strangers. It can hold its own as a standalone meal or form a partnership with virtually anything else, especially BBQ'd meats.
After a bit of practice I think I've managed to perfect this dish, so let's have a look at how to cook a great Spanish Paella…
Contents (jump to section)
Where does Paella come from?
First of all it's good to know a little bit about the history of paella. We live in the region of Valencia where paella is traditionally from, but its history goes back hundreds of years, thought to possibly hail from when the Moors ruled Spain, as it was they who first cultivated rice here in the 10th century. Paella's modern form as we know it however, can be traced back to the mid-19th century in Valencia.
What ingredients go into Paella?
The Spanish will probably be spitting on the floor when I say this, but you can in theory use whatever ingredients you want. Now, I have a wife and daughter who are not happy at the idea of adding Thumper (conejo/rabbit) to the mix, and I'm not a fan of caracoles (snails) in mine either, so our own will never be considered 'authentic' by the Spanish, and we're fine with that. That's the beauty of this dish, you can add your favourite ingredients or whatever you have in the fridge to your paella recipe. Be warned if you're serving paella to Spanish friends though, they don't like it when you add chorizo!
My thoughts on Paella…
I always thought paella was a simple dish, and it is on the face of it. Once you have your own preferred recipe down however, to get that right balance in every department isn't as simple as I thought. It took multiple attempts to get our paella the way we like it, and obviously involved sampling lots of other people's dishes!
For me the most important thing apart from ingredients and that all-important socarrat (more on that in a moment), is heat. If you don't have evenly distributed heat to get all the rice cooked, and reduce the stock properly, this goes from a dish you practically leave to cook by itself, to a dish you'll need to nursemaid. So, bear that in mind if you're cooking paella on a hob.
I really do recommend getting a proper paella dish rather than using a frying pan. They're inexpensive and available in many different sizes from an individual pan to one that can feed the whole town. There are also standalone gas hobs you can buy especially for paella dishes which are around €30 and will give you good heat distribution for that perfect result.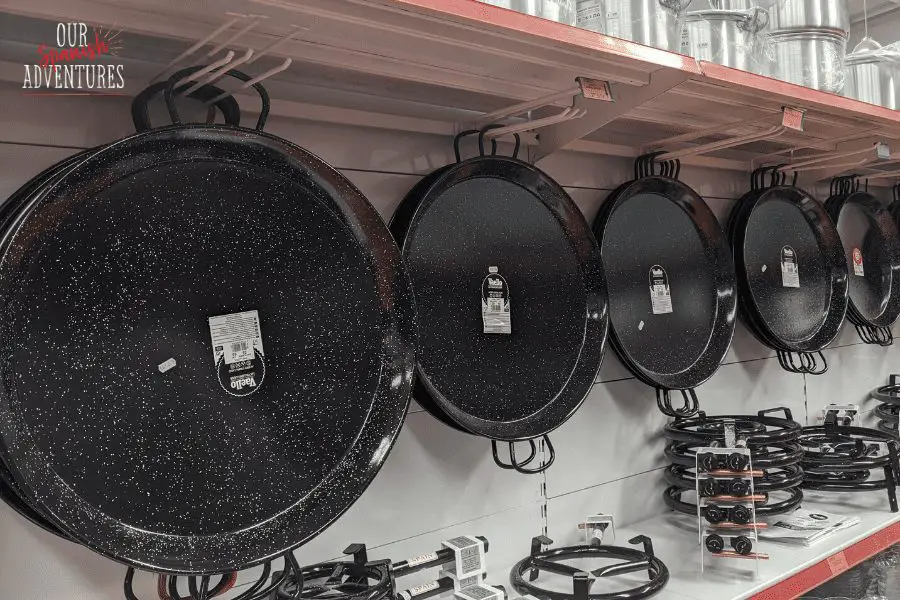 This should have a section all of its own but last (but by no means least) you cannot talk paella with mentioning the 'Socarrat'. There's no literal translation but the socarrat is basically the caramelised layer between the paella stock and the rice, and is probably the most highly prized part. There's a lot of flavour in paella, but this is where it is all locked away. Be careful not to burn your socarrat though!
Ingredients needed to make paella
Paella isn't an exact science, with weights and quantities dependent on taste. So, take the measurements below with a pinch of salt, and more of a base to start from while you experiment your way to the perfect paella. The quantities below are for two people.
Paella Spice Mix:
You can purchase some excellent ready-made paella spice mixes in Spain. If you ever find yourself in Valencia pay a trip to Mercado Central (The Central Market). It's a foodie's dream and there are some cracking spice blends to choose from. You can also usually get great spices at any Spanish village market.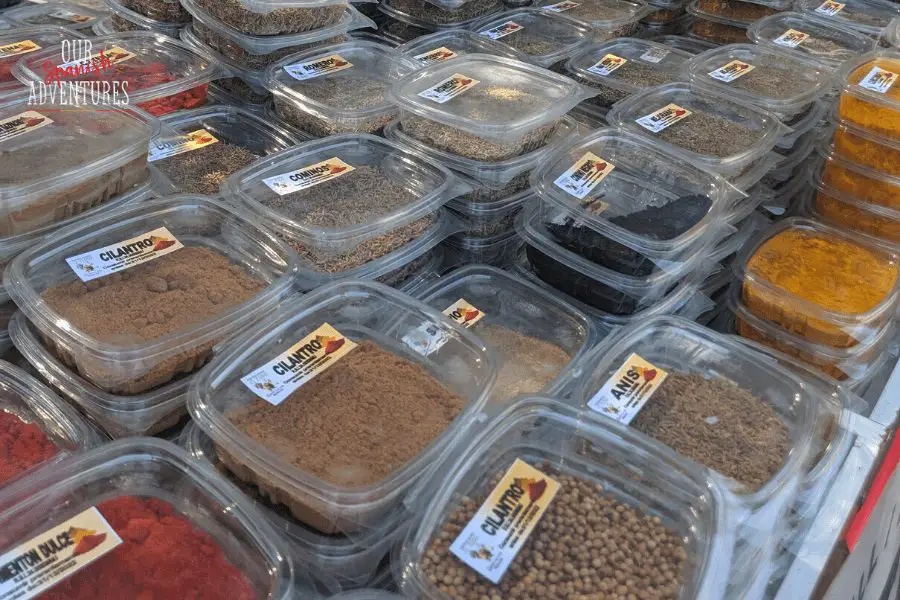 If you want to make your own paella spice mix you'll need:
2 pinches of ground saffron threads
2-3 teaspoons of paprika
1 teaspoon cayenne pepper (2 if you like more heat)
Salt
Pepper
Main paella ingredients:
Red/green pepper cut into large strips (ideally 8)
300g chicken thighs or breast cut into chunks.
¼ cup of fava/lima beans
½ cup of broad/runner beans cut into large strips
¼ cup of de-shelled fresh peas (or frozen)
Good olive oil
2 pinches of saffron threads
2-3 tablespoons of chopped tomatoes (or canned)
2 chopped large garlic cloves… or 3 (I love garlic!)
4 cubes of chicken stock
Mug of Arroz Redonda (paella rice)
Rosemary sprigs
How to make paella
Enough of all this talk, here is how to cook a great Spanish paella…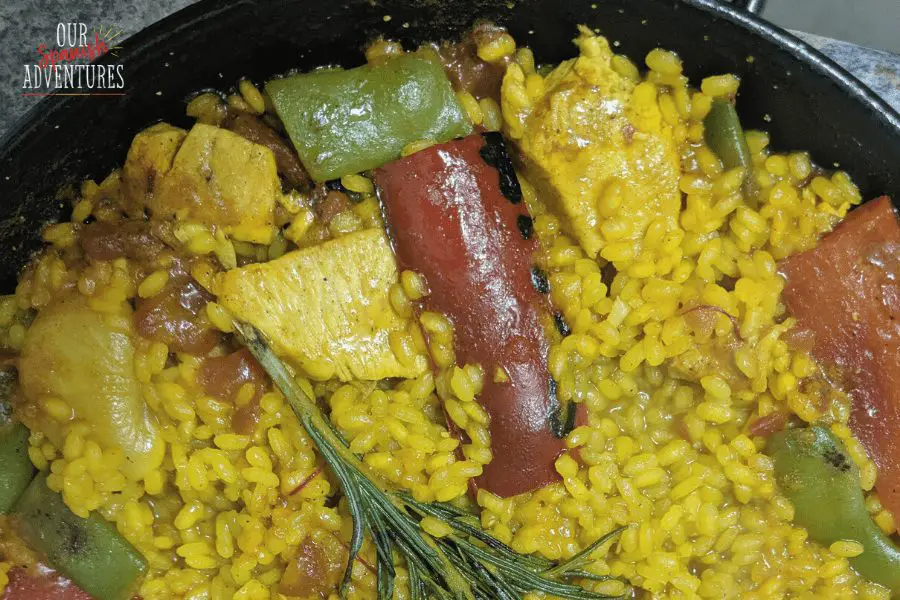 Fill a medium pan with water, bring to the boil, and add the chicken stock cubes. Once boiled leave to the side.
Heat the pan, wrap the saffron threads in tin foil, and toast for approx. 30 seconds, then set aside for later.
Add a decent splash of olive oil to the pan. Wait until smoking before part cooking the peppers. Once they are slightly browned, take them out of the pan and put aside for later
Add the chicken and cook until slightly browned. Once done, keep in the dish but move to the outside.
Add garlic and tomatoes and cook for approx. 2 minutes. Then also move these to the outside of the dish.
Add the veggies and again once slightly cooked move to the outside of the dish.
Bring down the heat, add the chicken stock, and give everything a good stir.
Now add the spice mix (but not the toasted saffron threads) and give it all a good stir.
Add the paella rice. Start in the middle spiraling outward as you go. Shake the pan gently to even out the rice but not too much, as too much movement will release the starch in rice.
Add the peppers, rosemary sprigs, and the saffron threads.
Now bring the heat right back up and cook for approx. 10-12 minutes.
Once cooked you can either serve onto individual plates, or serve Spanish style with the paella dish in the middle of the table and let everyone help themselves.
I hope this has given you some tips on how to cook a great Spanish paella, happy experimenting – and eating!
Pin for later: