Christmas in Spain is a lot of fun, but some of the celebrations and traditions might be quite different to what you're used to. If it's your first Christmas in Spain it's a good idea to find out about some of the most popular Spanish Christmas and New Year's traditions.
We've listed some of the most popular festive traditions in Spain below…
Contents (jump to section)
Belénes
One of the first things you'll probably notice in the run up to Christmas are elaborate nativity scenes popping up in every town or village square. These nativity scenes are called 'Belénes' (Spanish for Bethlehem) and they start to appear in early December.
Each belen will be very detailed, and include small figures, houses, markets scenes, farms with animals, and of course the traditional stable scene with baby Jesus.
There will often be music playing and lights, and it's a popular feature of the town at Christmas.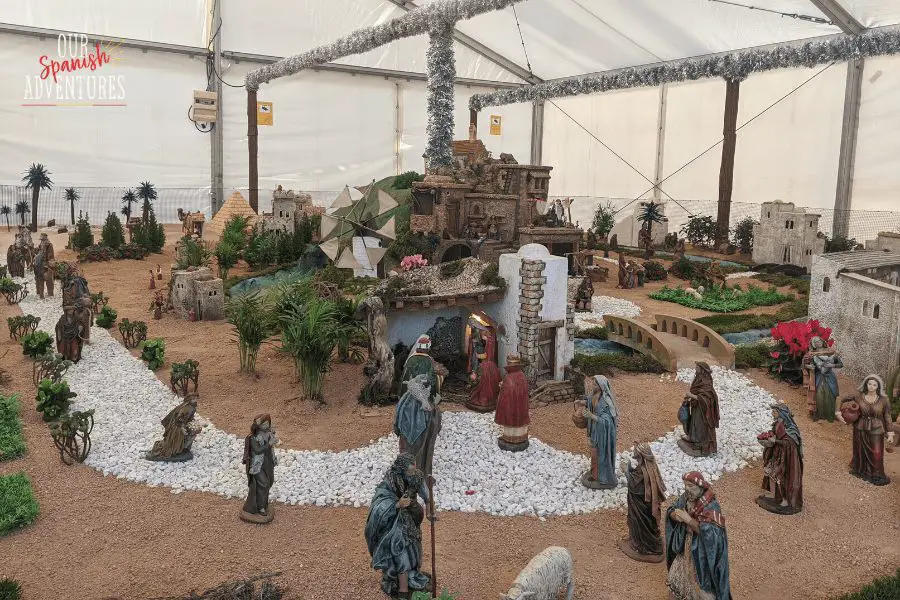 'El Gordo'
El Gordo (The Fat One) is the nickname given to the Christmas Spanish National Lottery draw held just before Christmas. It takes place on December 22nd and everyone buys tickets – each Spaniard apparently spends around €70 on tickets! El Gordo is the biggest lottery in the world in terms of total prize money, with around €2.3 billion shared between all winning numbers. The biggest winning ticket is worth €400,000, the second prize is €125,000 and the third is €50,000, with lots of smaller prizes.
The Spanish love their superstitions and those believed to bring luck for a lottery win include rubbing your lottery ticket against a pregnant woman's stomach, the head of a bald man, or a cat's back. Others might tuck their ticket next to a figure of the Virgin Mary.
Nochebuena
Nochebuena (Christmas Eve) is when the Spanish eat their main Christmas meal, usually just before going to Midnight Mass. The extended family will gather for a feast of roasted meat, seafood, wine, and desserts. Dishes might include pavo trufado (turkey stuffed with truffles), lobster, roast lamb or a suckling pig. Popular desserts include mazapán (made of almonds, sugar and eggs), turrón (made of honey and toasted almonds) and polvorones (made of flour, butter and sugar).
Midnight Mass on Christmas Eve is known as La Misa Del Gallo (the mass of the rooster) because a rooster is supposed to have crowed during the night Jesus was born.
Dia de los Santos Inocentes
Dia de los Santos Inocentes is on December 28th and is the Spanish version of April Fool's Day. People will play pranks on each other and dress up in funny wigs and hats! If someone falls for your trick, you call them Inocente (innocent).
Dia de los Reyes
Dia de los Reyes (Day of the Kings) on 6th January is more popular in Spain than Christmas Day. Children will open some presents on Christmas Day, but most are left until Epiphany on Jan 6th, and children write letters to the Three Kings instead of Father Christmas to tell them what toys they 'd like. On the night of January 5th, the Three Kings parade through the streets on decorated floats, horses or camels, throwing sweets to the children. Before bed children leave their shoes under the Christmas tree or on windowsills to be filled with presents. Naughty children might find a piece of coal made out of sugar and you can see these on display in confectionery shops!
Gifts often left for the Kings (who are called Gaspar, Melchior, and Balthazar) might include a glass of Cognac, a satsuma and some walnuts, and sometimes a bucket of water is left for their camels!
Rather than a Christmas pudding or cake on Christmas day the Spanish have a Roscón de Reyes (ring shape roll) on 6th January. This is ring shaped doughy cake filled with whipped cream. It has candied fruits on the top as well as a paper crown, and is accompanied by sidra (cider) or cava. Often a bean and a small figurine is baked inside – the person who gets the piece with the toy, gets to wear the crown. But if you get the bean you have to pay for next year's roscón!
Noche Vieja
New Year's Eve in Spain is known as Noche Vieja (old night). At midnight the Spanish tradition and superstition is for everyone to eat doce uvas (12 grapes), one for every chime of the bell. If you don't manage to eat them all before the 12th chime they say you'll have bad luck for the following year.
If you're looking for love in the new year you should wear red underwear on New Year's Eve! It only works if the underwear were a gift and you have to give them away by the end of the night for the superstition to work!
Año Nuevo
New Year's Day in Spain is known as Año Nuevo. You should start the new year off on the 'right foot' – literally, you're supposed to use your right foot for the first step out of your house on New Year's Day.
Lentil soup for lunch on New Year's Day is a Spanish tradition. Each lentil represents a coin, and eating the soup of "coins" for lunch on New Year's Day is thought to bring you wealth in the new year.
If you're spending your first Christmas in Spain this year we hope you get to enjoy some of these Spanish Christmas and New Year's traditions! Which one sounds like it could be your favourite?
If you'd like to learn more about other Spanish fiestas check out this post.
Pin for later: