If you're new to Spain, or missing Spain and fancy having a Spanish night at home, trying different Spanish dishes is a great idea. If you have kids. finding something they'll eat without complaining can be difficult but there are lots of child-friendly Spanish tapas you can try.
Spain is as famous for its tapas as it is for paella and sangria. Tapas are hot or cold snacks that started as a 'cover' to keep flies off a drink. A slice of bread or ham was placed over the glass and this evolved into the tapas that is popular across Spain now. Some areas of Spain offer a free tapas with a drink, but the best way to try lots of different tapas is to head to a tapas bar and sample several dishes from the menu.
If you're going to do this with kids in tow, or make your own Spanish tapas at home, here are 6 child-friendly Spanish tapas dishes that kids will love (complete with the Spanish names and pictures so you know what to look out for on the menu)…
Contents (jump to section)
Tortilla Española or Tortilla de Patatas (Spanish omelette)
If your kids like omelette or scrambled egg, they're bound to like Spanish omelette. A very popular dish that can be found on every menu, a Spanish Omelette is a thick omelette made with chunks of potato and onion.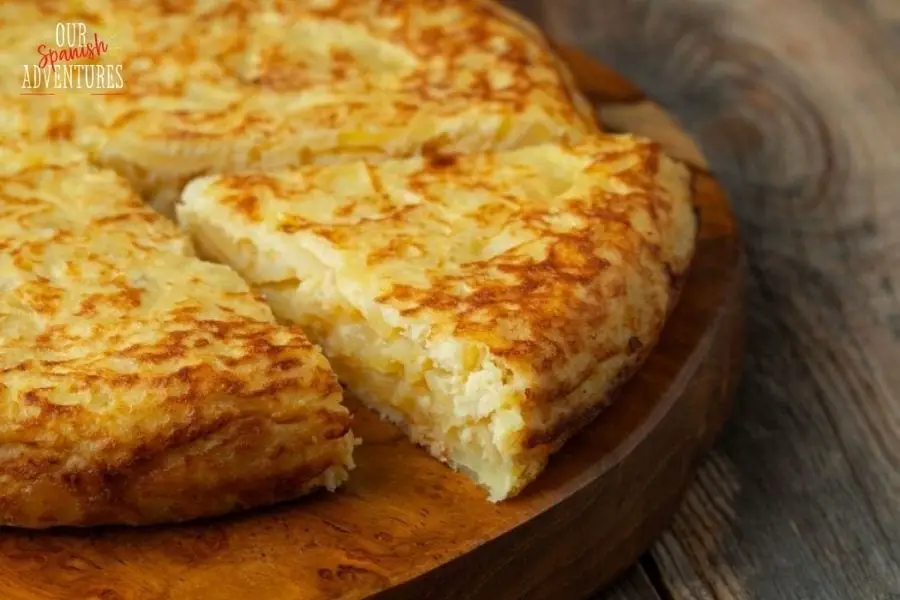 Albondigas (Meatballs)
Another popular Spanish tapas dish is Albondigas. These meatballs are usually made from minced beef and pork and are served in a tomato sauce. The sauce isn't spicy so is perfect for kids to try.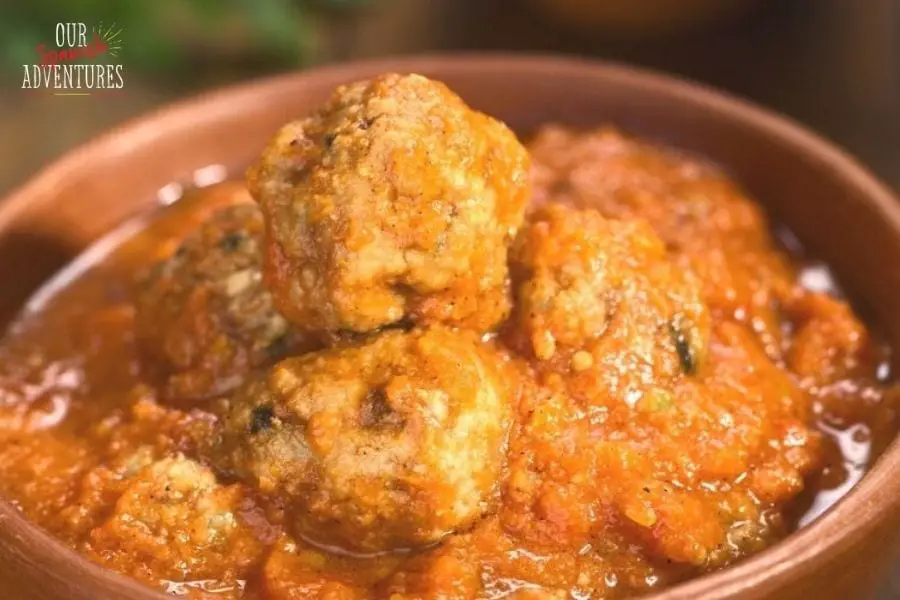 Jamón y Queso (ham & cheese)
Most tapas bars will have a plate of ham and cheese on their tapas menu. The ham is usually either Serrano ham or Iberico ham and the cheese is usually Manchego which has a fairly strong taste.  You will often also get bread and almonds served on the plate.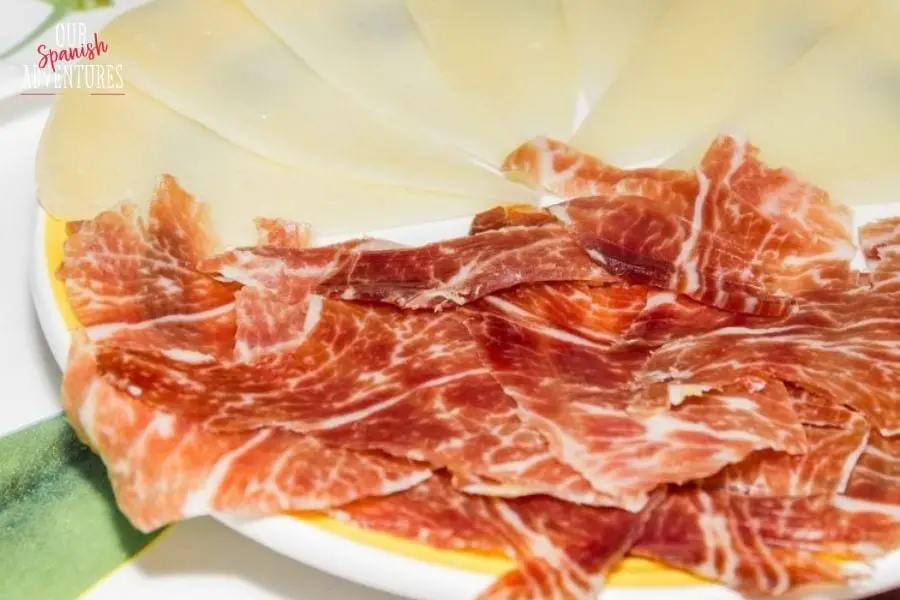 Croquetas (Croquettes)
Made from fried mashed potato or sometimes fried Béchamel sauce, croquetas are very popular on tapas menus and a little bit like nuggets. In Spain these croquettes often also have small pieces of ham inside (Croquetas de jamón) and are delicious.
Pan con tomate or Tostada con tomate
Basically like brucshetta but you often get the chopped tomatoes in a separate bowl so that you can put it onto the bread yourself making it a great child-friendly Spanish tapas. Sometimes you can have it with Serrano ham too and it's like a French bread pizza but even better!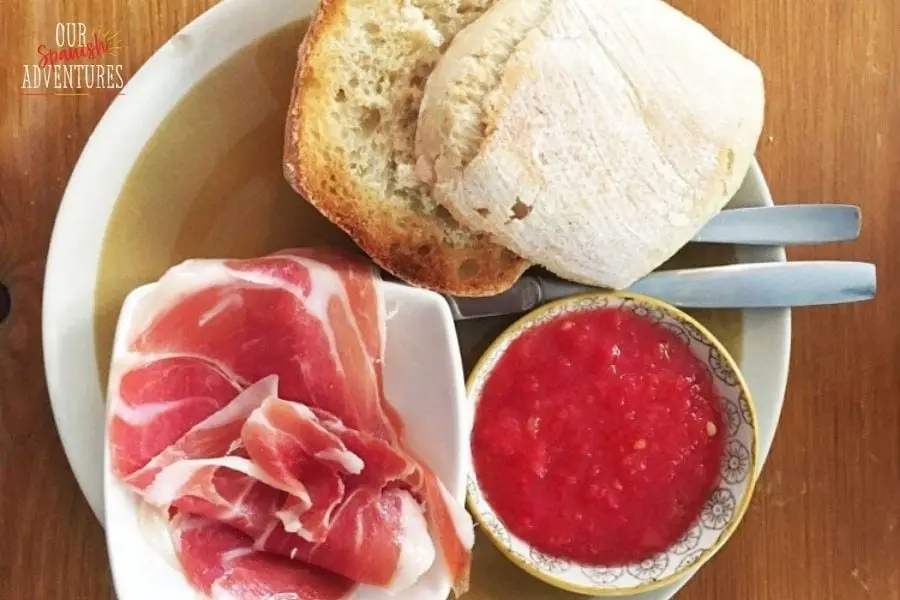 Patatas Bravas
This dish is simply fried potatoes chopped into small chunks with a tomato sauce drizzled on. Sometimes the sauce is spicy (it will usually say on the menu, look out for the word 'picante') but a lot of the time it's a very mild sauce and just like homemade ketchup.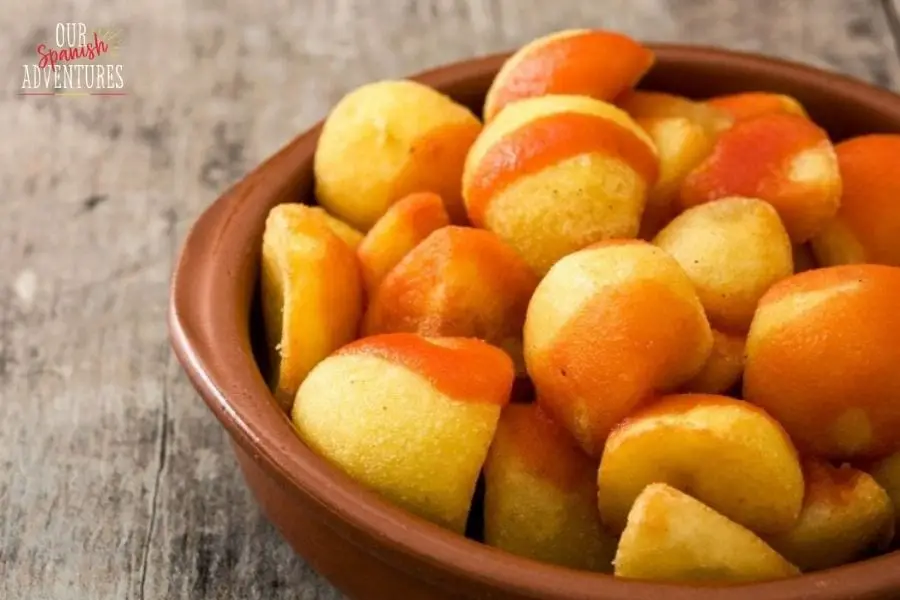 And if you really can't find much the kids like you can't go wrong with a plate of chips followed by Churros con chocolate while you sample lots of different Spanish tapas yourself!
If this list has made you hungry, what tapas are you looking forward to trying? Have you got any favourites?
Pin for later: