Easter, or Semana Santa, in Spain is quite a different celebration than in the UK. We noticed that Christmas is so much less commercialised here, and Easter seems to be the same.
Semana Santa (Holy Week) is much more about the religious aspect of Easter rather than about chocolate eggs and Easter bunnies.
Last week we blogged about the history of Semana Santa and what happens during the festivities, this time we're going to look at what food is eaten during Semana Santa in Spain. Because even without the usual parades and festivities, there will still be lots of celebrating in Spain this week…
What are traditional foods eaten during Semana Santa?
Easter in Spain doesn't involve mountains of chocolate eggs or bunnies as it does in the UK, in fact the only places you'll find Easter Eggs on sale are usually the shops catering to foreigners. If you want to celebrate Semana Santa like the Spanish, here are 8 delicious dishes eaten in Spain during Semana Santa for you to try…
Potaje de Vigilia
A popular Semana Santa dish often served on Viernes Santo (Good Friday) is a stew made with espinacas con garbanzos (chickpeas and spinach), bacalao (cod) and ajo (garlic).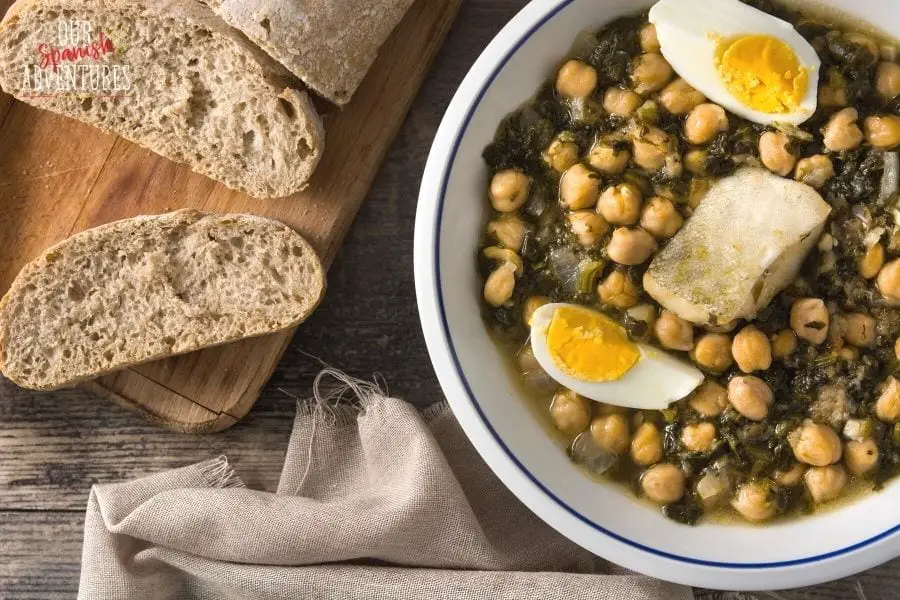 Bacalao Croquettes
As eating meat is prohibited on holy days in Catholic tradition, fish often makes its way onto menus during Semana Santa. Bacalao (salt cod) is very popular in Spain, and there are many Semana Santa recipes featuring salt cod, including Bacalao Croquettes, which are crispy salt cod croquettes.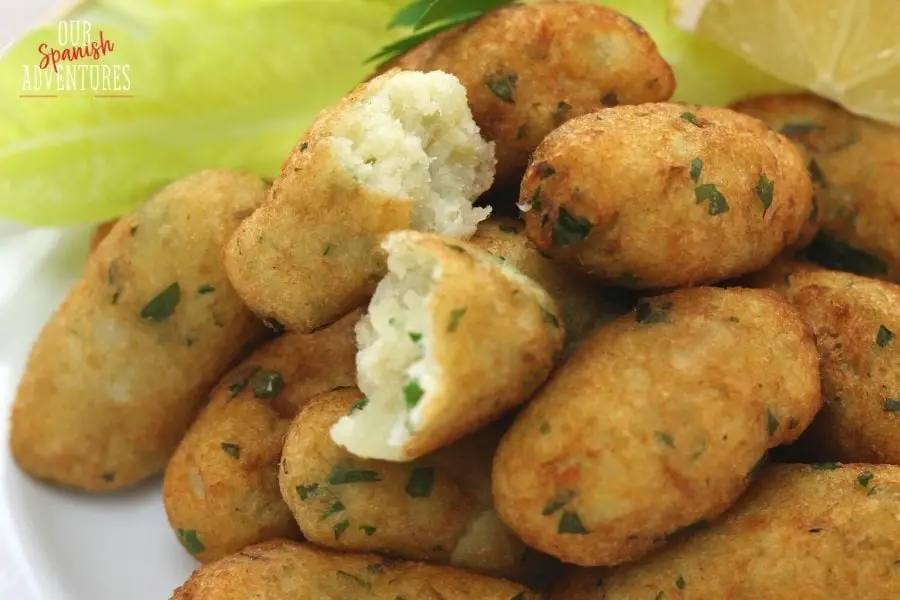 Sopa de ajo
A traditional Easter Sunday dinner in Spain will often include sopa de ajo (garlic soup) made with chicken broth, and with a baked egg in the middle.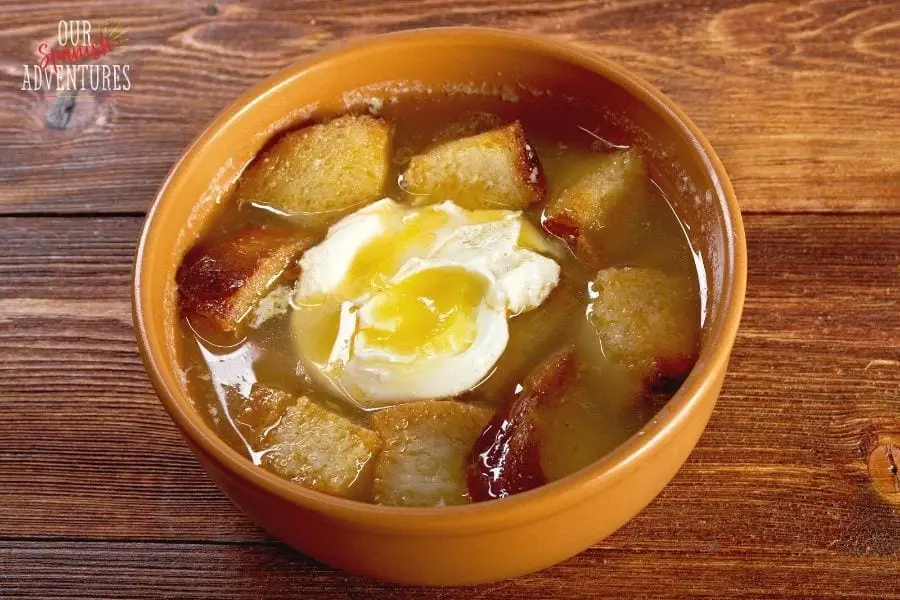 And now onto the sweet treats you've been waiting for…
Torrijas
The most popular Easter treat in Spain is the traditional Spanish sweet treat of torrijas. Similar to French toast, torrijas are made from bread soaked in honey, eggs, and white wine and then lightly fried in olive oil. Sometimes they are also sprinkled with cinnamon.
If you want to make your own at home, there is a good torrijas recipe here.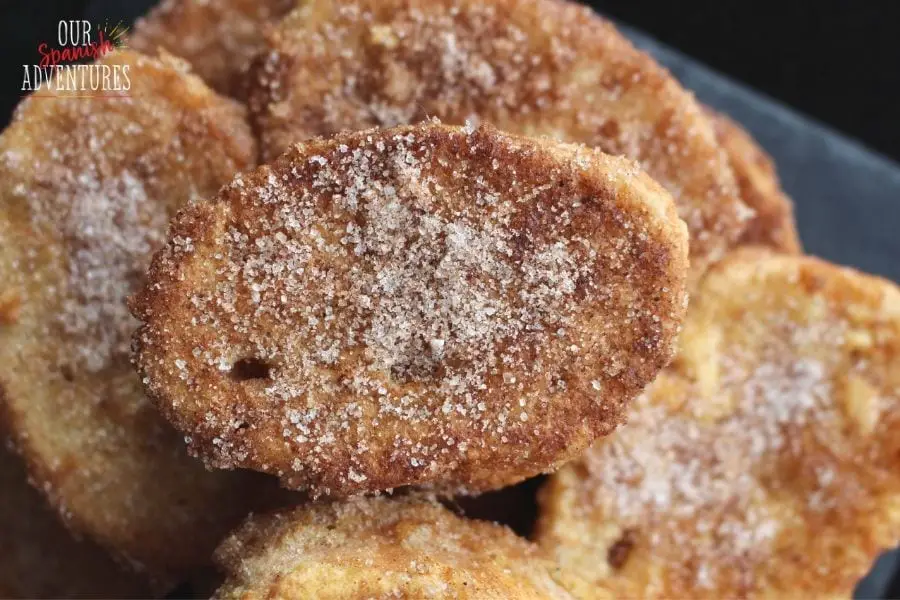 Mona de Pascua
The Mona de Pascua is a traditional cake in the Valencia and Catalonia regions, similar to the Roscon served at Christmas. This round cake is made from flour, sugar, and eggs and traditionally has a hard boiled egg baked into the centre of the cake for decoration, as well as candied fruit on the top. You can also find versions covered in chocolate or filled with cream, and with a chocolate egg rather than a boiled egg.
Roscos Fritos
Roscos or Rosquillas are similar to donuts. Each region has it's own version of Roscos Fritos, they can be soft or crunchy, and filled with anything from cream aniseed liquor.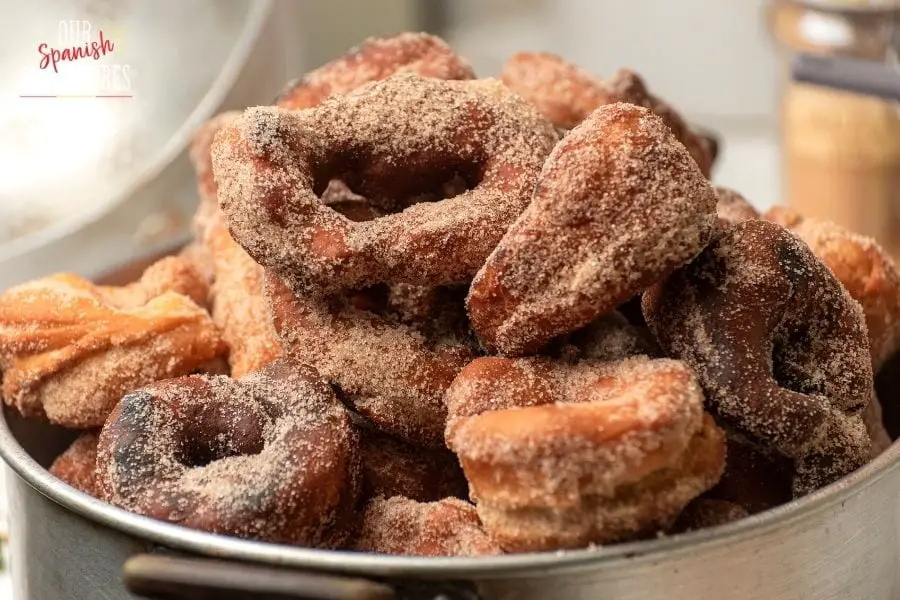 Buñuelos de viento
Also eaten at Halloween, buñuelos are like small donut holes fried in oil and covered in sugar. They are sometimes also filled with cream and often accompanied by chocolate caliente (hot chocolate). Here in the Valencian region they are often made with pumpkin.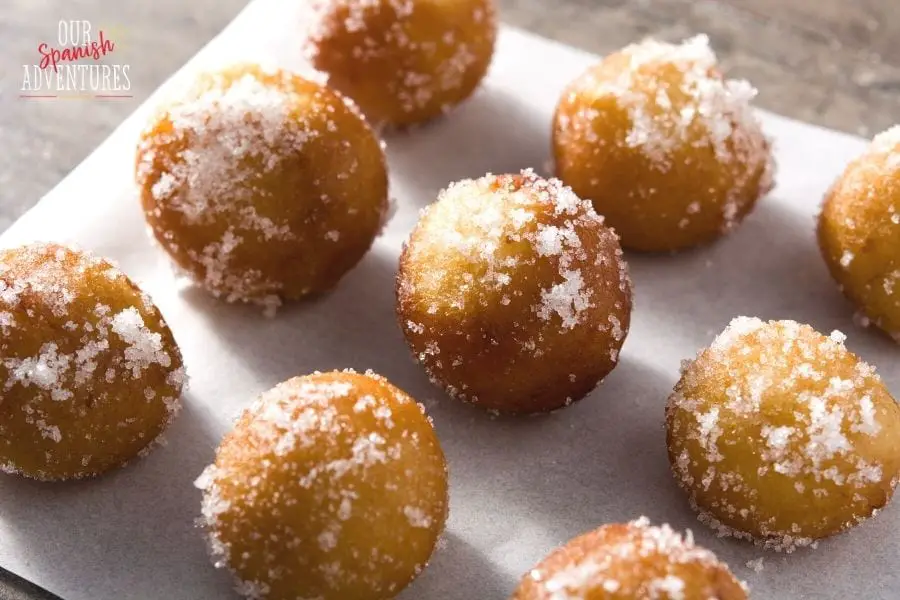 Pestiños
A popular Easter treat in the Andalusia region, pestiños are fritter like pastries made from fried dough, soaked in spiced honey, anise, orange and glazed in sugar.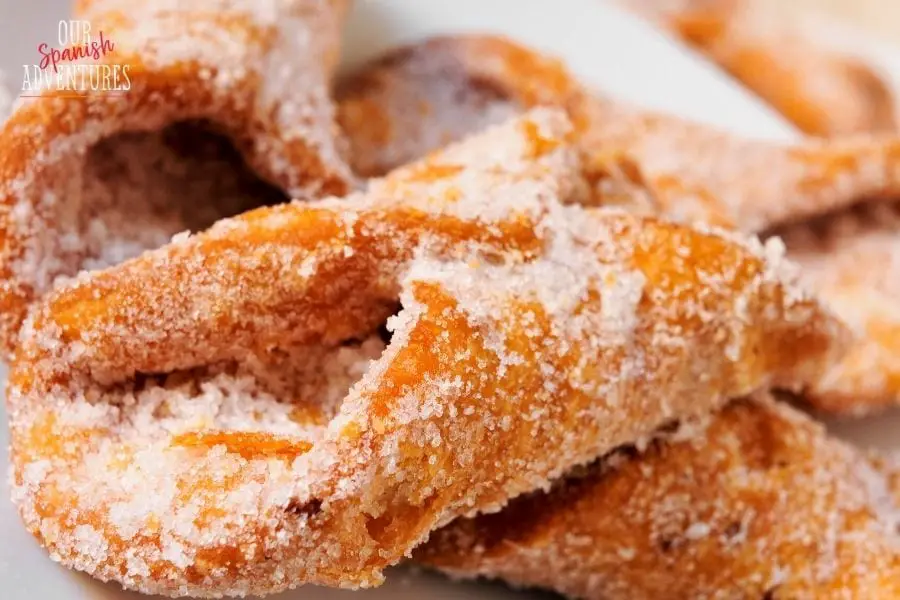 This list has made us hungry! Which one of these traditional dishes eaten in Spain during Semana Santa are you looking forward to trying this Easter?
Pin for later: