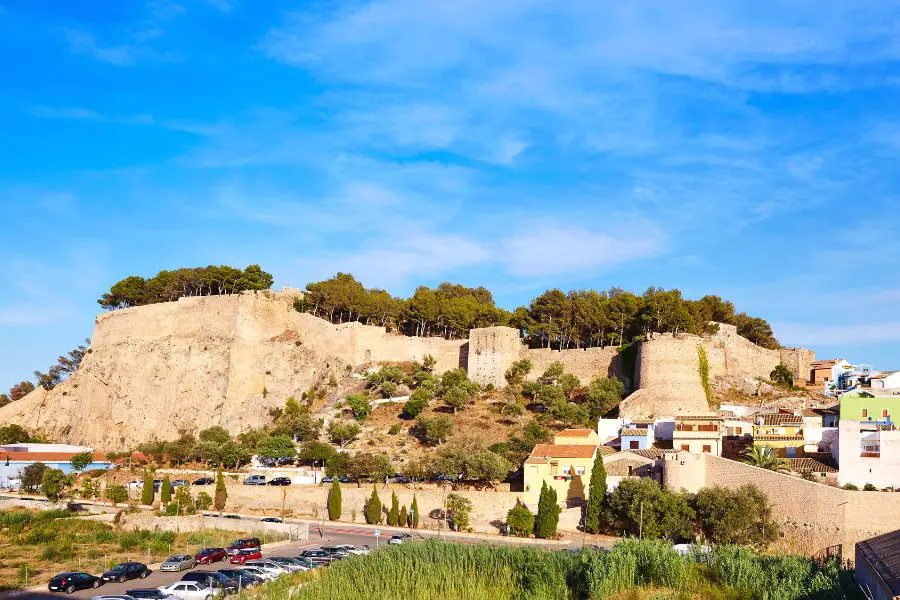 If you're spending time on the Costa Blanca you really will be spoilt for choice with amazing places to visit. We still have lots of places to explore in the region, but the ones we have visited so far haven't disappointed.
We recently spent a few days on the North of the Costa Blanca, with stops in Moraira, Javea and Denia. This is a beautiful part of the coastline and an area you should definitely add to your list of places to visit in Spain.
If you do have plans to visit this area, here some great things to do in Denia to add to your itinerary along with some suggestions of places to stay at the bottom of the post…
Contents (jump to section)
Some of the links below are affiliate links, meaning we may earn a small commission at no additional cost to you if you make a purchase via one of these links.
Visit El Castillo de Denia
The top thing on your list when in Denia has to be a visit to the castle. The castle can be seen from most places in the city and is the top tourist attraction in Denia.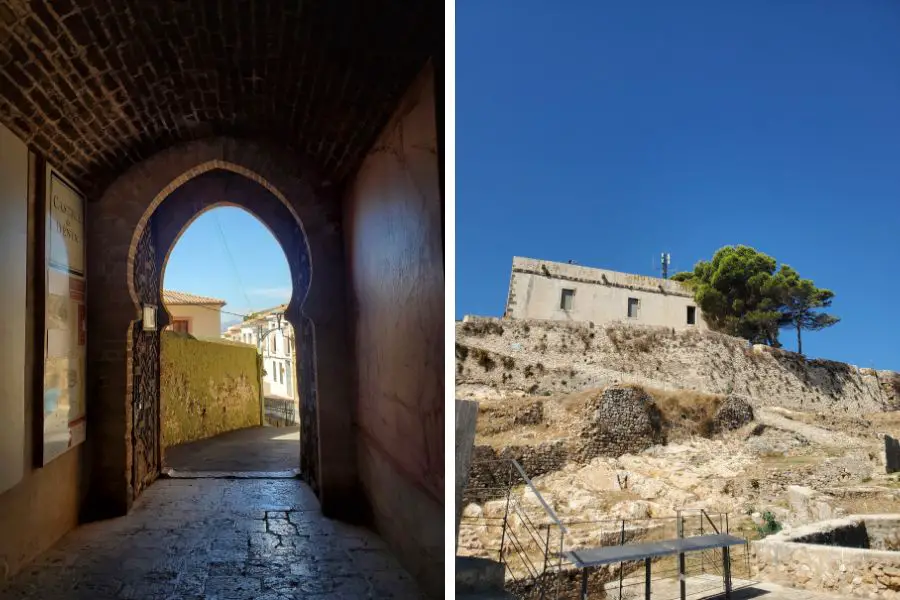 This scenic castle is set up on a hill and overlooks the port, town centre, and surrounding hills with some amazing views that are worth the visit! The castle was built in the 11th and 12th centuries and as well as exploring the fortress and admiring the views, there are plenty of historical artefacts on display in the Archaeological museum.
You can walk up to the castle from the town, passing through a tunnel that was built as a bomb shelter during the Spanish Civil War.
Entry to the castle is just €3 for adults, €1 for ages 8-14, and free for under 8s.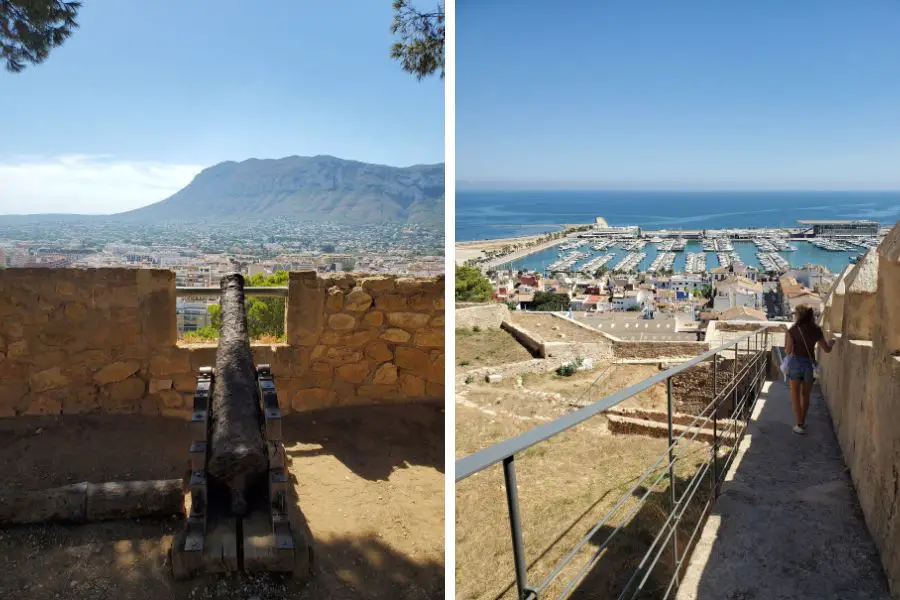 Wander the old town
If you're a fan of Spanish old towns then Denia won't disappoint. In the centre of Denia, surrounding the castle, you will find the old town with lots of shops, bars, restaurants, churches, and squares to explore.
This area used to fall within the castle walls, so expect to find many old buildings, cobbled streets, and the central marketplace.
Of an evening you will be spoilt for choice when it comes to picking a restaurant. We found some amazing food stalls at El Magazinos gastronomic market, and there are so many ice cream parlours and cake shops to choose from throughout the town.
Our recommendation would be to take a walk through the narrow streets and little squares to see what is on offer before you pick a place to eat.
Shop 'til you drop
Denia has some great shopping areas full of small boutiques as well as more well known high street brands. You can also visit the weekly market on a Monday and the flea market on a Friday in the Plaza Jaume I area.
If you want to stop for a coffee while you shop, there are plenty of cafes and bars along the way.
Spend a day at the beach
There are lots of long, sandy beaches to choose from in Denia, as well as rocky coves. You'll find restaurants, shops, beach bars and watersports along the beaches and plenty of free parking.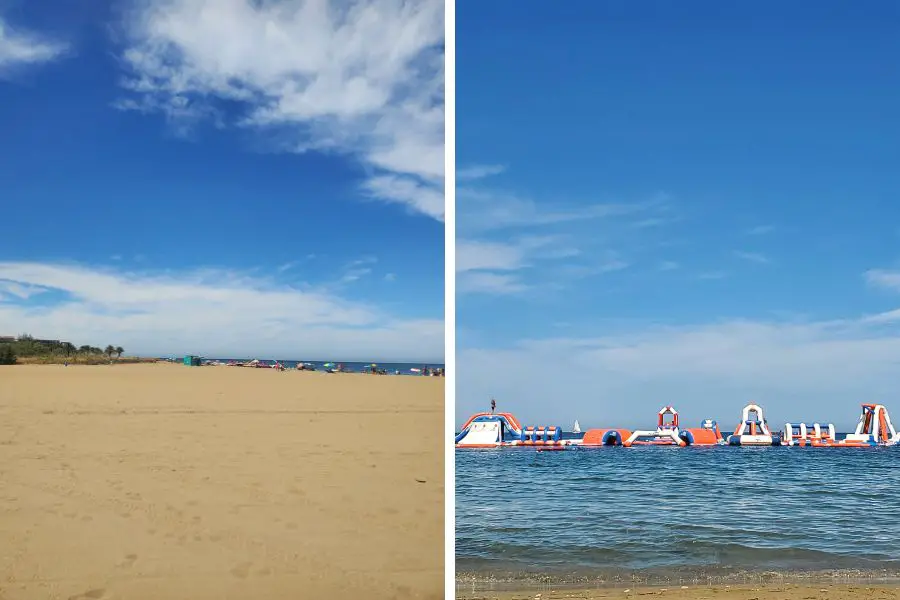 We spent a few hours on the lovely sandy beach at Playa Punta del Raset where there was a great inflatable park in the sea and a lovely beach bar. Other popular beaches include Playa Escollera Norte and Playa de les Marines.
Experience the fish market
At 16:00h every day the fishing boats arrive back in Denia's port after a day out at sea. From here the fisherman will take their catch to the fish market which includes a hectic fish auction. This is definitely something that is worth seeing in person if you find yourself nearby at this time of day!
Go on a boat trip
A boat trip is a great way to see the amazing coastline along this part of the Costa Blanca. As Denia is a port town thre are lots of places you can hire your own boat from along the marina, or you could join an organised trip and let someone else do the sailing.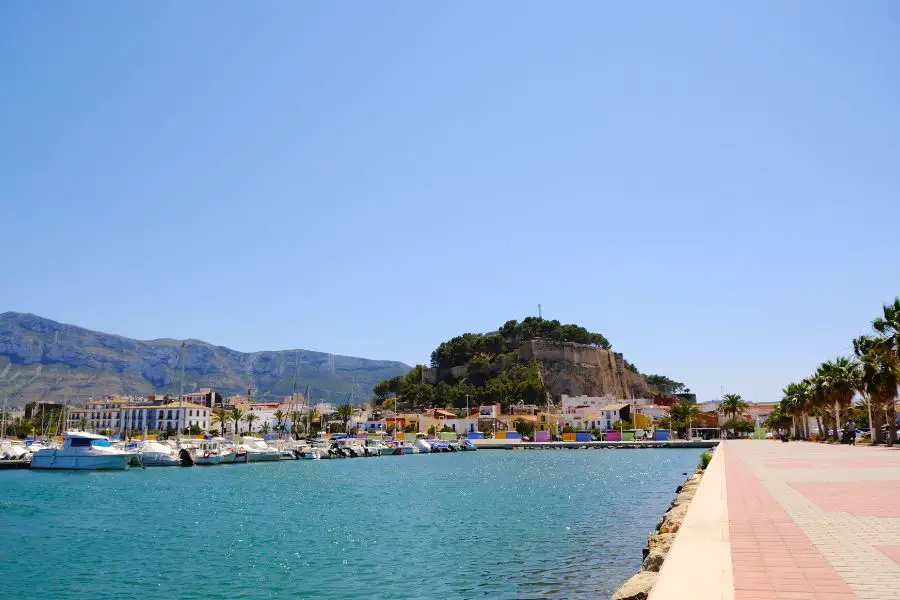 You could book yourself onto a romantic Sunset Catamaran Cruise, a Catamaran Cruise around Denia and Javea with lunch, or even a boat trip to Cabo San Antonio with Snorkeling.
Party al Marina El Portet
Marina El Portet is just a short walk from the centre of Denia and is home to shops, restaurants, nightclubs, watersports, and a large number of moorings for all kinds of boats.
If you're more in the mood for partying than wandering the old town, then this is the place to be in Denia.
Try some watersports
At Marina El Portet as well as on some of the beaches, you can sign yourself up for a wide variety of watersports. You can kitesurf, paddlesurf, windsurf, dive, rent a jetski and more.
The watersports here are aimed at all ages and levels, and includes lessons if you're a complete beginner.
You can also find lots more activities and excursions in Denia at Get Your Guide.
Where to stay in Denia
If you like the look of Denia and are looking for somewhere to stay, here are our recommendations:
These self-catering apartments are located 200m from Denia's Marineta Beach and a 5-minute walk from Denia Harbour. The complex includes 2 swimming pools, a gym and sauna, and an on-site restaurant.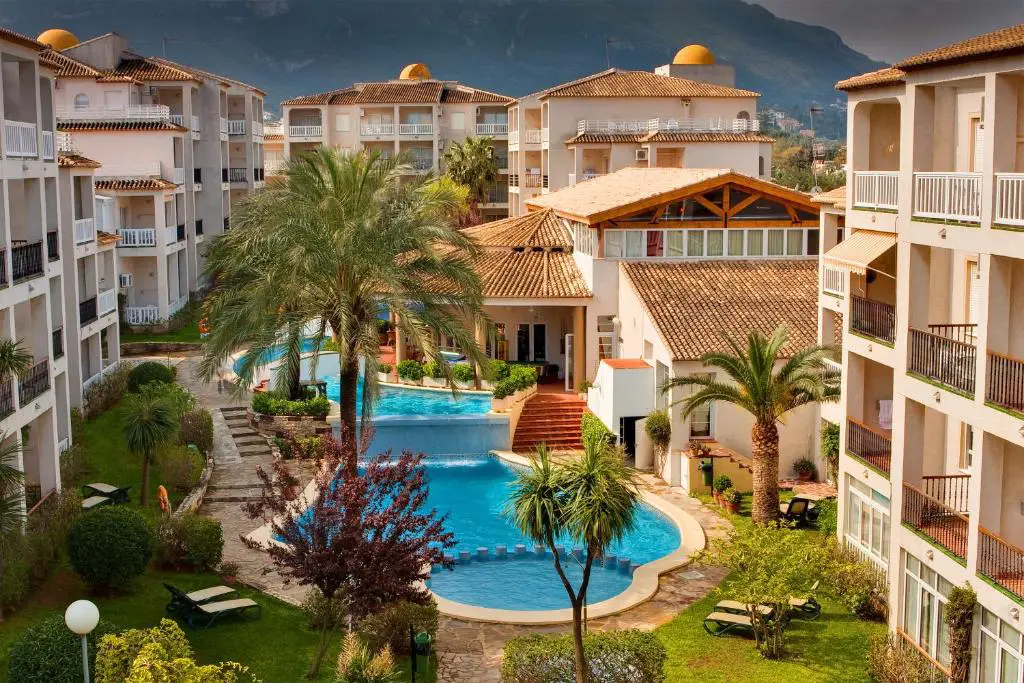 A great hotel located just 50m from La Marineta Beach and opposite Denia Port and Yacht Club. The hotel has indoor and outdoor swimming pools, gym & sauna, tennis, entertainment program, an buffet style restaurant.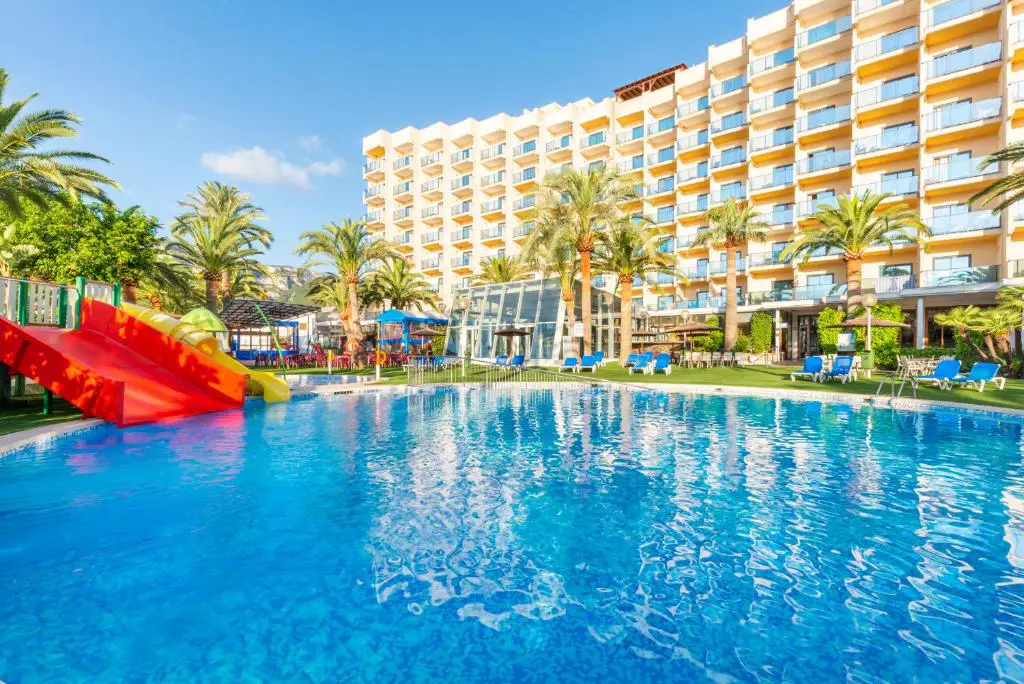 Located at the foot of Denia Castle and next to the sea, La Posada del Mar is a beautiful hotel set in a 13th century building. There is a gym and sauna plus all rooms have a sea view.
If you want to be close to Denia but set back from the hustle and bustle, Villa la Marquesa is a 3 bedroom villa located 5.2km from the city centre, with a garden, swimming pool and free Wifi.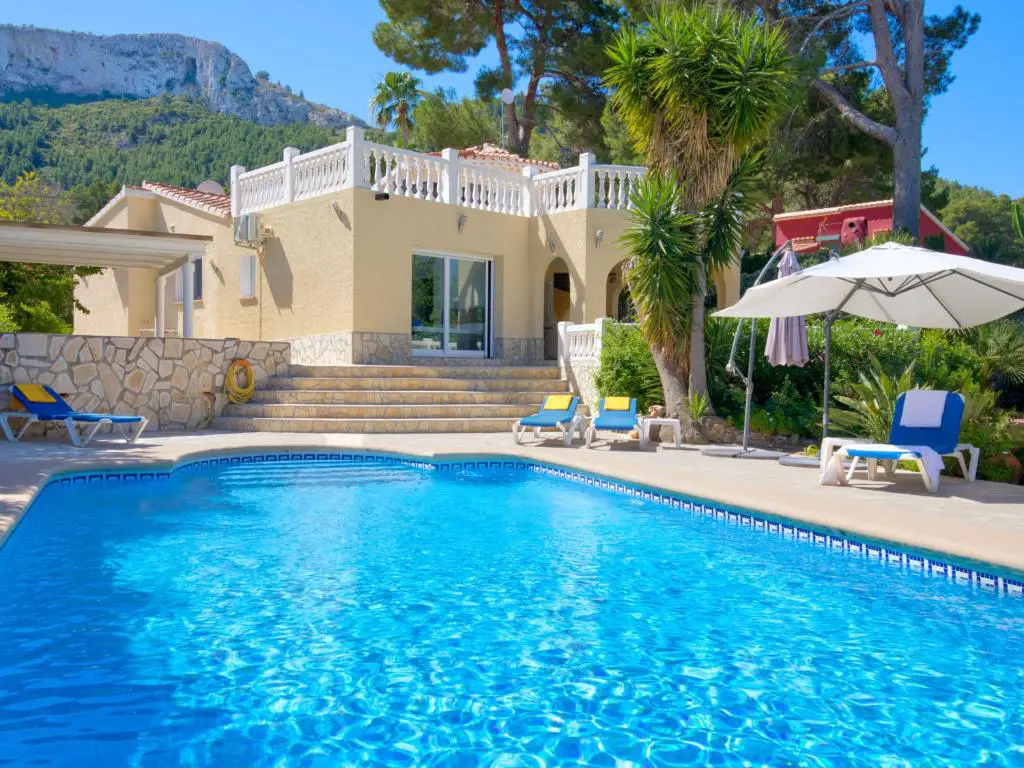 If you are planning a trip to Denia we hope you have a lovely time and enjoy the city as much as we did. Feel free to get in touch if you have any questions.