Benidorm on the Costa Blanca is known for being a popular tourist destination for British holidaymakers, full of Irish pubs and karaoke bars. But, there's more to Benidorm than drunk tourists and bad singing!
For example do you know much about the history of Benidorm?
There's evidence of small settlements in Benidorm dating back to around 3000 BC however, it wasn't until the Moors arrived that the population grew in the area. A war over the control of Iberia (modern day Spain) between the Moors and Christians resulted in the Christians reconquering the Valencian region which eventually saw Benidorm officially recognised in 1325. Over the next few hundred years Benidorm was under constant attack from the Ottoman Empire, more notably the Ottoman privateers (Barbary pirates), who constantly attacked the coastal towns looting and enslaving the local population as they went and it wasn't until the 17th century that things started to settle down. As the very profitable and famous fishing industry in the area declined, Benidorm turned to the tourism which is now responsible for a large portion of Spain's tourist trade income.
So now you know a bit more about the history of Benidorm, what is there to do that doesn't involve beer or karaoke? We've listed some things to do in and around Benidorm as well as some short excursions for those staying in Benidorm who want to explore a bit further afield.
Contents (jump to section)
Visit La Cruz de Benidorm
La Cruz de Benidorm (or the Benidorm Cross) is a huge cross on the Sierra Helada hilltop accessible by hiking or driving. The cross was erected during the 1950s by local residents to bring luck and protection to the town. From the top you have awesome panoramic views of the city and surrounding areas, including the mountains and the sea. For the super fit looking for some extra fun there's an annual 10k race to the top called the 'La Subida a la Cruz' but beware, it's typically held in August and it's known to get a little toasty that time of year!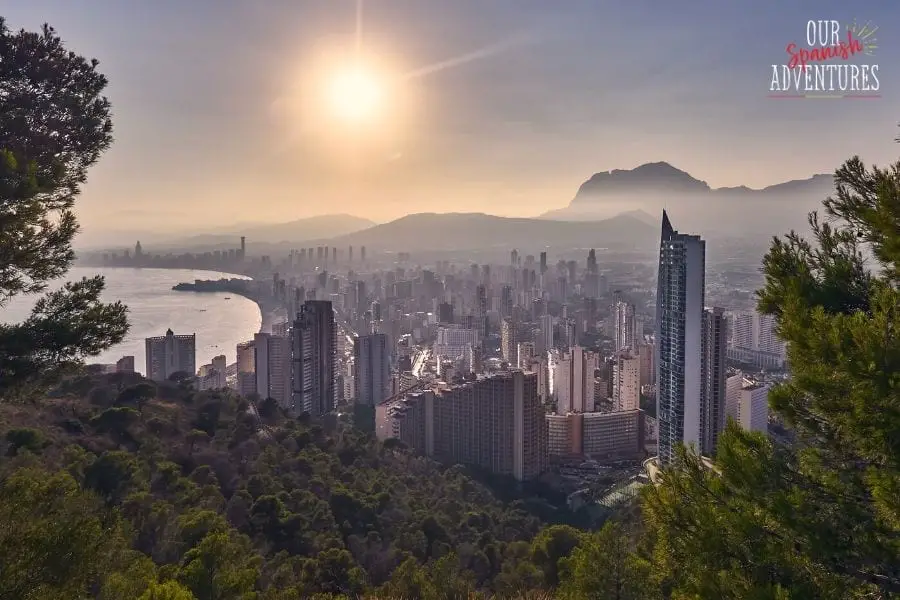 Sunbathe on Playa de Levante
If you're looking for a clean, family friendly beach you really don't have to go far from the centre of Benidorm. This beach does get busy in summer months so if you're looking for a little more breathing space you may want to consider West Beach, or a little further, Platja de La Cala de Finestrat. Playa de Levante sees thousands of tourists every year however, it's always maintained to a remarkably high standard with plenty of things to do for all the family, plus lots of restaurants and bars nearby.
Water fun at Aqualandia
If you have kids then you'll know that you can't go on a summer holiday without a visit to the nearest waterpark – especially when one of the world's best is on your doorstep. Aqualandia Benidorm has plenty of rides for all ages, including those looking for an adrenaline kick! Aqualandia has the highest capsule slide in the world at 33 metres high called Verti-Go. Entry prices are €39 per adult and €29 for children for a day pass. You can also get reduced prices from local hotels, agents, and leaflets handed out at the airports and shopping malls.
See the animals at Mundomar
Right next door to Aqualandia is the Mundomar Animal Park home to many animals such as exotic birds, aquatic mammals, and monkeys, as well as shows to take in that should keep you and your family entertained for a day. We visited last summer and highly recommend checking out the dolphin show which will be the highlight of your day. If you buy tickets for both Mundomar and Aqualandia at the same time you can get a discount.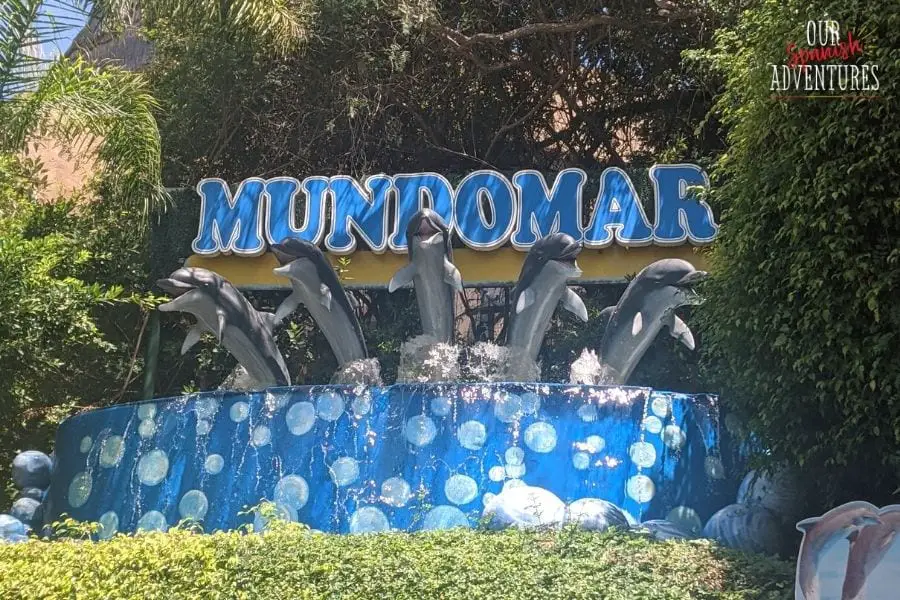 Join a cycling tour
It's fair to say the Spanish are very into their cycling! It's no surprise then that there are many bike excursions around Benidorm and the surrounding areas for all abilities and ages. Both the mountain and coastal cycle routes will treat you to some stunning views that you won't see from the city centre. Most good cycle tours will typically take up most of the day so eat a hearty breakfast, pack some lunch and plenty of water, and don't forget the sunscreen.
Go kayaking
Sticking with healthy and adventurous activities in Benidorm, it would be rude not to explore the rich coastal waters that this area has to offer. There are so many little secret coves, beaches, caves, nooks, and crannies to explore it would take you weeks to do it all. There are plenty of places to hire a kayak and go off on your own, or you can book onto a kayaking tour. If you do go kayaking along the Benidorm coastline don't forget to take some snorkelling gear with you, you won't be disappointed.
Visit Parque Natural de la Serra Gelada
Parque Natural de la Serra Gelada is home to almost 14,000 acres, and you can be fooled into thinking you're in the middle of nowhere even though the skyscrapers of Benidorm are only a few kilometres away. The park is packed full of walks for all abilities including cliff top walks which are extremely popular during the spring and summer months. Make sure you take plenty of water and sunscreen with you as certain areas can be real suntraps. If you're not a fan of walking, you can try some of the many kayaking excursions instead.
Eat tapas in Calle Santo Domingo
You can't visit Spain without sampling the local dishes, and there are plenty of fantastic tapas bars in Benidorm if you venture away from the centre of town. If you're staying in the city, take a stroll down Calle Santo Domingo, also known as 'Tapas Ally'. There's loads of little tapas bars to choose from, one of our favourites is La Cava Aragonesa which is very well known for their delicious selection of pinchos and tapas. After filling yourself with tapas you can work it off with a walk up to Plaza Santa Ana!
And some excellent excursions within a short drive, train or bus journey from Benidorm…
Take a trip to Altea
Just beyond the Serra Gelada, 10km kilometres up the coast from Benidorm, is the coastal town of Altea – one of our personal favourites on the Costa Blanca. Altea is well-known for its narrow-whitewashed streets and the sparkling blue doomed roof of the Parròquia de Nostra Senyora del Consol Catholic church at the top of the hill in the old town. There are lots of fantastic little boutique shops in the old town, as well as more well-known brands all over Altea for those looking for some retail therapy. When it comes to lunchtime you'll be spoilt for choice with many mouth-watering restaurants, tapas bars, ice-cream parlours, and artisan food shops. If you have a car Altea is less than 20 minutes from Benidorm, or you can take the tram which will also give you great views of the coast along the way.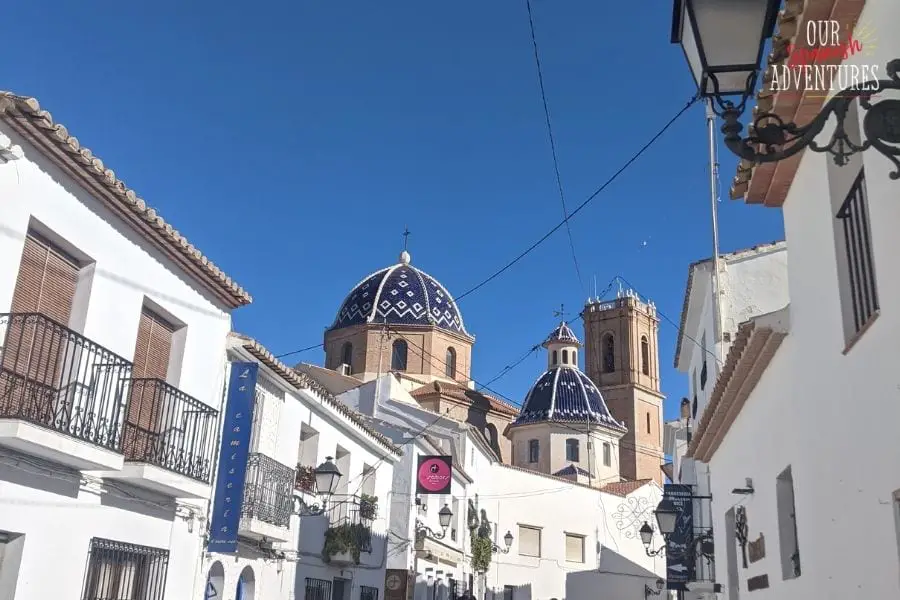 See the colourful houses of Villajoyosa
Another of our favourite Costa Blanca locations and just a short hop from Benidorm, is the colourful town of Villjoyosa, also known as La Vila Joiosa. Well known for its multi-coloured painted houses (casas pintadas) and narrow streets, Villajoyosa is a great place to have a wander, and grab a drink and a bite to eat. The beaches here are covered in pristine sand with clear turquoise waters, and are much quieter than the busy beaches of Benidorm in the summer months.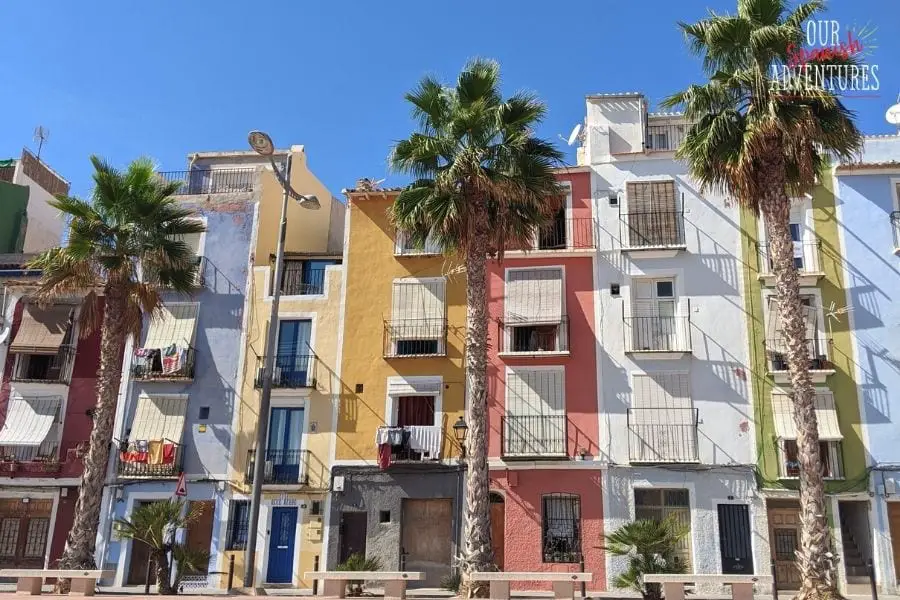 An excursion to Guadalest
One of the best excursions in the area is to the extremely pretty Spanish village of Guadalest. It's approximately 20 minutes outside of Benidorm and easily accessible either by car or by joining a tour, either way you get to enjoy the amazing mountain views on the way. Guadalest dates back to medieval times, with the castle being built in the 11th century, and you can find out more in the museum in the middle of the village. From the top of the village you have the most fantastic views over the bright blue resevoir, the mountain range, and out towards the sea. As with all tourist towns, Guadalest does get very busy in the summer months but there's ample parking and plenty of great places to eat and drink when you need to rest.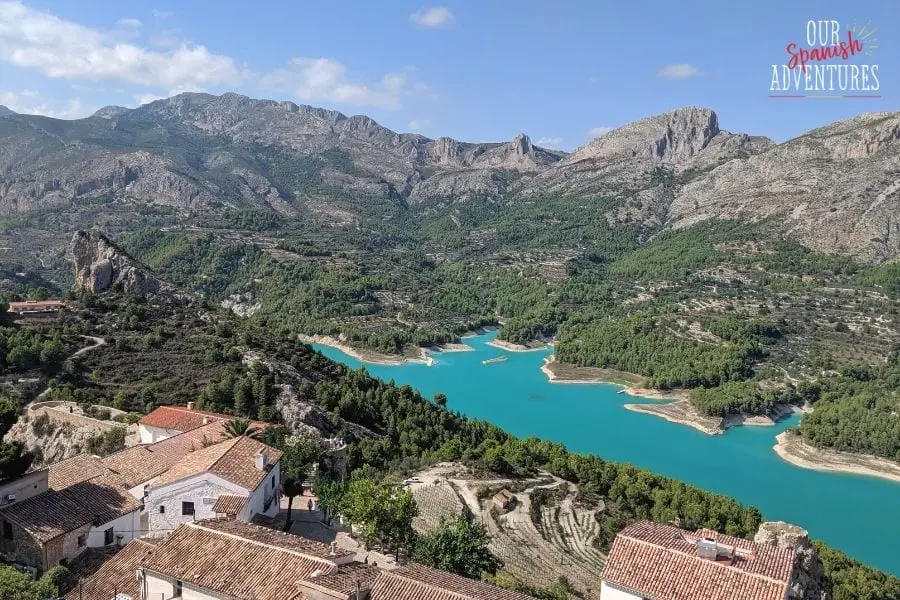 A swim in the Fuentes Del Algar
Last but by no means least on our list of things to do near Benidorm is the Algar waterfalls, the location of the famous Timotei advert. It's important to point out that this isn't a water park but an area of natural beauty, where you can swim and paddle in the waterfalls and pools. Even though steps have been taken to try and make the area more accessible you still need to be quite active and it probably wouldn't suit anyone less mobile or families with pushchairs. The most important item of clothing to take with you, even more so than your bathing suit, are water shoes which can be found on sale for much cheaper in many of the beach shops in Benidorm than in the shops just outside the waterfalls. You cannot picnic next to the waterfalls but there is a picnic area and playpark a short walk behind, or plenty of restaurants outside the gates. As this is an extremely popular destination with limited parking it's a good idea to go via tours or buses. Entry to the waterfalls is €5 per adult and €2 per child.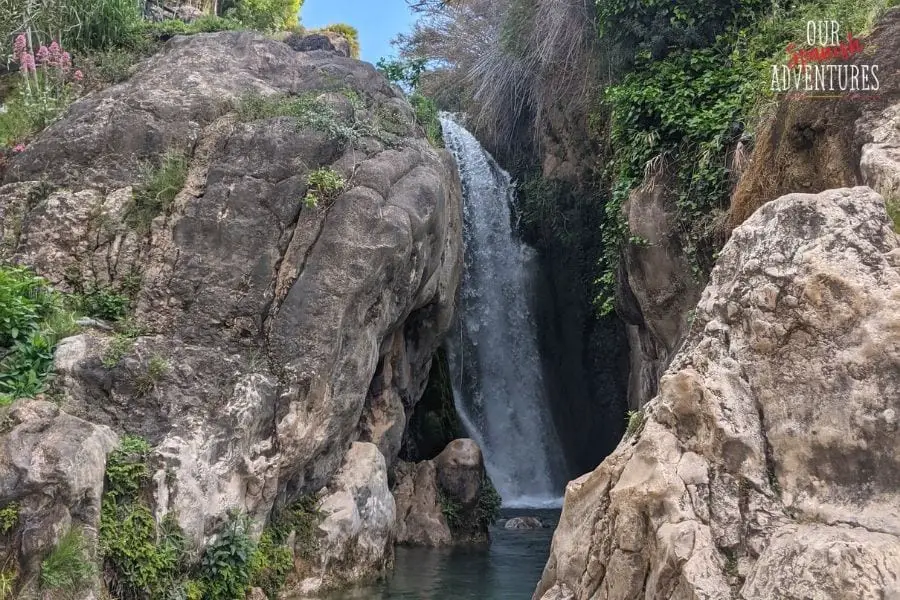 We hope that this list has given you plenty of ideas of things to do in and around Benidorm, whether you're visiting on holiday or living nearby.
For more ideas and to book tickets, tours and experiences, visit Get Your Guide.
Pin for later: