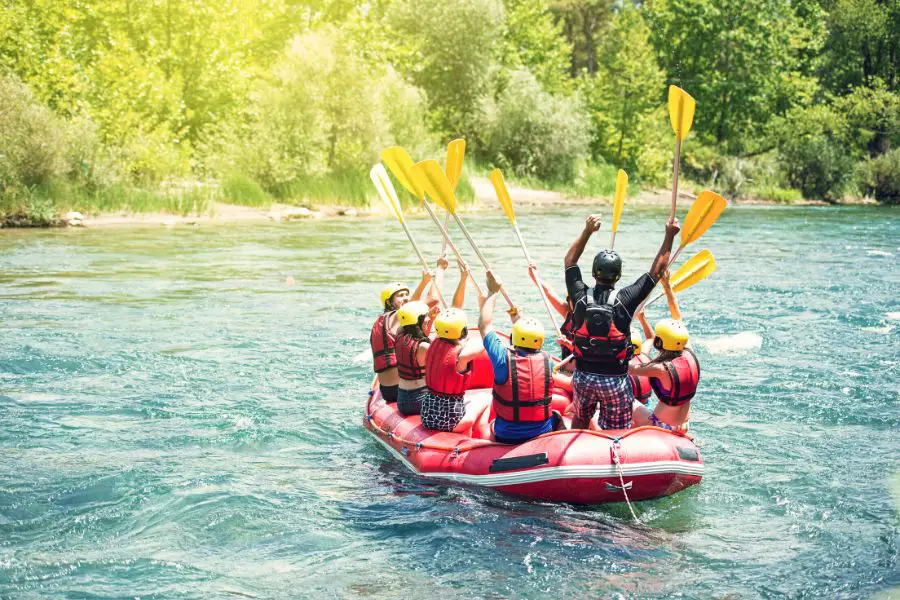 Beach days and exploring villages are great ways to enjoy time on the Costa Blanca, but there's also plenty more unusual activities to pass the time.
If you have teenagers to try and entertain, or just fancy something a bit different, we've put together a list of some of the more unusual things to do on the Costa Blanca…
Some of the links below are affiliate links, meaning we may earn a small commission at no additional cost to you if you make a purchase via one of these links.
Parasailing
One popular activity you'll see people doing a lot along the Costa Blanca is parasailing. There are lots of companies offering parasailing, including this boat trip and parasailing experience in Alicante. You can choose up to 5 people to fly with you, taking to the skies to enjoy views of Alicante from high above the water.
Alternatively, you can go parasailing alone or with friends in Torrevieja, sailing 200 meters above the sea to enjoy spectacular views of the entire city and coastline.
Sounds like the perfect way to take in the beautiful coastline from a different perspective!
Paragliding
Another extreme activity for those who enjoy an adrenaline rush is paragliding. You get to feel as though you're flying while taking in some breathtaking mountain views.
You can book onto a tandem paragliding flight in Alicante which takes around 20-30 minutes.
Zipwiring
If adventuring from treetop to treetop via ziplines and a Tarzan swing sounds up your street, then you are in luck! In Forestal Park in La Nucia-Benidorm you can do just this, exploring up to 9 custom-made circuits and over 90 games.
There are circuits for all ages so you can take the whole family for 2-3 hours of adventures.
Segway tour
If heights aren't your thing, and you'd prefer to stay on the ground, what about a segway tour? Zipping around on a segway looks like great fun, and is suitable for all ages so you can take the whole family.
If you're near Valencia, you can book onto this accompanied Segway tour to explore the ancient monuments of the old down before heading down to the gardens along the Turia river.
Quad biking tour of the waterfalls
Les Fonts D'Algar waterfalls in the mountains behind Benidorm provide a wonderful day out for the whole family. But if swimming in the waterfalls isn't exciting enough, then maybe a quad biking tour of the waterfalls is more up your street?
You can book onto a 3 hour quad biking tour where you will get to drive off-road on dirt paths and along the river bed, before stopping to see the waterfalls up close.
Snorkeling
The Costa Blanca is best known for its beautiful coastline, so what better way to explore it than from the sea. You can jump on a boat from Santa Pola to Tabarca Island, visiting the best submarine points of the island, the coves, the beaches, and the ports before going on an exciting snorkeling adventure to discover the seabed of Tabarca Island.
Flyboarding
It's no surprise that there's lots on offer when it comes to watersports along the Costa Blanca, but if paddleboarding and waterskiing isn't unusual enough then you might enjoy flyboarding.
Flyboarding propels you into the air, allowing you to 'fly' above the sea, whilst diving in and out of the sea like a dolphin!
Interested? You can book onto this flyboard experience in Torrevieja.
Food tour
If you want to explore your favourite city but are looking for something more than your standard walking tour, you might be interested in a food tour. You can join an expert local to tour local markets, bodegas and tapas bars, learning about the history of the area whilst trying some delicious local food.
In Alicante there is a great 'Secret Flavours Tour' and in Valencia you can join a tour of the Old Town with wine and tapas in and 11th century monument!
Rafting
Fans of water activities, can go rafting down in the Segura River in Murcia, through the amazing Almadenes Canyon.
On this trip you will also get to see the ancient cave paintings at Monigotes Cave and meet the curious inhabitants of the Cave of the Otters.
As you can see there are plenty of unusual things to do on the Costa Blanca in addition to your standard beach days! We hope this list has given you some inspiration, let us know in the comments if you have tried any of these adventures.
Pin for later: