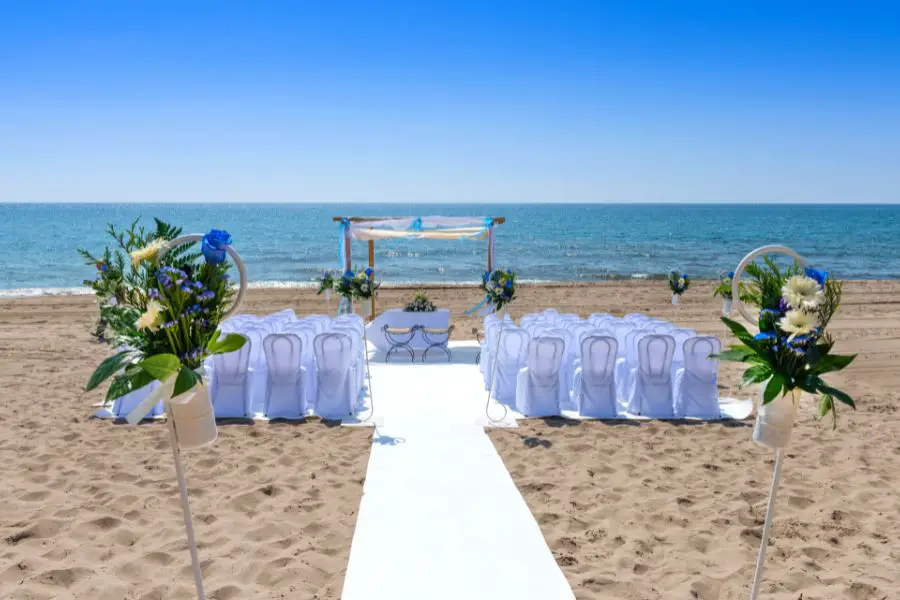 We've recently had 2 separate people contact us through the blog and social media asking if we know anything about foreigners getting married in Spain. It's not something we have personal experience of, so we pointed them both towards some official resources.
However, I did some reading up on the subject and it seems like the answers are pretty straightforward, so thought we'd put this information into a blog post in case others are searching for similar information. Remember that we are not experts, so if you have any questions about getting married in Spain as a non-resident please contact an official source.
If you are a UK resident planning on getting married in Spain, the Government website has some good advice worth reading.
Can non-residents get married in Spain?
The simple answer is yes, non-residents can get married in Spain, but it does come with some challenges and additional hoops to jump through when it comes to the legal formalities of getting married in Spain.
What documentation do foreigners need to get married in Spain?
Certificado de Capacidad Matrimonial
One of the key requirements for getting married in Spain as a non-resident is to obtain a Certificado de Capacidad Matrimonial (Certificate of No Impediment). This document that verifies that you're legally eligible to get married and that there are no legal obstacles preventing you from doing so. If you need to get this certificate while in Spain it can be obtained from your country's embassy or consulate.

Translated and certified documents
Another important consideration is the documentation you'll need to provide when applying for a marriage license in Spain. As a non-resident, you'll likely need to provide certified copies of your birth certificate, passport, and any divorce or annulment papers if applicable. It's also worth noting that any non-Spanish documents will need to be translated into Spanish first and certified by an official translator.
How to apply for a marriage license in Spain
Once you' have all the necessary paperwork together, you'll need to schedule an appointment with the Registro Civil (Spanish Civil Registry) in the town where you plan to get married. This is where you'll apply for your marriage license and schedule a date and time for your wedding ceremony.
Marriage ceremony options for non-residents
Civil Ceremony
In terms of the wedding ceremony itself, non-residents have a few different options when it comes to getting married in Spain. You can opt for a civil ceremony at the Registro Civil, which is a fairly straightforward and simple process. In some regions of Spain, to get married whether in a Civil or Religious ceremony at least one of the couple needs to be either a Spanish national or a legal resident of Spain.
Religious Ceremony
If you want to have a religious (Catholic) ceremony you can, but this will likely require additional paperwork and coordination with a local church. Take your certificates to the priest who's going to marry you. They will check your documents and set a date for your wedding.

Spanish law requires one of the partners be a Spanish citizen or a legal resident of Spain in order to have a legally binding religious ceremony. If neither partner meets this requirement, you can still have a religious ceremony, but it will not be legally recognised.
Avoiding the bureaucracy
If you want to avoid having to follow the paperwork processes in Spain, another option is to arrange your Civil Partnership in your home country, and then travel to Spain to repeat your vows in a suitable venue in front of your loved ones.
Getting married in Spain as a non-resident requires some extra planning and paperwork, but it's certainly possible to make it happen. By staying organized and working closely with local authorities and service providers, you can have a beautiful and unforgettable wedding in a stunning Spanish location.