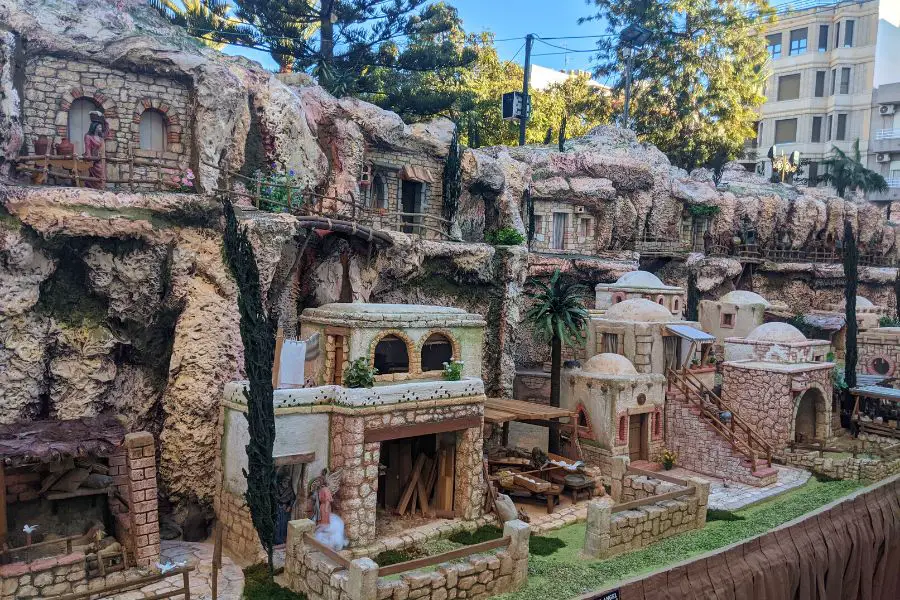 Christmas in Spain is definitely different to in the UK, but that doesn't mean its not still lots of fun! There is plenty to do, both the traditional festive things you're used to as well as new traditions and celebrations. All with the added benefit of sun!
If you're spending Christmas in Spain and are looking for some things to do, take a look at our list of suggestions…
Contents (jump to section)
Visit a Christmas Market
Its not one of the first countries you think of when you think of Christmas markets, but there are plenty in Spain to visit. The best known Christmas markets are I'm Barcelona and Madrid, but you'll also find some great markets in most of the larger towns and cities.
You'll be able to try some Spanish treats, buy gifts and decorations, and get that festive feeling.
See the Christmas lights
If there's one thing that Spa does very well at Christmas it's the Christmas lights. You'll see them up around most towns and villages, even our small town has the "Feliz Navidad" lights shining throughout the streets.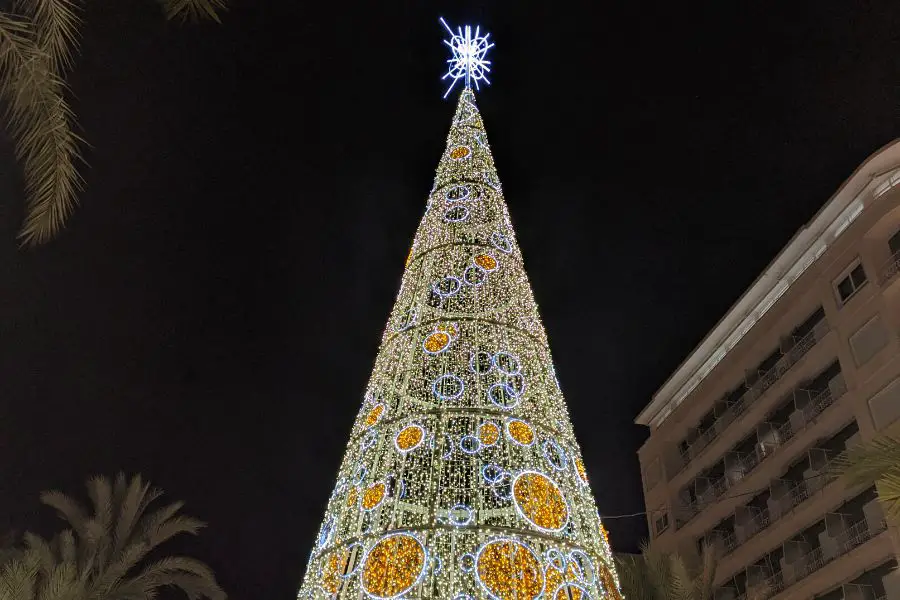 The big cities have some amazing displays, one of the best is in Malaga, and of course those in Madrid are very impressive.
We head into Alicante every December to see the Christmas lights which can be found down the main streets with a spectacular display in the plaza del ayuntamiento.
Visit Corte Ingles
Spains biggest department store Corte Ingles is the place to go if you like Christmas! From decorations and food, to gifts that are expertly wrapped for you, the store has absolutely everything you need.
Go ice skating
There aren't many permanent ice rinks in Spain (I'm not aware of any on the Costa Blanca) but they pop up in many towns during December. We've been each year to the ones in Alicante and Torrevieja, and it's always a fun afternoon to help you get into the Christmas spirit.
Attend a Three Kings parade
Dia de los reyes magos (Three Kings day) is bigger than Christmas day I'm Spain so you must check out the local celebrations. On the evening of 5th January in most towns, the three Kings will ride through the streets on horse back or even on camels. People will line the streets and the Kings will throw sweets to the children. The procession will finish at the church where the Kings often give our presents to the children followed by a church service.
Go to Midnight Mass on Christmas Eve
Masso de Gallo (Mass of the rooster) is the midnight Mass held at 11pm on Christmas eve and is attended my most Spanish people.
Find some snow
You might be surprised to find out that there are some places in Spain where a lot of snow falls at Christmas time. If you want a white Christmas rather than Christmas on the beach, then you can book a hotel in one of these locations for a snowy Christmas.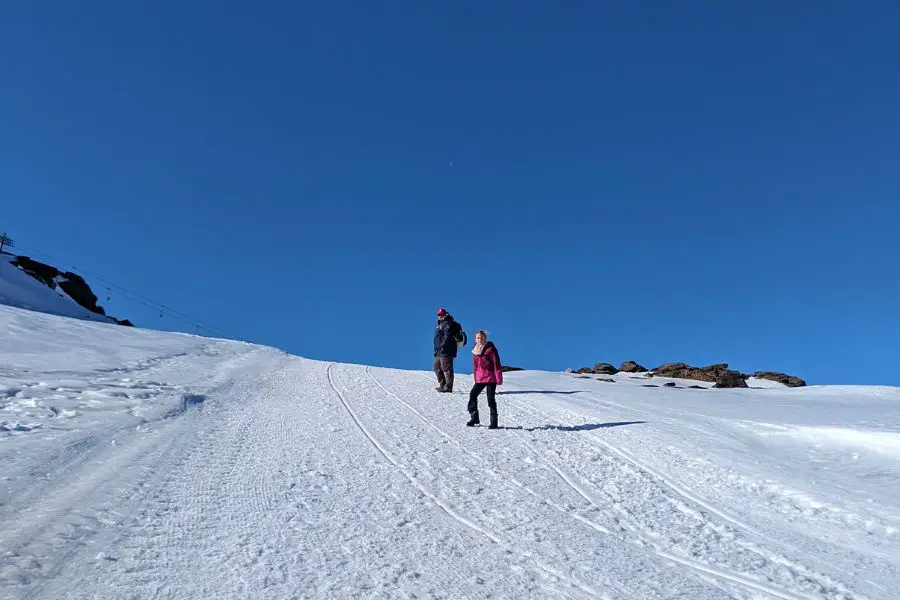 Check out the nativity scenes
One of my favourite Spanish traditions is the Belen or nativity scene that is installed in most towns and villages. Each one is unique, made up of small figurines depicting detailed scenes of what life was like around the time of the birth of Jesus and the arrival of the three Kings.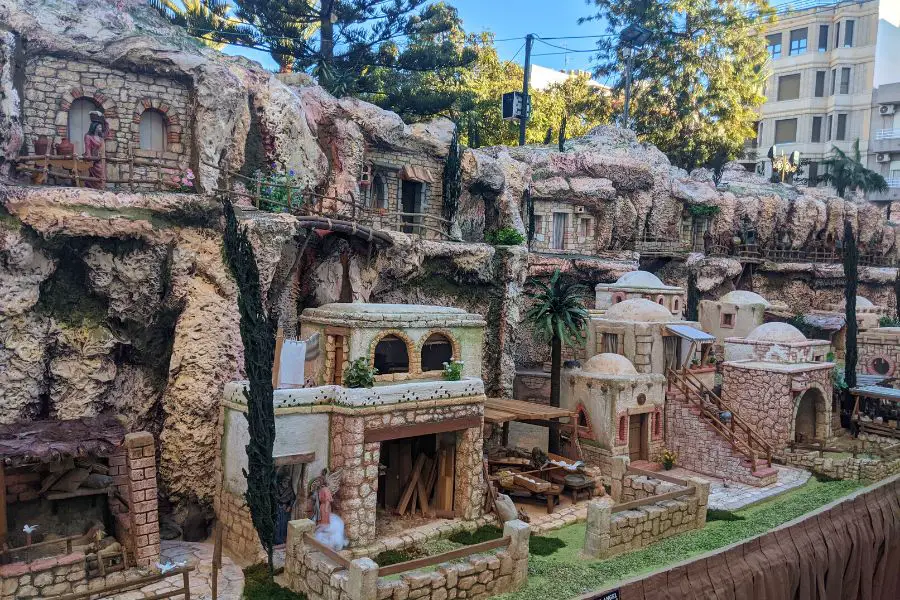 Many will also include some local elements such as recognisable buildings. You can spend ages looking at every detail in the Belen and we'd definitely encourage you to visit a few, they can usually be found in the church Square. Oh and don't forget to look for the pooping figure!
Enjoy the beach in the sun
It might not feel very Christmassy but spending some time in the sun at the beach over Christmas is a novelty that I don't think will ever wear off! It might not quite be bikini weather or warm enough for the sea, but you can often get a few days when it's warm enough to sit in tshirt and shorts for the afternoon.
Enjoy churros y chocolate
Churros are a Spanish delicacy that everyone loves and Christmas is a great time to indulge. You have to order a bowl of thick hot chocolate to dip your churros in – it's so good! The Costa blanca is home to the Valor chocolate factory, and the Valor cafes found in many towns are some of the best places to get churros and chocolate.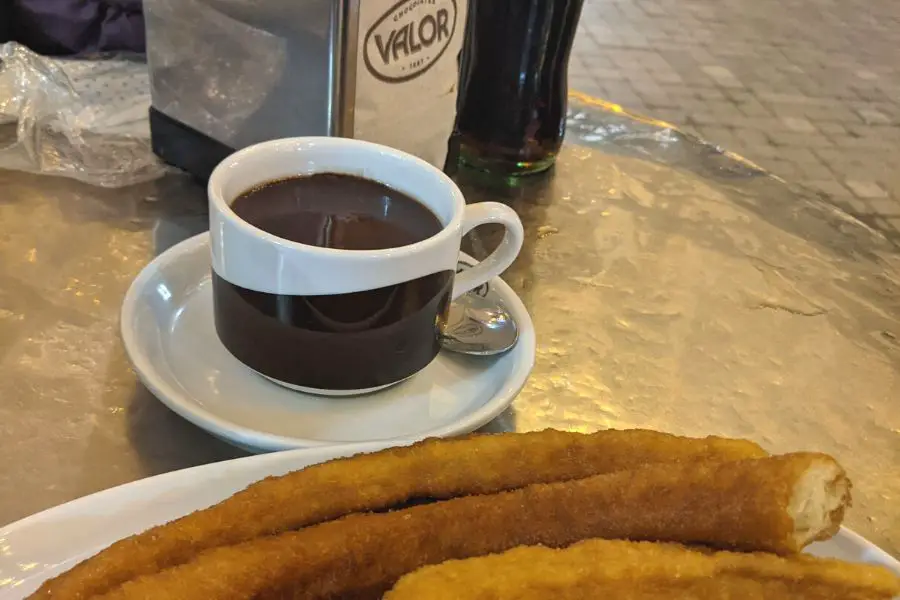 Do the 'El Gordo' Lottery
The Christmas lottery is a huge deal in Spain with most families spending an average of X euros on tickets. The draw is so big at Christmas its nicknamed El Gordo or the Fat Pne and prizes can be up to X euros.
If you're going to be spending the festive season here, we hope this list has given you some ideas for things to do at Christmas in Spain.