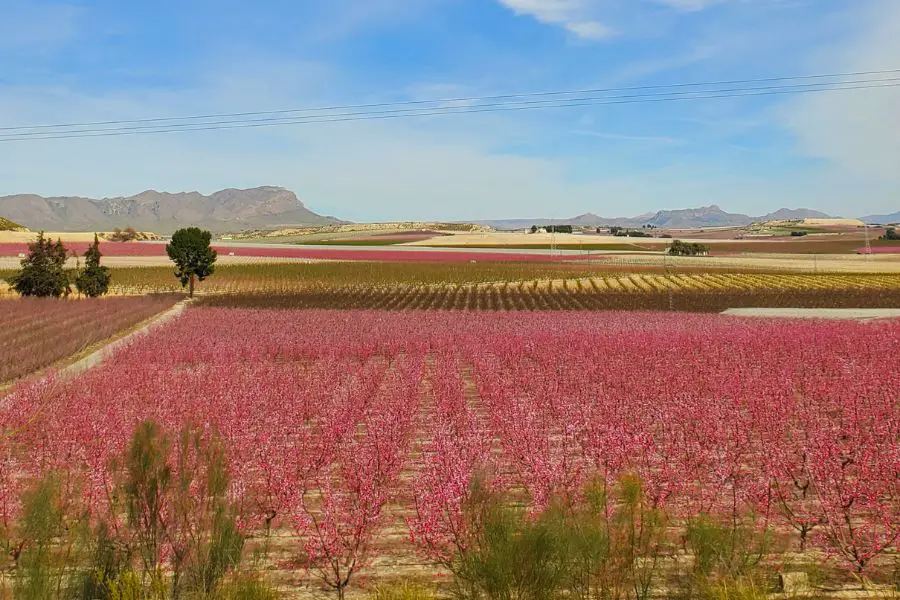 We recently shared some photos on social media of some beautiful blossom we found and we had a lot of people asking where to find it. We struggled a lit bit ourselves as we knew the rough location but didn't really know where we were going.
Eventually we found a great spot, surrounded by bright pink fields of trees, and some of the most beautiful views we have seen in Spain.
So if you are on the Costa Blanca and are on the hunt for a picturesque pink scene, here's all the info you need plus photos and a map!
When can I find the blossom?
This really all depends on the weather but generally the end of Feb to the beginning of April is the time to find the beautiful pink and white blossoms in the Costa Blanca region.
This year, we took a drive in the middle of March and it was in full bloom.
Where can I find blossom on the Costa Blanca?
First of all there are lots of different types of blossom and different colours, ranging from white through to dark pink. The colour of the blossom depends on the tree – for example plum is white, almond is light pink, and peach is dark pink.
To see the light pink almond blossom we usually head to the Hondon Loss Nieves area. As you drive further up the mountain you will find fields on either side of the road full of beautiful light pink blossom, with the dramatic backdrop of the mountains behind.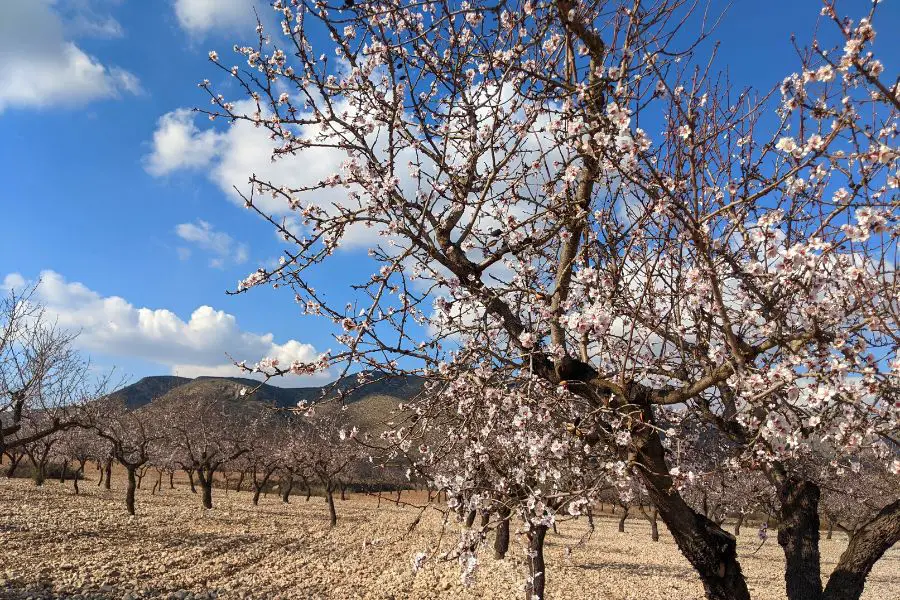 Also in the Alicante province you can visit the Alcalalí area for some of the most scenic locations. We haven't been but it's such a popular location that plenty of companies do coach trips and tours just to see the blossom.
Now on to the bright pink peach blossom…
We saw lots of photos on Facebook and Instagram so headed out to find it! We knew it was in the town of Cieza in Murcia, but no one was giving an exact location so we went for a bit of a drive!
First we found ourself by the Molino De Teodoro that we had seen mentioned in an article about the blossoms, but although we could see plenty of pink fields we couldn't get up close to them. This looked like a nice walk along the River Segura though so maybe one to bookmark for later!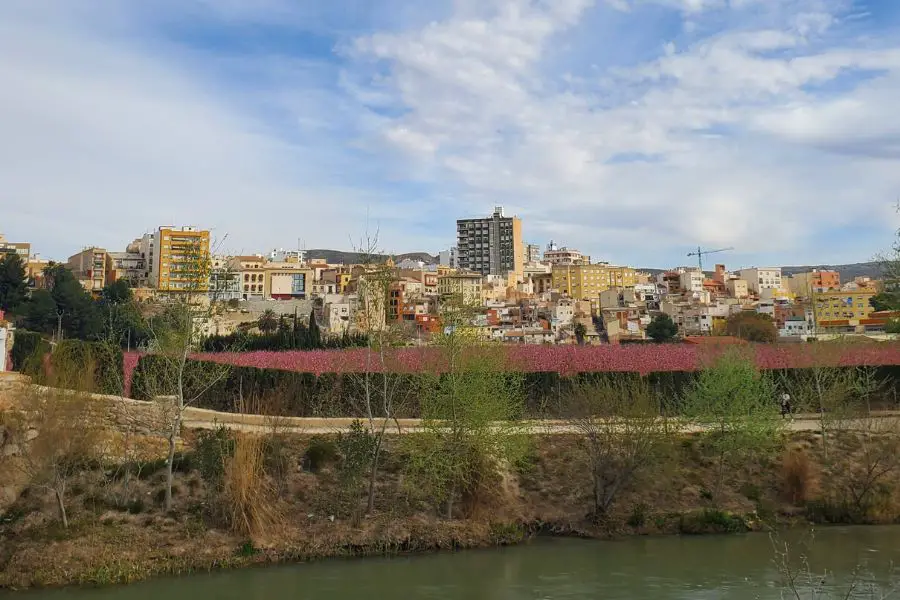 We then decided to just go for a drive out into the countryside and see where we ended up. We saw some signs for the Mirador del Soto de la Zarzuela which was a much better location and one I recommend putting into your satnav!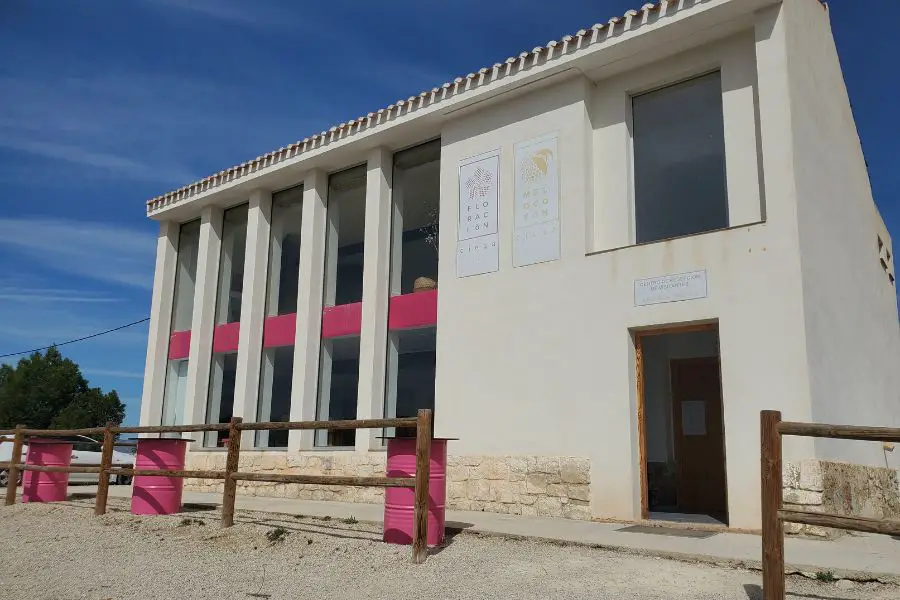 At this mirador (viewpoint) there is a small visitor centre where you can get a drink and sit outside in the sun with a wonderful view across the pink fields and towards the mountains.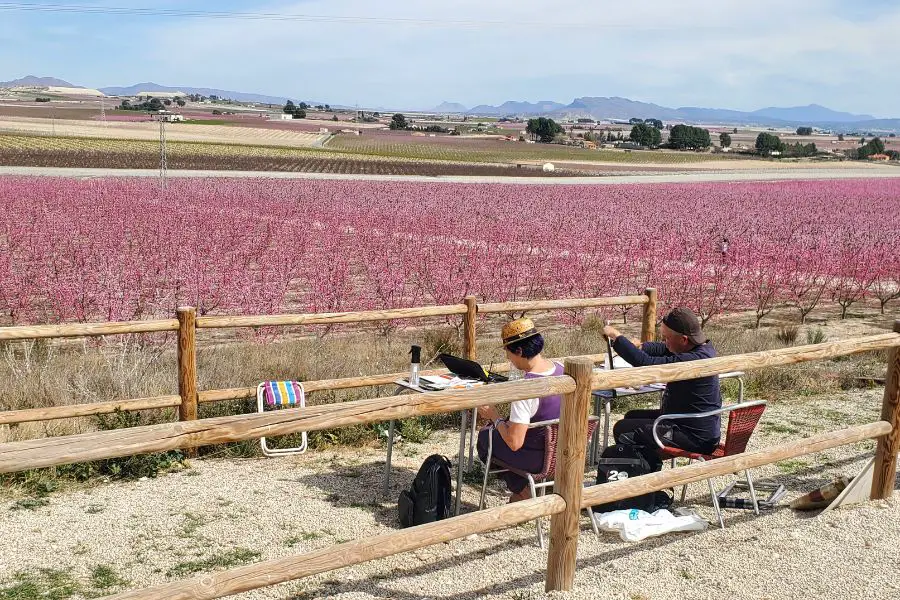 If you take a stroll down the road next to the visitor centre you will find what seems like endless rows of peach trees.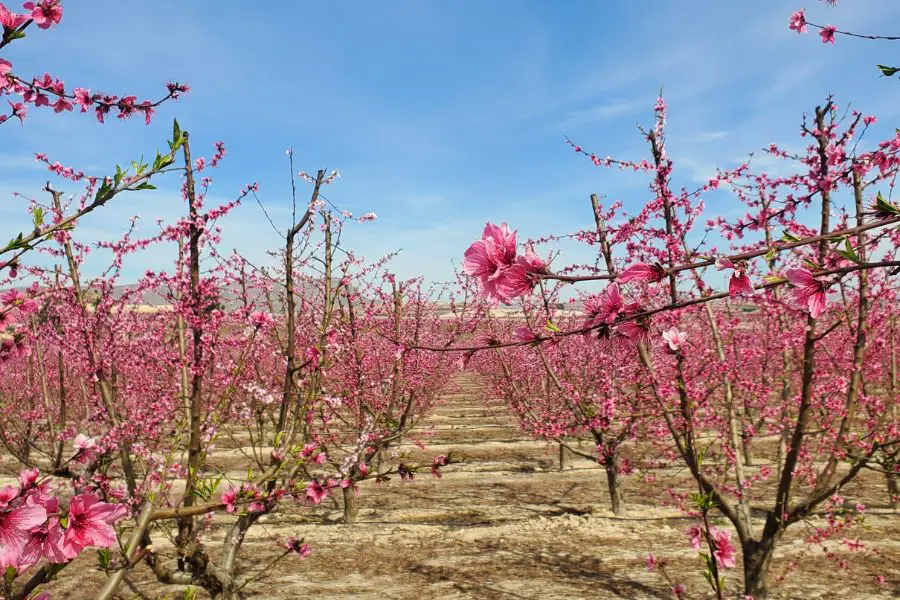 If you have driven here it's worth carrying on down the road past the visitor centre and following it around to the left. You will pass more pink fields before coming to fields full of white blossom which I think is plum blossom. Seeing the white fields alongside the pink is a great view.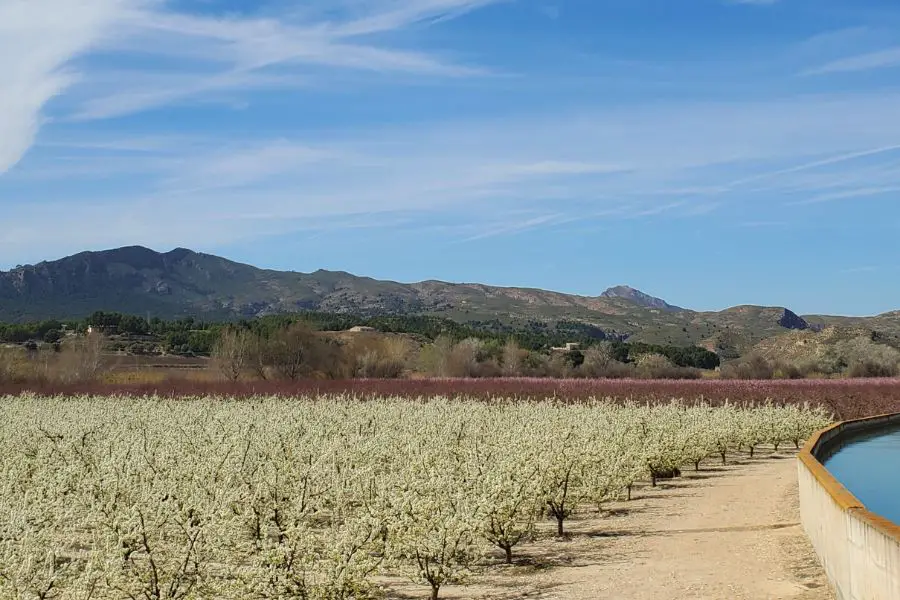 You can continue to drive through the surrounding countryside and you'll come across olive groves as well as lots more peach, almond and plum.
All of these fields are owned by farmers, rather than being a tourist destination, so its important to be respectful of their livelihood.  They don't mind you stopping for a quick photo but be careful where you walk and don't be too cheeky about it, there's no need for a full photoshoot or picnic in their fields!
If you don't drive there are coach trips to Cieza. If you want a tour there are walking tours through the orchards as well as a land train which leaves from the centre of Cieza. We'd recommend heading to the Tourist Information centre if you want to find out more about these tours.
Hopefully this has given you enough info to go and find the pink blossoms on the Costa Blanca! If you make a trip down to Cieza or to Hondon de los Nieves and snap some photos of the blossoms we'd love to see them – you can tag us on Facebook or Instagram!