When you think of Spanish villages you probably think of narrow streets and white washed buildings. Most of these white villages, known as Pueblos Blancos, are located in the Andalusia region but you can also find them in other parts of Spain.
Situated on hilltops, these villages are known for their white washed buildings in simple, narrow streets, with steep steps, and pretty squares with bars and restaurants. You will also usually find a great viewpoint to look out over the surrounding landscape.
We have visited a few of these beautiful villages in our travels. They are always great places to explore and give a feeling of what many Spanish villages used to be like.
If you are looking for a traditional Spanish white washed village, here are some of Spain's best Pueblos Blancos to add to your list…
Contents (jump to section)
Some of the links below are affiliate links, meaning we may earn a small commission at no additional cost to you if you make a purchase via one of these links.
Mojacar Pueblo
First up on our list of Spain's best Pueblos Blancos is Mojacar Pueblo. Located on the Costa Almeria in Andalusia, 170 meters above sea level, the old town in Mojacar is a lovely place to spend the day.
The village is full of narrow, hilly streets with amazing views over the hills and towards the sea. The white houses have colourful flowers and doors, making it a very picturesque place to wander, have lunch, and soak up the sun.
Look out for the Puerta de la Ciudad, the original doorway to the town built in the 16th century. The arch is decorated with beautiful flowers and is the perfect spot for a photo!
From the Plaza Nueva, you will have a stunning view across Almeria Province. This busy square is surrounded by restaurants, as well as lots of gift shops selling local crafts and souvenirs. Keep an eye out for the 'Indalo', the symbol of Andalusia that looks like a man with an arch over his head. The Inalo was believed to shield the inhabitants of Mojacar from bad spirits and is found in souvenirs and on buildings all over the area.
Frigliana
Frigliana was the place I decided I wanted to move to Spain! We visited when I was in my teens and again in my mid-twenties and from there I had a dream of living in the sun in a little whitewashed villages with sea views. That's not actually what we ended up with but I still have a soft spot for Frigliana!
Frigliana is located in the Analusian province of Málaga, and is an ideal day trip if you're staying on the Costa del Sol.
This picturesque village is home to narrow, cobbled streets decorated with ceramic mosaics, colourful plant pots, and very steep steps. The views from Frigiliana are spectacular, on a clear day you can even see the North African coastline, as well as views of Nerja and the surrounding countryside.
Enjoy lunch on a rooftop terrace, visit Pozo Batan Alberca Frigiliana's natural swimming pool, and on Thursdays and Sundays is the village market.
If you'd like to really explore Frigliana, you can book onto a private tour where an English speaking expert guide will show you around the best bits of this beautiful pueblo.
Mijas Pueblo
Popular with tourists visiting Málaga, Mijas Pueblo is definitely one of Spain's best Pueblos Blancos. Located 400 meters above sea level, in the Sierra de Mijas mountain range in the Málaga province, the village has amazing panoramic views over the Mediterranean Coast. On a clear day you might even be able to see the mountains of Morocco.
In the narrow cobbled streets of this charming hillside village you'll find white houses decorated with red geraniums in blue flower pots, as well as lots of authentic Spanish restaurants and bars, musuems, and gift shops.
There are lots of great tours of Mijas if you'd like to be shown around by a local, tours include Free Tours, Private Tours, and Group Tours.
Mijas Pueblo also has it's own bull ring, but nowadays it hold flamenco dances and other events rather than bullfights. If it's a flameco show you are looking for, you can enjoy a free flamenco show in the main square Plaza Virgen de la Pena every Wednesday.
Albaicin quarter, Granada
The Albaicin quarter is located on a hill overlooking Granada, and is a must-visit if you are in the city. This historic Moorish area was was declared a World Heritage Site in 1984 by UNESCO, along with the Alhambra Palace.
The village is full of white washed buildings and tea shops lining winding cobbled streets. There are many miradors (viewpoints) providing stunning views of the city and the Alhambra. The village itself isn't as pretty as others mentioned in this list, but it is so full of history and stunning views that it's ok!
You can walk from the city centre up to the Albaicin quarter, but it's quite a steep trek so you might want to jump on one of the frequent buses found opposite the Ayuntamiento. A great tour to join is the Guided tour of Albaicin and Sacromonte – for only 14 euros per person (free for under 12s) you will spend 2 hours being shown the best views over Granada and the important historic points in the area.
We also recommend a visit in the evening when you can watch the Gypsy musicians and singers while taking in the beautiful view of the Alhambra which is lit up at nighttime.
Calella de Palafrugell
You don't have to be in the south of Spain to visit one of the many Pueblos Blancos. Calella de Palafrugell is a white washed fishing village in the province of Girona on the Costa Brava.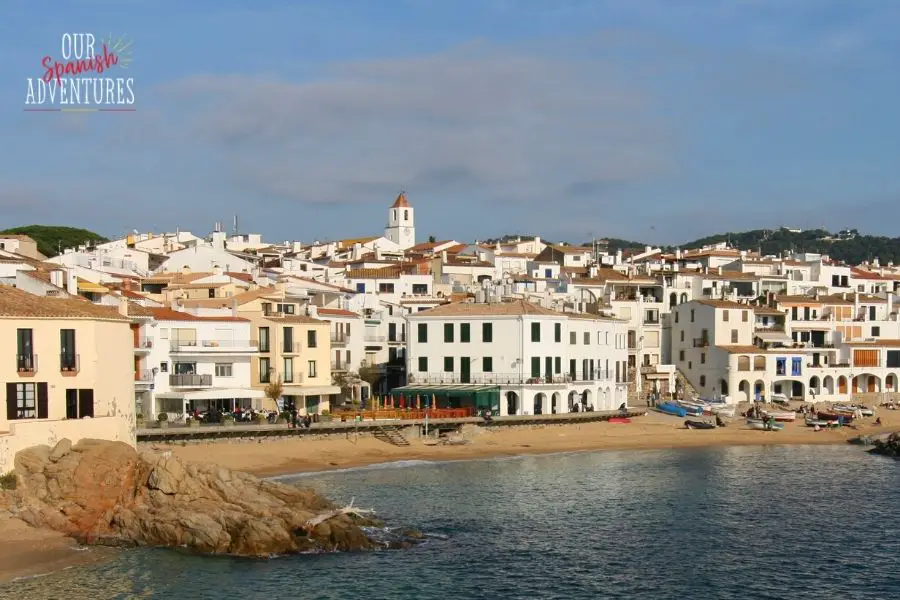 This seafront village has many restaurants and bars, gift shops, as well as small sandy beaches. The town winds uphill with narrow lanes of whitewashed houses covered in beautiful bougainvillea flowers, with a picturesque church, and daily fruit & vegetable market.
Altea
Last on our list of Spain's best Pueblos Blancos is one of our favourites. Located right here on the Costa Blanca, is the beautiful white washed old town of Altea. Not far from Alicante and Benidorm, Altea should definitely be on your list if you are in the area.
The new part of town is set along the sea front with a long promenade along a pebbled beach. However, up on the hill you'll find the old town. With the blue dome of the Parroquia Nuestra Senora del Consuelo church in the centre, there are lots of narrow streets full of white washed buildings home to restaurants, gift shops, art galleries and small boutique hotels.
You have an amazing view of the sea and surrounding coastline from the Plaza de la Iglesia and on the walk down to the new town.
Have you visited any of these Pueblos Blancos? Which one is your favourite?